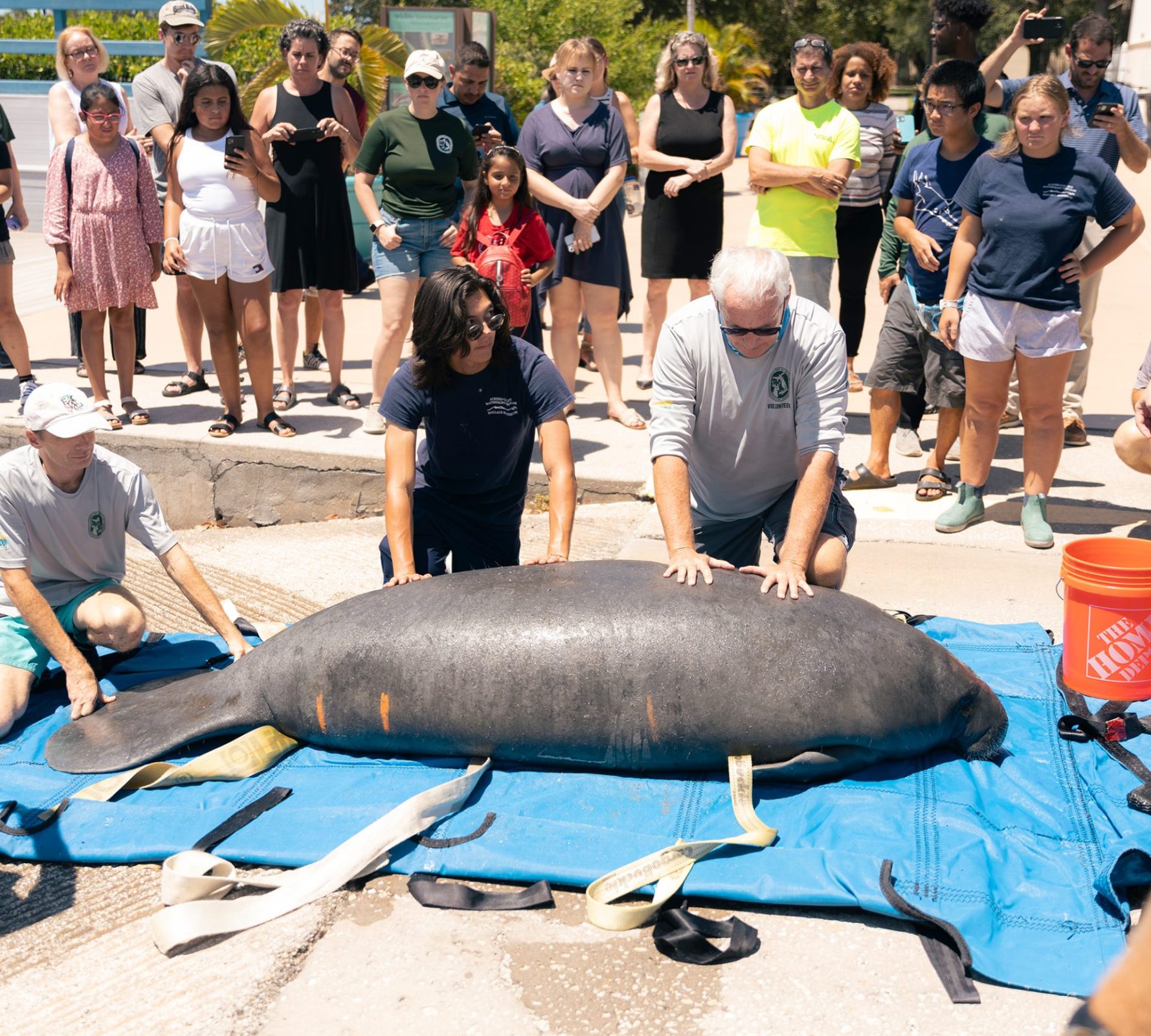 Coventry the manatee was discovered near the Sunshine Skyway Bridge and taken to SeaWorld Orlando for rehabilitation. 
Andy Garrett '99 was working against the clock.
As many of the more than 300 people crowding around him pulled out their phones and started shooting video, he directed a 24-foot Florida Fish and Wildlife Conservation Commission refrigerated van to the top of a boat ramp at the Eckerd College Waterfront Complex on Frenchman's Creek.
Working in the midday heat of early July, Garrett had maybe five minutes.
Inside the van were several FWC staffers and volunteers; a pile of foam mats; half a dozen buckets of salt water; and Coventry, a 10-foot-long, 700-pound, 5-year-old female manatee. She had been found in March near the Sunshine Skyway Bridge struggling with the effects of red tide. She was transported to SeaWorld in Orlando, where she was rehabilitated. Now it was time for her release.
After photographing her scars to help identify her, a group of nine people—including FWC volunteer Miranda Cottrell '20 and Ryan Dilkey '98, associate director of the Eckerd Waterfront Program—carried Coventry in a sling down the ramp and gently guided her into the water.
Then, with a flip of her tail, she disappeared, likely heading for Boca Ciega Bay and the area where she had been found.
That three Eckerd alumni had taken part in releasing the manatee was not unusual, says Garrett, who works as a manatee rescue coordinator for the FWC and leads the FWC's Marine Mammal Pathobiology Lab on Eckerd's campus. "It shows that a lot of us [Eckerd graduates] stay in the community, especially marine science alumni, and it's our jobs that bring us together. There are a lot of Eckerd alumni who work for the FWC around the state."
And it's not just the FWC. Miranda graduated from Eckerd with high honors in 2020, earning degrees in animal studies and psychology. Since then, she has been an environmental educator at the Florida Aquarium, a marine biologist at the Clearwater Marine Aquarium, and she is currently working as an education and outreach specialist at the Weedon Island Preserve in St. Petersburg. For the past year, she also has volunteered with the FWC's manatee photo ID team.
"Eckerd has allowed me to pursue a lot of opportunities on campus as well as out in the community," Miranda says. "I've done a lot of internships, including the photo ID project and working with the Marine Mammal Pathobiology Lab with Andy."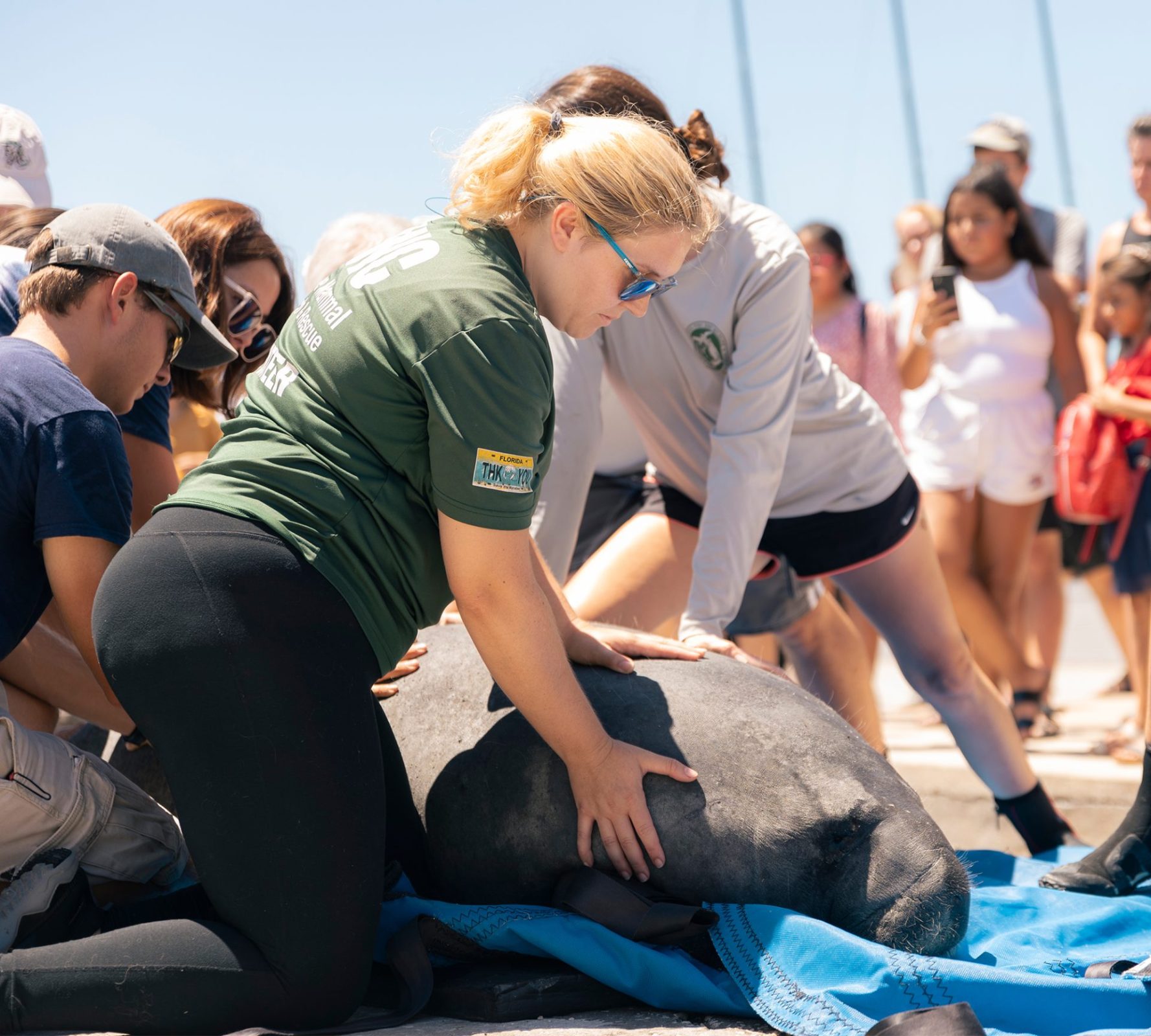 Miranda Cottrell '20 (above) volunteers with FWC. 
Miranda was one of the first five Eckerd students to graduate with a degree in animal studies. "It's always great to see other Eckerd alumni helping out in the community and for the environment," she adds. "It's great inspiration."
The marine mammal at the center of all this is a gentle, slow-moving giant that can weigh as much as 1,200 pounds and live as long as 65 years. Manatees are Florida's official state marine mammal but are listed as a threatened species. They can fall victim to boat strikes, starvation from a lack of seagrass, and toxic red tide algae outbreaks. Their closest living relative is the elephant, and state estimates put the current Florida manatee population at about 7,500.
But like the manatee itself, that figure is constantly under siege. The number of manatee deaths documented by the FWC was 637 in 2020, a record 1,100 in 2021, and 800 in 2022. As of early July this year, 345 deaths have been documented.
"So releasing a healthy manatee back into its habitat is always a thrill," says Dilkey.
"Andy and I were students at Eckerd for three of our four years, and we knew each other. He went to work with the FWC, and I became the director of EC-SAR [Eckerd College Search and Rescue]. Any time Andy finds himself with a struggling manatee, he calls us. We don't do manatee rescues per se, but we do send one of our boats with several students on it to provide extra hands to help transfer the manatee back to land and on to rehab."
Eckerd College, Dilkey says, "is the right place to come to study marine science or marine biology. Our location is second to none, class sizes are small, and students have the ability to do directed, hands-on research much quicker here than at other schools. The result can be like what everyone saw at the waterfront."