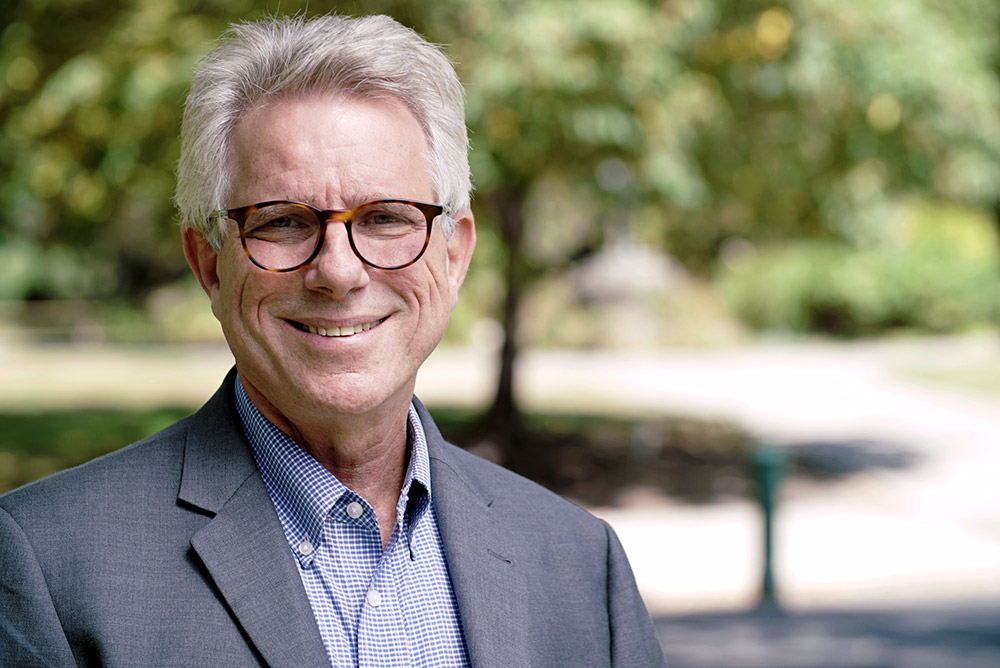 David Conover '75, Ph.D., is a professor emeritus in the University of Oregon's Department of Biology. Photo courtesy of the University of Oregon
When he was a biology student at Eckerd College, David Conover '75 did independent research and was able to publish his work. "But it was expensive and out of my own pocket," he says now.
"I think my parents probably paid for it. I know what it takes to get into grad school these days: independent research experience. And research in marine science is expensive. But sometimes just an extra $1,000 can make a huge difference."
This is where the Conover Undergraduate Research Endowed Fund comes in. The Fund was established in 2022 by Margaret Conover and husband David and supports Eckerd students majoring in the natural and social sciences in their undergraduate research projects with preference in marine science and a strong preference for marine biology. The Conovers directed that the awards be based on the originality of the research, be a minimum of $1,000, and should assist as many students as possible. Eligible candidates are juniors or students with high academic standing who aspire to attend graduate school.
The Spring Semester 2022 Conover Fund award winners are Daniel Rivera, a senior marine science student from Tampa; Adam Elkin, a senior marine science and geosciences student from Pikesville, Maryland; Kelly Patrick, a junior marine science student from New York, New York; Cassandra Guzman, a junior marine science student from Christiansted, U.S. Virgin Islands; and Emmett Dessimoz, a senior marine science student from Mount Prospect, Illinois.
The Fund, Conover says, "tells students that independent research is something important. It's also something you can put on your resume.
When I was a faculty member at Stony Brook University and looked at a student's resume, I looked at whether they had done any research on their own. You can get a far better picture of whether that student is going to be successful."
Few people have been as successful in their field as Conover. After earning his B.S. in biology at Eckerd, he went on to receive his M.S. and Ph.D. in fisheries science at the University of Massachusetts Amherst. In 1981, he joined the faculty of Stony Brook and spent 35 years as a researcher and administrator. He served as a professor of marine science, dean of the School of Marine and Atmospheric Sciences, and the institution's vice president for research.
Additionally, Conover did a stint as director of the Division of Ocean Sciences at the National Science Foundation, the Foundation's second-largest division, and played a role in helping launch the Alan Alda Center for Communicating Science at Stony Brook.
In 2010, Conover became director of the Division of Ocean Sciences at the National Science Foundation and moved to the University of Oregon, where he served as vice president for research and innovation and oversaw the University's entire research enterprise. He stepped down from that post in 2020 and now serves as a professor emeritus in the University's Department of Biology.
He has authored more than 125 publications on the ecology and evolution of marine fishes, and has received numerous awards—including the Mote Eminent Scholar Chair at Florida State University, the Oscar E. Sette Award from the American Fisheries Society and the William H. Kadel Alumni Medal for Outstanding Career Achievement from Eckerd College. He is an Aldo Leopold Leadership Fellow and a Fellow of both the American Association for the Advancement of Science and the American Fisheries Society.
If that's not enough, his son, Adam Conover, is host of the educational comedy TV series Adam Ruins Everything and The G Word, and his daughter, Emily Conover, is a scientific journalist at Science News.
David Conover credits his own self-funded independent research experience at Eckerd as pivotal to his acceptance into graduate school, and he hopes the Conover Fund will afford deserving Eckerd students the same kind of opportunity, in addition to alleviating financial stress.
"This [Conover] award will help me to continue Eckerd's important monitoring of plastic in Tampa Bay, which will then help our [Reduce] Single-Use plastics project to stop the use of harmful plastics altogether," says recipient Kelly Patrick. "The award symbolizes a more hopeful future where we can stop plastic pollution at its source."
Kelly adds that after graduation, she plans to take a year off to gain work experience at an aquarium or in a research program before continuing her marine biology studies in graduate school.
Thanks to a little help from an Eckerd alumnus who fell in love with the College after one memorable visit more than 50 years ago. "I always wanted to go to a progressive college, and there were not that many in the Southeast," says Conover, who grew up in Miami. "But my older brother [Michael Conover '73] was a student at what was then Florida Presbyterian College, and I went up to visit him the same week the Allman Brothers Band was playing there. I was just blown away. The campus, the whole scene. I just loved the College."