Assistant Professor of Chemistry Jalisa Ferguson, Ph.D., formed her all-female research team organically—two of her student assistants are her mentees, and the third asked to join her lab after taking her class.
"I'm happy it turned out that way. I wanted to be intentional in my recruitment," says Ferguson, who is in her third year of teaching at Eckerd College. For the next year, she'll pay her team with a $25,000 research publication grant received from the American Association of University Women (AAUW), one of the world's oldest leading supporters of graduate women's education.
Ferguson heard about the opportunity from a friend who had received the grant, and Ferguson thought it could be a way to secure funds for research assistant salaries and supplies for her work studying compounds that can act as inhibitors to cancer cells.
"I used computer modeling software to see how well the small molecules might bind to a protein particularly prevalent in cancer cells," she explains. "We've designed and synthesized about 20 compounds, and we're going to see if the reality matches the computational model."
Since 1888, the AAUW has awarded more than $115 million in fellowships and grants to 13,000 women from 150 countries. For the 2021–22 academic year, AAUW has awarded a total of $5 million through its fellowships and grants programs to 260 scholars as well as to community projects and programs that promote education and equity for women and girls.
"We're proud to support the work of these outstanding scholars," says Gloria Blackwell, chief executive officer. "This year's recipients are making valuable contributions in a wide range of fields, but with a common goal of improving life for all of us. We're impressed by what these scholars are doing and excited about the great things they'll accomplish throughout their research and careers."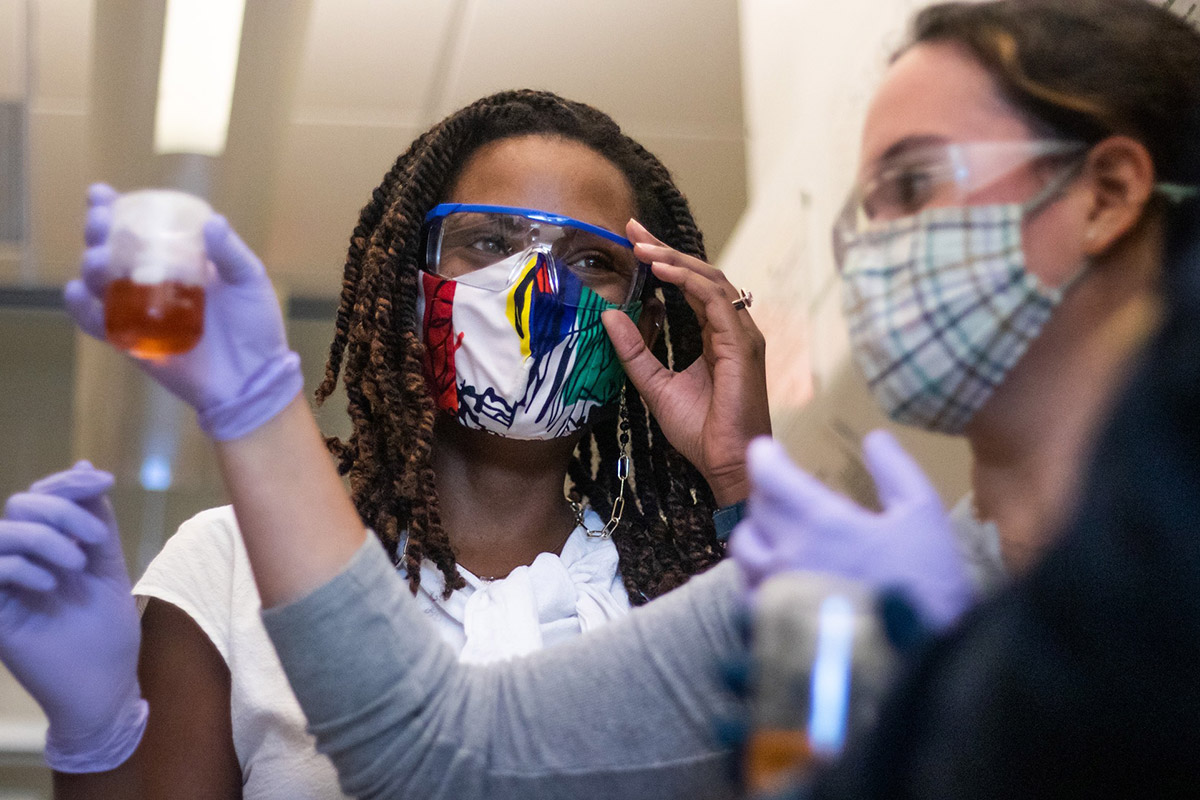 The ultimate reason Professor Ferguson (at left) got into academia is to help people. Photo: Angelique Herring '19
Izzy Berry, a junior chemistry student from Leesburg, Virginia, and the project lead for Ferguson's lab, says her team spent the summer isolating compounds and checking to make sure they had created what they said they had using NMR and IR spectrometers available in the James Center for Molecular and Life Sciences. Her fellow student researchers, junior chemistry students Breanna Muldowney and Paisley Jeannette, went through a lot of chemicals in the past few months trying to get complete compounds ready for the next phase of the testing.
Eventually, Ferguson says, they'll test out their inhibitors on breast and cervical cancer cells purchased for use in this type of research. The results will be recorded in a final publication to be delivered at the end of the grant period in 2022.
It's an awesome opportunity for everyone involved.
"It means everything to us," Izzy says. "We love being in the lab, and it helps when we can be paid for our time too. We can also keep buying our chemicals."
Opening up the world of chemistry to more women is a happy byproduct of Ferguson's ultimate reason for getting into academia—helping people. After completing her doctoral work at Georgia State University, she spent two years at the University of North Carolina–Asheville continuing to work in cancer research because she has no interest in working with patients in medicine.
Izzy is thankful her mentor's journey brought her to Eckerd. Izzy joined the team after changing her major from marine science. "I found myself trying to take every available chemistry class, and I wasn't so interested in the marine science ones," she recalls. "[Dr. Ferguson]'s so brilliant and so kind. She really lives up to the ideals of this college because she is really dedicated to giving undergraduates the opportunity to do this kind of research."