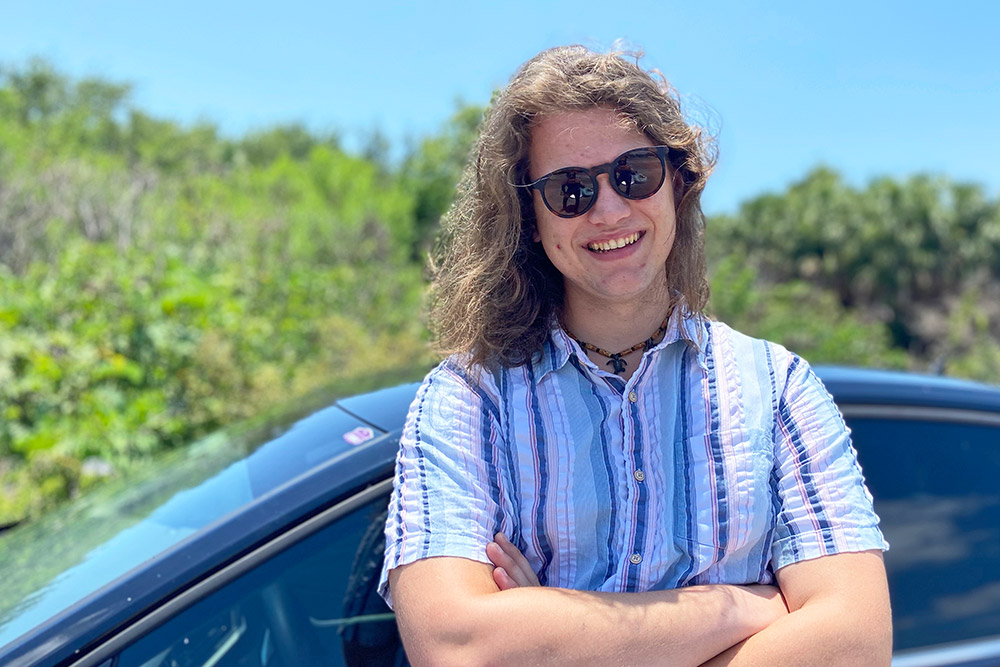 Andrew Wynn had to miss all his classes, find a ride and scrounge up $200 to retrieve his towed car the day it was taken—or else the fees would multiply for every day the tow yard had to store his vehicle.
"My car got towed on my 21st birthday. Good Lord, this ruined my day!" says Andrew, a senior communication student from Tallahassee, Florida. "I felt super privileged to have the $200 to be able to get my car back that day. Some people without $200 on hand may end up paying much more or losing their car altogether after 10 days. It made me think about doing research into just more effective means of transportation through cities."
The frustrating experience reminded the then-junior of concepts he'd heard in several classes with Assistant Professor of Communication Julia Hildebrand, Ph.D. Andrew asked Hildebrand to host a Spring Semester independent study for him to work on an ethnographic study of mobility via the automobile in St. Petersburg through the lenses of media ecology, mobilities research and urban communication.
He presented the resulting research at the 23rd Annual Media Ecology Association Convention at the Pontifical Catholic University of Rio de Janeiro, Brazil, in July.
"It was amazing," Andrew recalls. "There was a surprising amount of young people doing intriguing research. I was the only undergraduate presenting."
In between meeting scholars and listening to presentations on the future of the classroom as a medium in the age of online learning, Andrew made sure to visit the high points—including hiking Christ the Redeemer. Hildebrand had encouraged him to submit his abstract to the convention and several other funding opportunities in the spring, and he received a travel stipend from MEA and a Presidential Innovation Fund grant from Eckerd.
Preparation for the convention was taxing. Hildebrand required Andrew to read nearly 20 books on media ecology during the independent study and write papers to help formulate his ideas for his own research. She was impressed with the conclusions he drew in early drafts of "Concrete Media and Mobile Determinism: Expressions of the City and the Car."
"I could tell from his work ethic that he was taking the material very seriously. I asked a lot of him," Hildebrand says. "He developed this idea, which is also a word play, of concrete media because the city is also made of concrete. It's really asking us to examine how we live in and move through a city. It is a solid framework and it made sense for him to present it [at the MEA Convention]."
Hildebrand serves on the MEA Executive Board but was unable to attend the convention because she was scheduled to deliver a guest lecture on media ecology in Germany the same week. To prepare Andrew for traveling alone to his first professional conference, the duo rehearsed the presentation, discussed attire and travel information, and talked about which scholars to make sure he spoke to during the event.
"It was my first opportunity to share research, and I was surprised at how friendly and welcoming people were," he says. After Hildebrand returns from giving a keynote speech on her recent book, Aerial Play: Drone Medium, Mobility, Communication, and Culture, this week at the Drones in Society conference at The University of Sheffield in the United Kingdom, she and Andrew will resume work on turning his research into a paper for journal publication.