Soph Sawyer, a senior interdisciplinary arts student from Naples, Florida, was upbeat while picking up a T-shirt in Hough Quad in preparation for a four-hour volunteer shift at St. Petersburg's Daystar Life Center.
Nearly 200 Eckerd College students, alumni, faculty, staff, and Academy of Senior Professionals and Osher Lifelong Learning Institute members took time on Sept. 23 to participate in the campuswide Day of Service—a launch event for the Eckerd College St. Pete Center for Civic Engagement and Social Impact.
Campus began buzzing at 6:30 a.m. that Friday as volunteers set up registration and food tables in front of Triton's Pub. The first shuttles to the nine community locations where Tritons gardened, cleaned and assisted left Cobb Loop just after 9 a.m.
"We are eradicating walls and throwing wide open the gates of our campus … and we are saying to our community: 'Welcome,'" said Kanika Tomalin, LP.D., Eckerd's vice president for strategy and chief operating officer, in her welcome remarks. "And we are encouraging our students to discover, explore and contribute to all that unfolds in our awesome city."
According to its website, the St. Pete Center "enriches student learning by bridging campus and community to address real-time problems facing the greater Tampa Bay area. Through community-based research, teaching and service, the Center prepares students to be action-oriented change agents in an evolving world."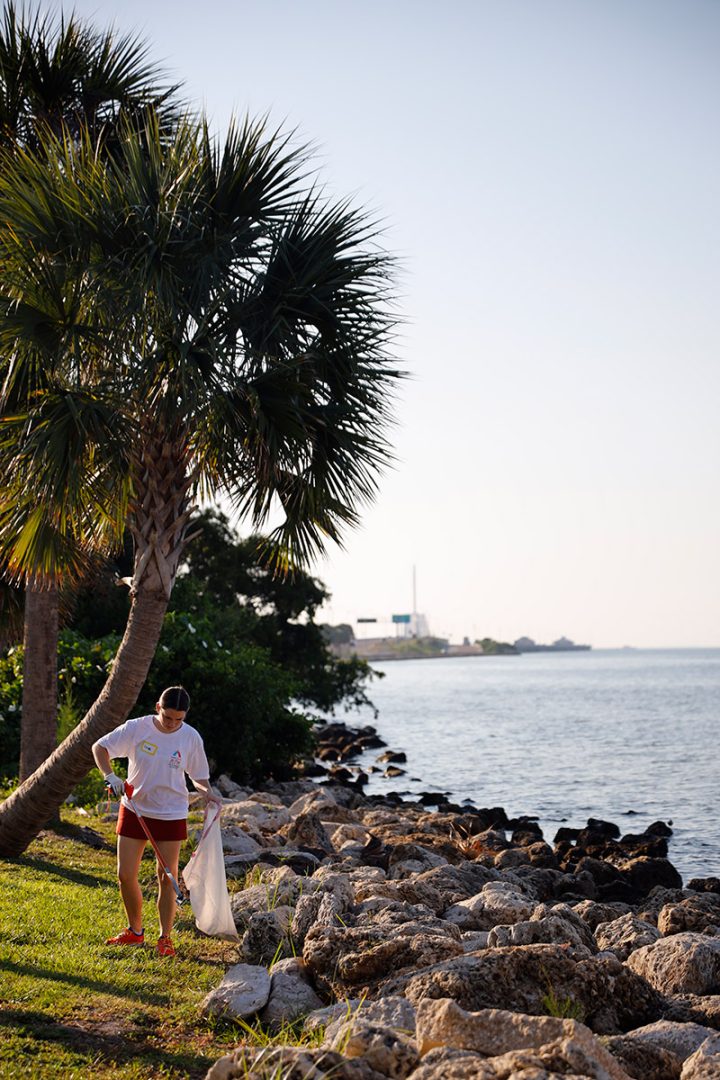 Cleaning up trash near the USCGC Blackthorn Memorial. Photo: Penh Alicandro '22
Volunteers were given the option to complete their four-hour shifts with Boyd Hill Nature Preserve, Daystar Life Services, Edible Peace Patch Project, Interdenominational Ministerial Alliance of Florida, Keep Pinellas Beautiful, St. Pete Youth Farm, Tampa Bay Estuary Program and Westminster Communities.
In between morning and afternoon shifts, the St. Pete Center team held a launch party on Hough Quad with bagged lunches for volunteers and remarks by campus administrators and local officials, including St. Petersburg City Councilwoman Deborah Figgs-Sanders.
"Through the decades, the College has partnered with the City of St. Petersburg and its various community organizations in mutually enriching ways," said interim President Jim Annarelli, Ph.D. "The St. Pete Center builds on this foundation to create a deeper and more consistent partnership with the community as we move into the future.
"What distinguishes our approach to service at Eckerd is that those engaged in service are encouraged to challenge one another to examine critically the social, political and economic forces that are at the root of the social problems being addressed and to engage in the development of enduring solutions to these problems," he added.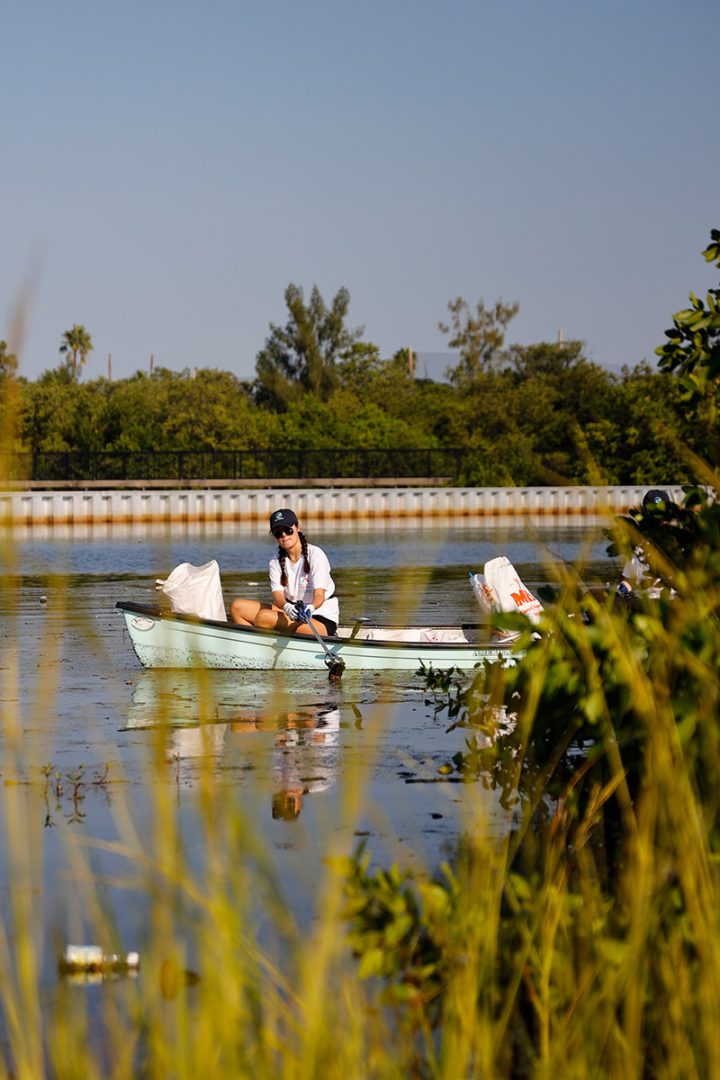 Cleaning up Clam Bayou. Photo: Penh Alicandro '22
Left to right: Jessica Thonen, ECSPC co-director and associate dean of faculty; St. Petersburg City Councilwoman Deborah Figgs-Sanders; Jennifer Knippen, ECSPC co-director and associate professor of management; Chris Steinocher, president and CEO at St. Petersburg Area Chamber of Commerce; Darlene Funesti, assistant vice president at TD Bank; Misty Bottorff, executive director at Skyway Marina District; Ronald Porter, director of service learning at Eckerd College; interim Eckerd College President Jim Annarelli; Kanika Tomalin, vice president for strategy and COO at Eckerd College; and Jennifer Fessler, ECSPC program coordinator. Photo: Penh Alicandro '22
Figgs-Sanders praised the Day of Service activities and expressed enthusiasm about the future of the St. Pete Center. "One of the strongest resources that I have seen as far as civic engagement is our college campuses and our students because they are so unfiltered and so transparent," she explained. "And I love what they bring to the table. I love their energy. I love that they share what they think would be a better today."
Tomalin agreed that the St. Pete Center connecting campus to community is what it's all about. "This is happening through teaching, research and service opportunities that immerse our students in the practices that prepare them to be the change our world requires," she said.
"Today is one example of the transformative change the Center will offer our community in illustration of our College's ongoing commitment to make a difference where we live, work, learn and play."