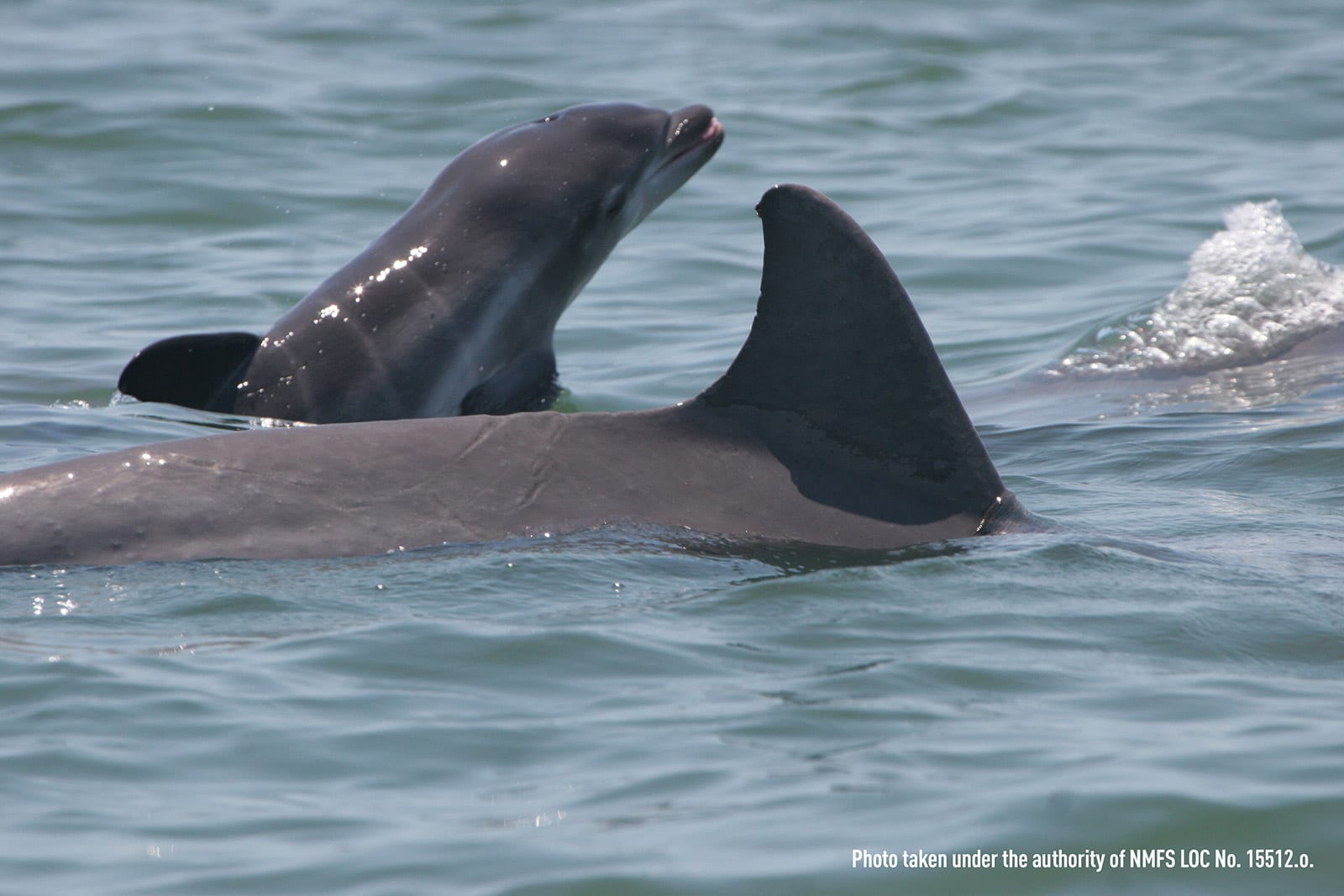 Dolphins, like these, swimming in Boca Ciega Bay off Eckerd College may be heard soon with the new Haikubox Marine Station installed off the Galbraith Pier. Photo taken under the authority of NMFS LOC No. 15512.o.
Dorsal fins, splashes and the occasional dolphin leap are all welcome sights off the seawalls bordering the campus of Eckerd College. Now, with the help of a tiny supercomputer and a hydrophone, scientists and enthusiasts will be able to hear the chatter of dolphins in Frenchman's Creek.
Staff installed a lockbox attached to the side of a pump shed, which connects via cable to a hydrophone mounted underwater on the pier.
"This is the first time that dolphin whistles have been successfully detected by a computer program. So the fact that the Eckerd College Dolphin Project is involved with this project is pretty fantastic," Simard said.
Simard's work with the Eckerd College Dolphin Project, the longest running undergraduate-centered dolphin research program in the world, centers on dolphin acoustics. He and his student research team take information from autonomous recorders placed in Boca Ciega Bay and Tampa Bay and listen to them to identify dolphin whistles to gauge the size and location of dolphin populations in the area. Mann's algorithm has identified more whistles in two weeks than a student researcher could in six months, Simard explained. "It's really revolutionary. Now we can collect more data and do more analysis around specific natural events—such as a red tide bloom, hurricanes and more—to determine if they have any effect on the local dolphin population," he added. Simard said the algorithm also filters out anthropogenic disturbances like boat noises.
The new device consists of a Raspberry Pi computer placed in a waterproof lockbox attached to the side of the Galbraith pump shed, a connective cable buried underground and a hydrophone mounted underwater on the pier.
Mann's apparatus continuously records, and his algorithm tells it to upload sounds it thinks are dolphin whistles to a Cornell University cloud server called Haikubox, where any person can log in and listen to the animals' sounds. The website also allows users to double-check that the sounds are actually whistles, which helps to train the algorithm. Mann started this research by installing two of the listening stations south of Eckerd in Sarasota Bay.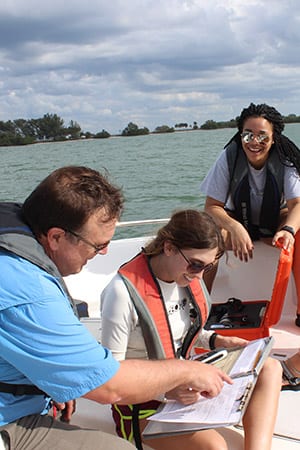 Dr. Simard (left) studies the behavior, ecology and conservation of cetaceans, including various aspects of marine bioacoustics.
"In one day, the algorithm already detected 85 whistles. It can even identify the signature whistles of dolphins identified by the Sarasota Dolphin Research Program. Yesterday F197, one of the Sarasota resident dolphins, whistled once at 6 a.m., and another, F291, was here at 3 p.m.," Simard exclaimed.
Simard said his future courses will certainly include data analysis from the device.
"This project has no foreseeable end. It is well funded, and we have the perfect location for it with a resident population of bottlenose dolphins, an established research project and student interest," Simard explained. "Writing a program like this is incredibly difficult because of noise you get from mounting so close to the seawall—passing boats and snapping shrimp—so to have this will really help us in the future."