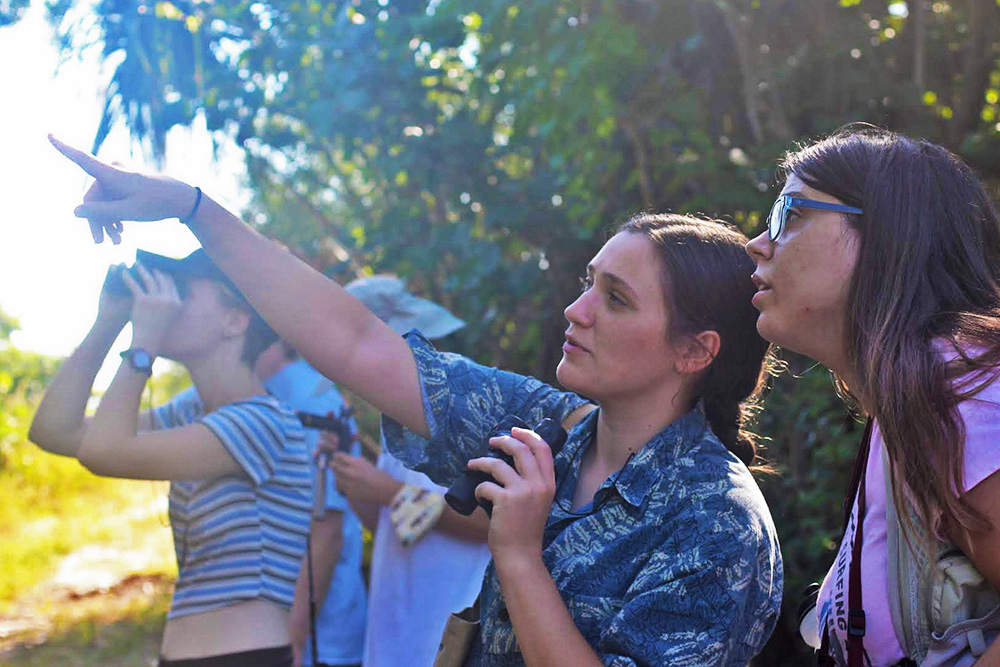 Students look for birds in the natural landscape of Fort De Soto Park, just minutes from campus. Photo: Grace Curcio '23
Sun-dappled trails and birdsong are common sights and sounds at Fort De Soto Park, but one weekend in November, the excited voices of Eckerd College students also filled the forest.
Since the founding of the Ornithological Society of Eckerd College in the fall of 2020, interest in birding has risen significantly, as has interest in bird conservation. Club members go on birdwatching trips around campus and to popular birdwatching sites near Eckerd, where they learn about endangered and dying species.
Co-Presidents Connor O'Brien, a sophomore environmental studies and biology student from Seattle, Washington, and Trevor Clair, a first-year marine science student from Riverside, New Jersey, attended the Fort De Soto excursion, taking photos and identifying birds for the rest of the club. Trevor's skills at identifying birds are undeniable, and throughout the trip, he was consistently pointing out all kinds of birds that were nestled in trees, flying overhead or perched on a branch. Connor's photography skills also were on display: He snapped several great pictures for his Instagram.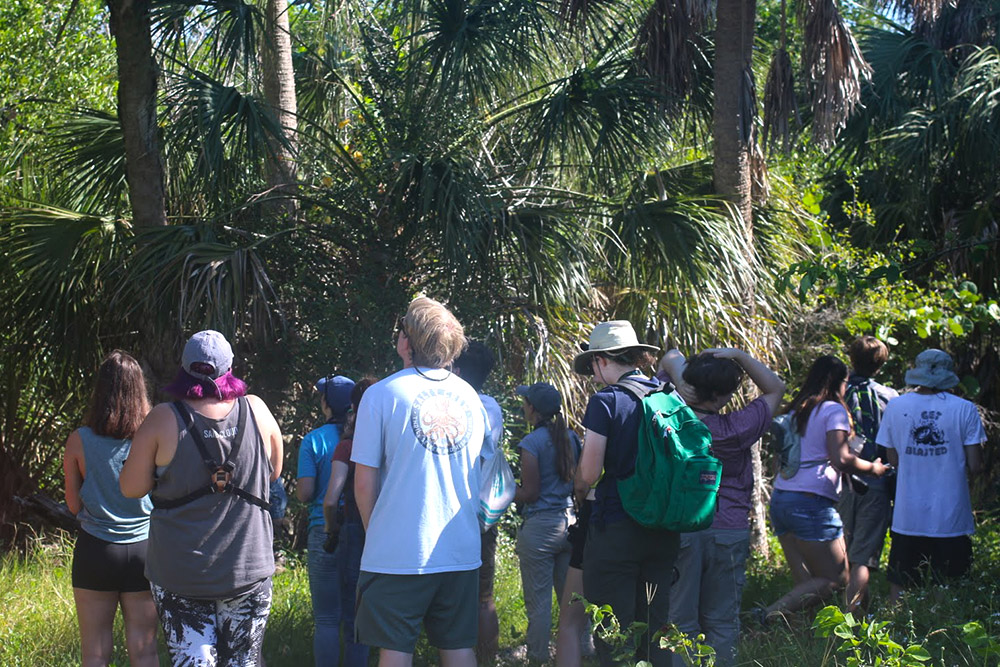 Accompanying them on this trip was Elizabeth Forys, Ph.D., a professor of environmental studies and biology. She is the faculty adviser for the Ornithological Society and does research on the movements and populations of endangered seabirds and shorebirds. At Fort De Soto, Forys was excited to see some black skimmers—a type of seabird—that she had tagged over the last three years for her research.
"Birds are an important part of many ecosystems. They regulate pests like mosquitos and flies, pollinate, disperse seeds and serve as indicator species so we know if an ecosystem is healthy," Forys explains.
The most exciting part of the trip came near the end. As the group was strolling along the beach toward the park exit, Forys spotted an American white pelican in obvious distress. After examining the animal, club members called the Fort De Soto park rangers, who quickly came to the rescue. The bird was placed under observation for over a week by the local nonprofit Birds in Helping Hands and was taken into its care to be rehabilitated.
This club has certainly come a long way since its founding last year when Connor and Trevor helped the club become a chapter of the Audubon Society, a national nonprofit organization dedicated to bird conservation. The club also has increased the number of bird walks, frequently traveling off campus to learn about different kinds of native birds.
"Even if you are a new birder, the field trips help you learn about birds," Forys says. "On field trips and with other activities, we talk about the threats birds face."