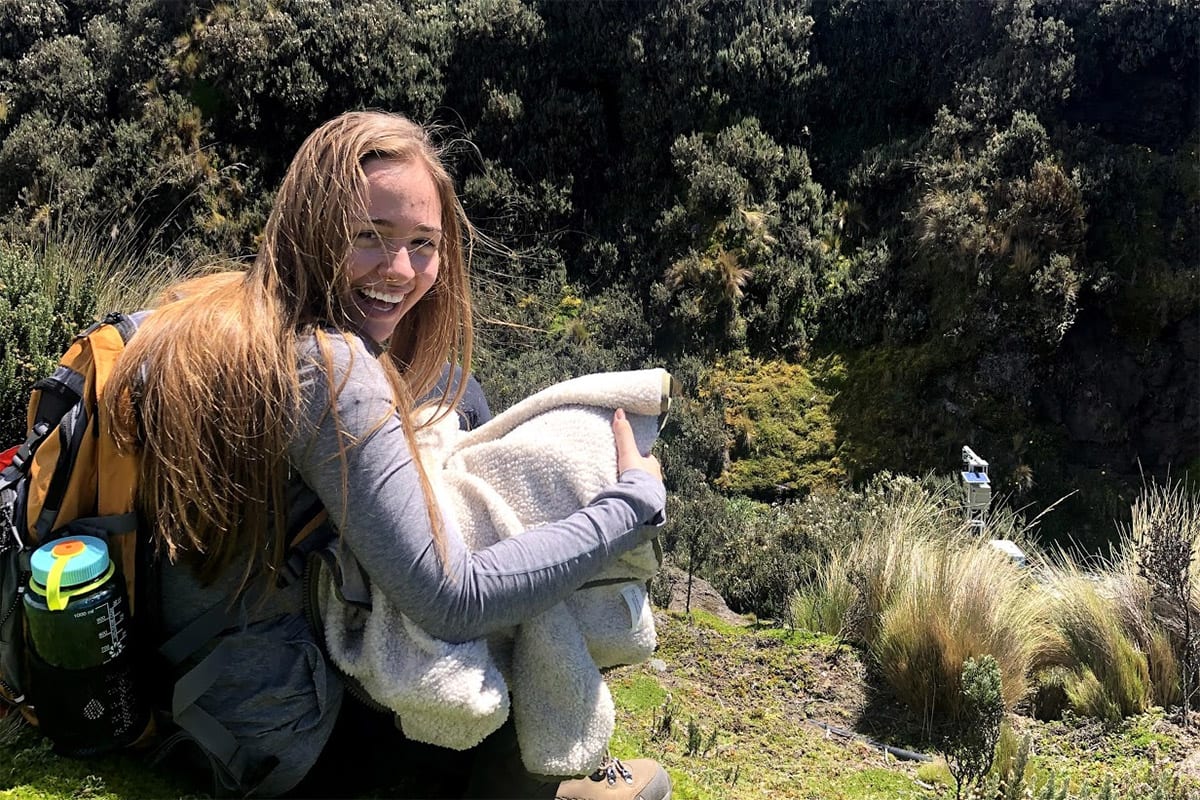 Carly Naundorff '22 spent her 2020 Winter Term in Ecuador touring bird islands and hiking the Amazon rainforest. Photo courtesy of Carly Naundorff.
Two things drew Carly Naundorff from Dingmans Ferry, Pennsylvania—near those famous Pocono Mountains—to the sunny shores of Eckerd College in Florida: outdoor research and study abroad opportunities.
As the recent recipient of the Fulbright Canada Mitacs Globalink Internship, Carly will be getting even more than she had hoped for.
"I have an interest in wildlife biology and ecology, and this internship will help me get to explore a little bit more of that realm," said the junior environmental studies and biology major.
This summer, Carly will be working for 10 to 12 weeks (between May and August) on a project with a supervisor and postdoctoral fellow at Saint Mary's University in Halifax, Nova Scotia, on "Characterizing habitat of lichens on trees at forest edges in Nova Scotia, Canada." The program allows eligible juniors and seniors from accredited colleges and universities in the U.S. to enter Canada for research purposes.
It's currently scheduled as a remote internship due to COVID-19 travel restrictions, but it will be Carly's first time working with plant research. Her previous work was summer research with Professor of Environmental Science and Biology Beth Forys, Ph.D., on identifying black skimmer populations.
"I'm finding my path in this field, and so far I have liked everything I have done," she added.
"I'm so glad I got to go. That was my first time out of the country, and it was an amazing experience," Carly said.
The trip ignited a fire to travel and do research, so she began collecting information about the postgraduate U.S. Fulbright Program when Robinson alerted her to this undergraduate opportunity. Excitedly, Carly applied but didn't hear any news for six months. It turns out the notifications were delayed as organizers tried to adjust plans in response to the ongoing pandemic. When she finally got the good news in the first week of March, she was alone in her dorm room.
"I immediately called all my friends to tell them," Carly laughed.