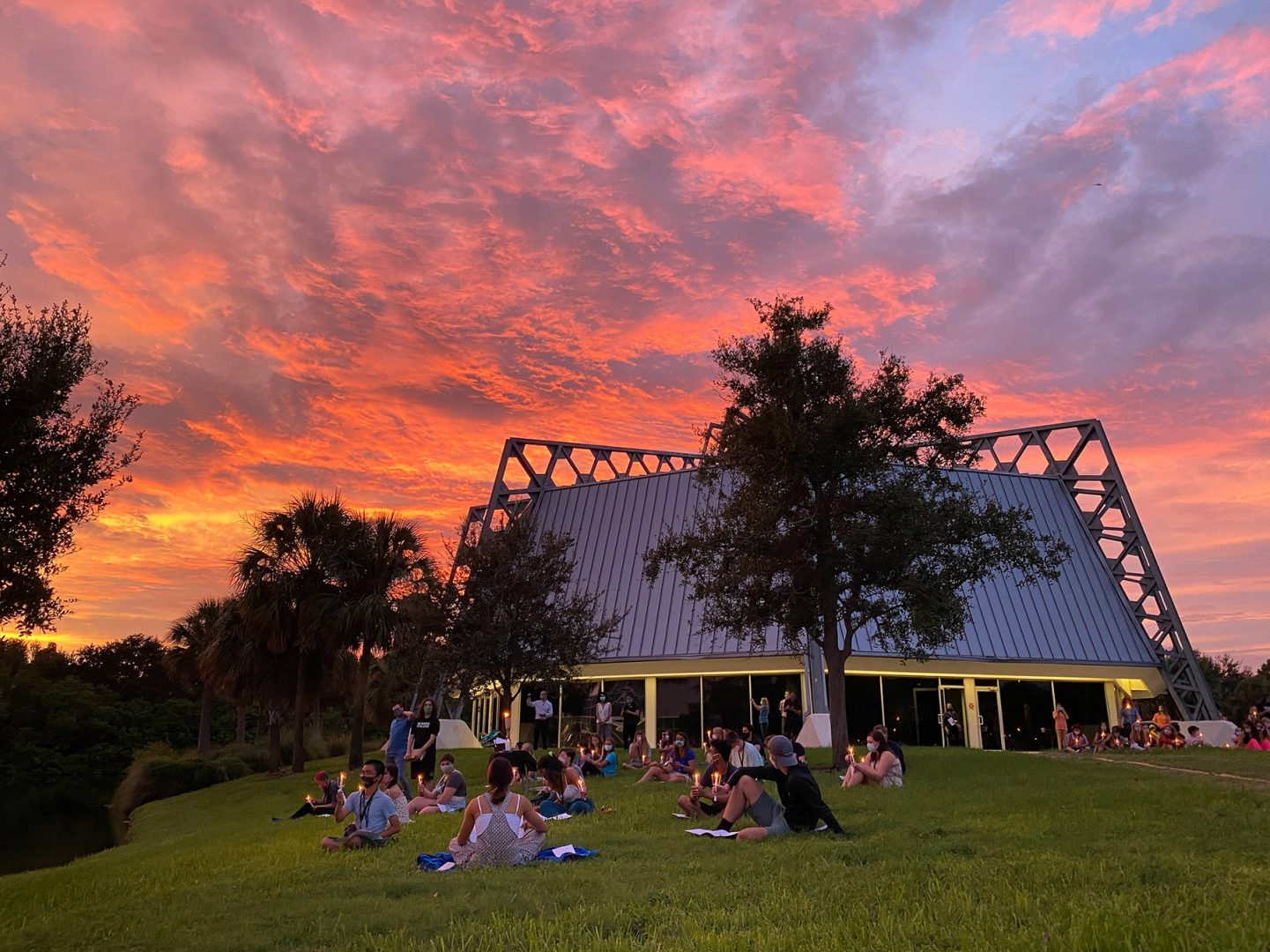 First-year students sit by Wireman Chapel while holding candles lit from the ceremonial Lamp of Knowledge during the 2020 Ceremony of Lights.
For admission counselors last year, there were no flights to far-off college fairs so they could haul the gospel of Eckerd College to decorate splashy display booths.
Still, the private liberal arts institution situated on a 188-acre waterfront campus in St. Petersburg, Florida, managed to recruit its largest class ever to bring its talents to the College's own South Beach.
Eckerd attracted 706 new students—652 first-time-in-college and 54 transfer students—to make the journey from 47 states and 23 countries this fall.
More than 690 of them will begin their careers at the Ceremony of Lights, a unique College welcoming ceremony to be held outdoors for the second time ever on Sunday, August 15, at 7:30 p.m. If rain intrudes, the event will move to the following evening.
"The pandemic presented many challenges in recruiting Eckerd's incoming class," said Jacob Browne, Eckerd College's director of admission. "However, the Admission Office—with the support of many colleagues across campus—worked creatively and tirelessly to showcase the magic of Eckerd to students around the country and globe. We were challenged with maintaining a personal and student-centered admission process in a time when virtual was our only option. I am proud that our Eckerdness was able to transcend the barriers presented this year. We are particularly excited to see our new students on campus—some who have yet to even step foot on campus due to travel restrictions during the college search process."
International Tritons will travel from as near as the Dominican Republic and as far as New Zealand to join their American classmates for Autumn Term, Eckerd College's three-week orientation where they will take their first official college course, meet their initial faculty and peer mentors, and get to know campus before upperclass students return to begin classes on Labor Day.
The Ceremony of Lights, an Eckerd tradition, officially welcomes the new class to reaffirm the honor pledge and receive light from the lamp of knowledge passed candle-to-candle beginning with Eckerd faculty. Remarks will be given by College President Damián J. Fernández, Vice President for Student Life and Dean of Students Jim Annarelli, Vice President for Academic Affairs and Dean of Faculty Suzan Harrison, Vice President for Enrollment Management and Dean of Admission and Financial Aid John Sullivan, Director of Religious Life and Chaplain Doug McMahon, and Eckerd College Organization of Students President Ava McLeod '24.