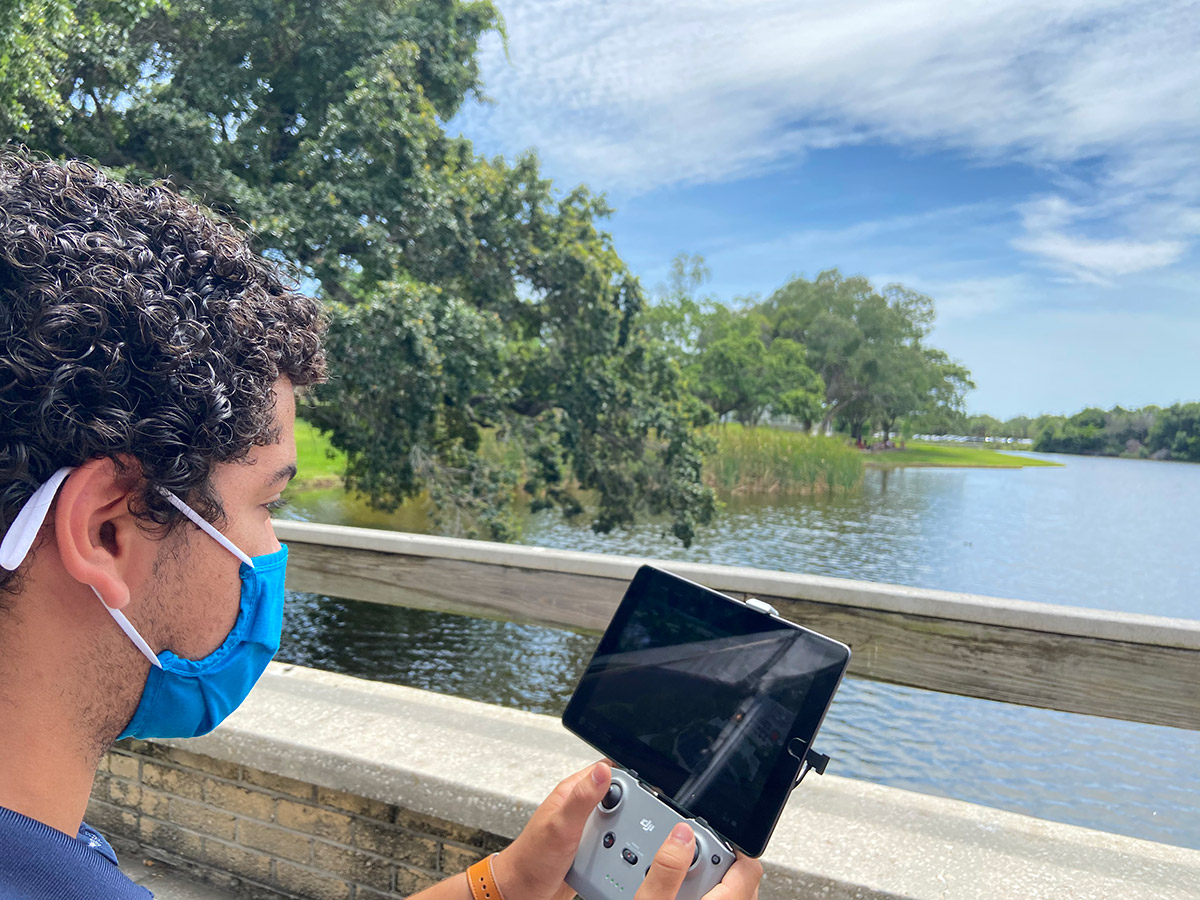 Joe Salcedo '23, a mentee of Professor Hildebrand's and a student-worker for the Office of Marketing and Communications, flies a drone over Fox Pond to capture footage of an outdoor class. Photo: Michel Fougères
Its technical name is unmanned aerial vehicle (UAV), and one of the first recorded descriptions of it was in 1849, when the Austrian army was laying siege to Venice.
The details are sketchy, but the consensus is that the Austrians launched as many as 200 incendiary balloons—a crude form of drone—at the city.
Alas, the wind changed direction. A few balloons found their target, but many drifted back in the direction of the Austrians.
With most of today's UAVs—as Julia Hildebrand, Ph.D., assistant professor of communication at Eckerd College and author of the recently released tome Aerial Play: Drone Medium, Mobility, Communication and Culture, can tell you—that likely would not happen. The drones of the 21st century can perform anything from taking detailed aerial video to herding livestock. "They can avoid obstacles and even find their way back to where they started," Hildebrand adds.
And yes, she says, in combat, drones still drop bombs. Just with a lot more accuracy than the Austrian balloons.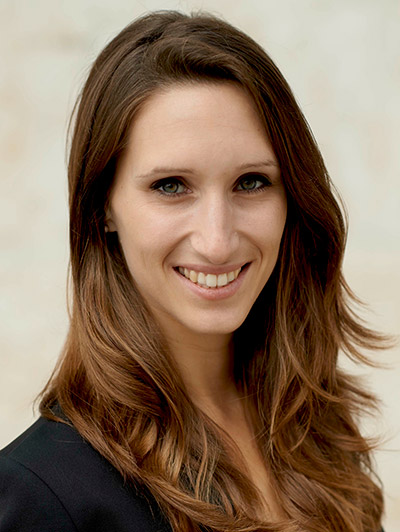 Professor Hildebrand teaches media ethics, media and society, and critical studies in new media.
Less focused on the technology in military contexts, Hildebrand researches the powers and potentials of drones in the recreational sphere—the consumer or hobby drone. What's really interesting about consumer drones, Hildebrand says, is the personal connection we make with them.
"This technology has really made a jump in the last 10 to 20 years," says Hildebrand, who teaches courses in media ethics, media and society, and critical studies in new media. She also owns a drone. "They open up visuals so unlike what you get from a helicopter or an airplane. It's a new way of seeing and discovering the world. They're used for wildlife conservation, search and rescue, law enforcement … it's the drone as a helper."
And as a toy, albeit an expensive one. A small toy drone with a simple camera can cost less than $100. But for more sophisticated flying, hobby pilots spend $450 and up. Throw in extra batteries, propellers, SD cards and other accessories, and the cost can rise to $1,500 or more.
But that's not a deterrent. "There's a large arena of people flying drones for fun," Hildebrand says. "There is aerial photography and videography, and also drone racing, all of which are growing in popularity among men and women, young and old alike."
For many pilots, these aren't just remote-controlled flying machines. Drones, Hildebrand says, can become our buddies.
An example of video footage captured with a drone flown by Joe Salcedo '23 at Eckerd College. 
Hildebrand studies drones as a medium, a form of communication like smartphones or the internet, that connects us to each other and the world. Her book on the subject has been well received. "This is a welcomed contribution not only to studies on drones but also to our knowledge on human-machine interactions," says Bruno Martins, senior researcher at the Peace Research Institute in Oslo.
Like owning a dog or cat, people develop relationships with their drones, Hildebrand says. They talk to them, praise or admonish them. Even give them a name. (She named her drone "Jay," from the first letter of her first name.)
Hildebrand decided to see how she connected with her drone, so she hooked up a microphone. "I wanted to analyze myself as I engaged the technology," she says, "so I recorded my audio and I thought out loud, said anything that came to mind. I thought that would make for really interesting data." It did.
"I said things like, 'Let's go for a walk.' 'Come on home.' 'You've been a good boy today.' It feels like the drone is a pet, a friend, a co-photographer. It's a mobile companionship."
Hildebrand says other technology, like robot vacuums, can have a similar effect on people, but usually not as profound.
And yes, Hildebrand says, one of the notable downsides to drones has to do with ethics. "We hear stories about drones being used as sort of a Peeping Tom, looking into backyards and windows," Hildebrand says. "And even drones off the shelf can be weaponized.
"At the same time, we have other technology much more invasive in terms of privacy, like Amazon's Alexa or Apple's Siri. But more importantly, the vast majority of drone owners care much more about the amazing sunset they're recording or that stunning shot of the city skyline."
Joe Salcedo, a junior communication major from New London, Connecticut, has been piloting increasingly sophisticated drones for the last seven years. His connection with his drone is mostly about trust.
"My drone can fly itself to a certain altitude, capture different shots, and put the video together before the end of the flight," he says. "So there is a certain trust you have to have that the drone will do what you want it to."
Salcedo says his mentor Hildebrand's classes helped him consider a drone as more than a collection of metal and wires. "She does a really good job of making you think," he says. "Especially critical thinking. Like when I'm in command, the drone becomes an extension of me. It follows your intentions. There's a responsibility that goes along with that."