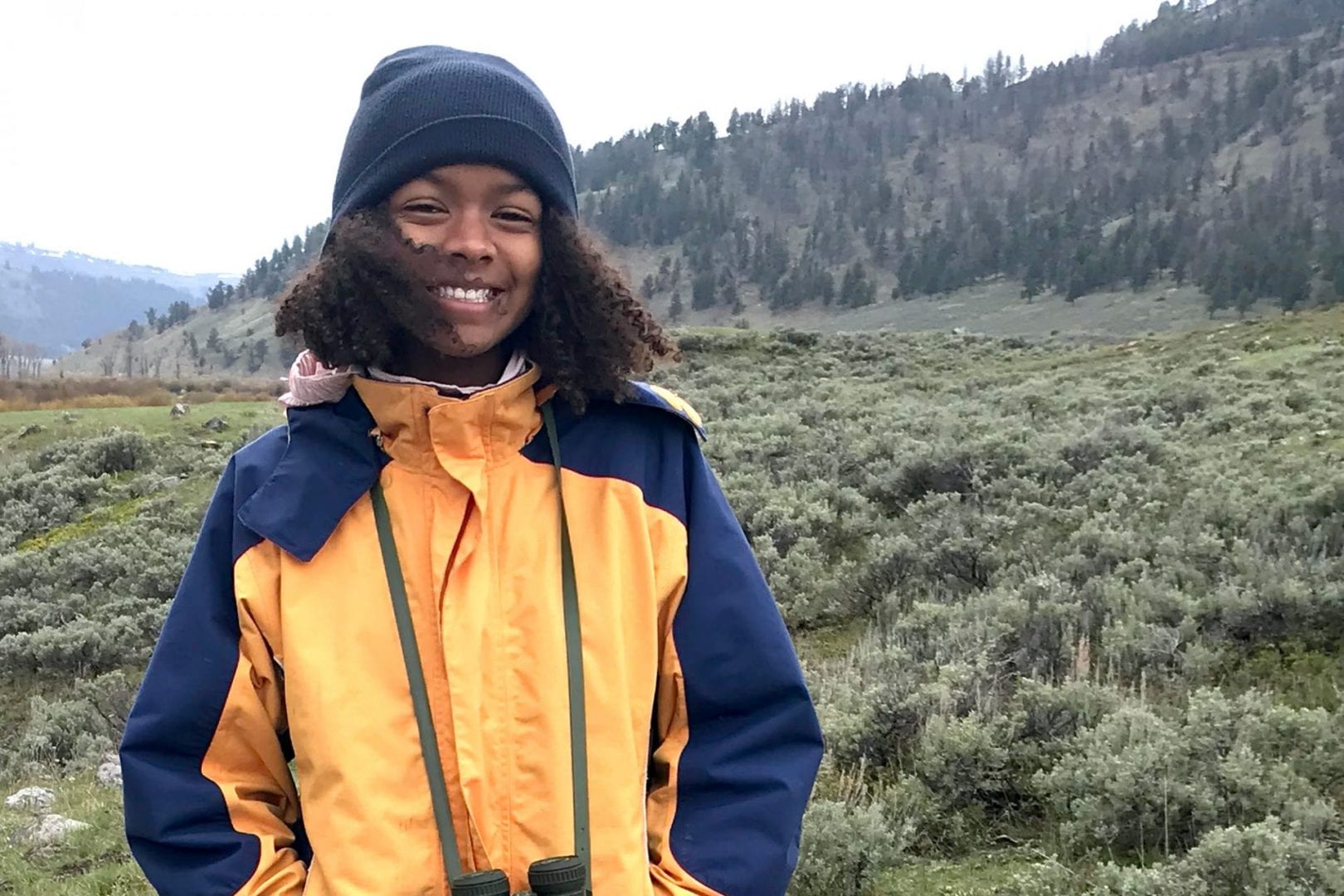 Fana Scott '22 on a trip to Yellowstone National Park. Photo credit: Fana Scott
As her older brother packed his bag to go on a camping trip with the Student Conservation Association (SCA), Fana Scott remembers feeling jealous.
"I had never experienced anything like that, so when I became a sophomore in high school, I applied to join the SCA and got to travel to Oregon and New Jersey and had these supercool outdoor experiences," said Fana, a junior environmental studies and biology student from Washington, D.C.
Joining the SCA awakened her love for nature, introduced her to Eckerd College, and put her on the path that led to being honored with the third-ever diversity undergraduate scholarship administered by the Florida Chapter of The Wildlife Society in early March. The $1,500 award also comes with the opportunity to present a research poster at the October annual meeting of the group.
"I was in my room on my phone when I got the news," Fana said with a laugh. "My mom was really excited when I told her."
The scholarship will help defray tuition costs as Fana pursues her dual degree in her passions in the environmental sciences. When she's not leading as a Resident Advisor in the Gandhi House of the Alpha Complex, she can be found studying potential nesting areas for kestrels as a part of her internship with the Manatee County Audubon Society or helping sick and injured students as a certified Emergency Medical Technician for the Eckerd College Emergency Response Team (EC-ERT).
"I thought medicine was something that I wanted to do, but when I started studying the environment, I knew I had found where I belonged," she explained. "Joining EC-ERT allowed me to explore my interest in medicine, get certified and gain the skills to help people wherever I go for the rest of my life."
Fana is particularly interested in entering the fields of environmental science and conservation because so few of her colleagues share her heritage and background. She is always on the lookout for opportunities to gain more experience and expand her network. During a bout of furious Googling in 2019, she found and applied for the Doris Duke Conservation Scholars Program at University of California Santa Cruz, and landed a spot in the selective two-year conservation leadership program. In October, Fana was awarded a place in Audubon Florida's Conservation Leadership Initiative, a mentorship program that provides an opportunity for undergraduate college students to immerse themselves in Audubon, strengthen leadership skills and gain an understanding of career opportunities in conservation. Her mentor encouraged her to apply for her current Audubon internship.
"The conservation field is not incredibly inclusive, and nobody talks about that lack of diversity. Climate change affects everyone, but Black people with pressing issues of survival and lack of access to nature may not be able to prioritize those connections," Fana said.
"I want to be able to use my voice and experiences to say there is not one specific type of person who does conservation work, and serve as a leader to bring other people into the field with different experiences, because lack of access does not make their perspectives invalid."