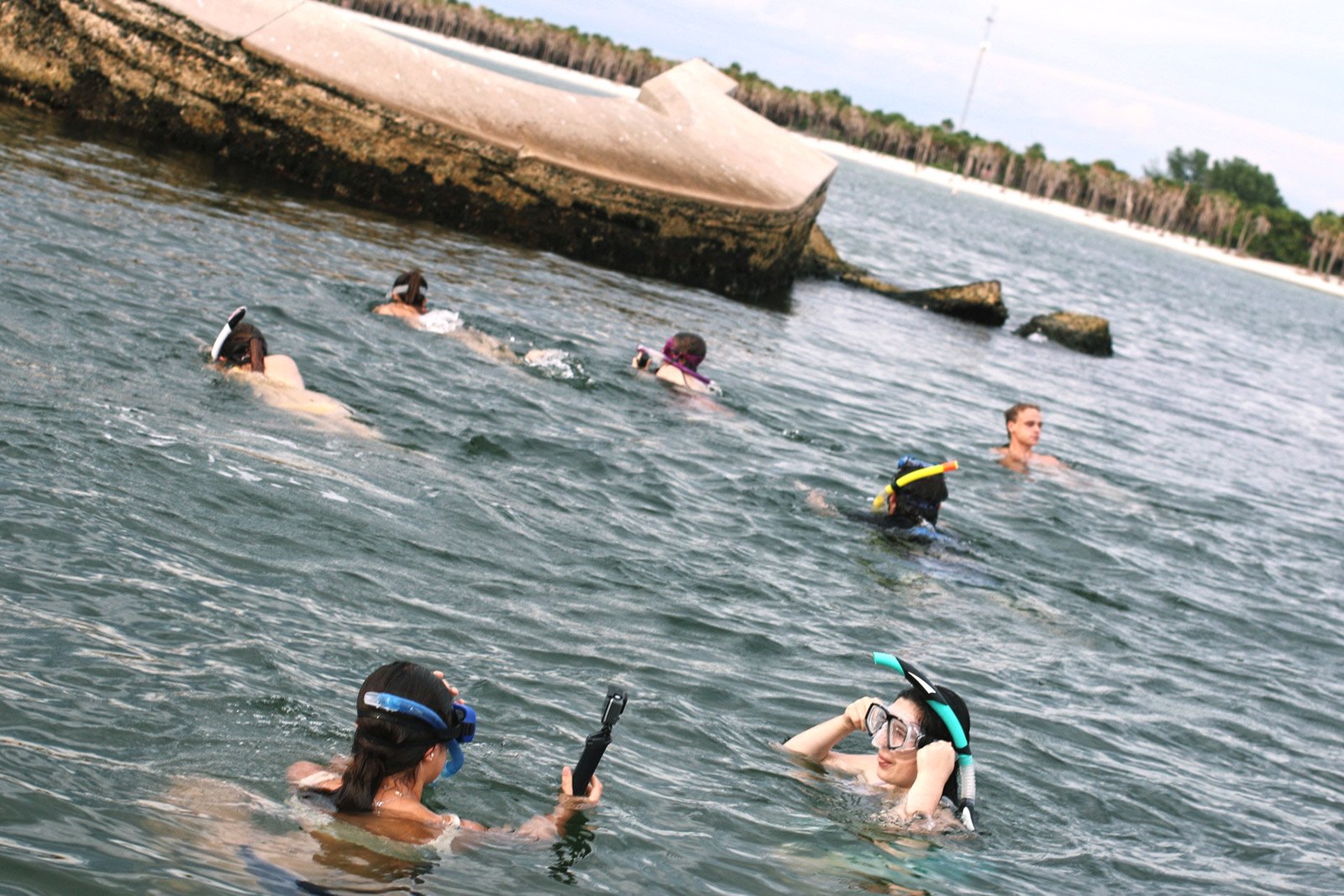 One of Eckerd's most popular new clubs gives students a chance to snorkel and experience marine environments in Florida. Photo: Grace Curcio '24
A boat filled with Eckerd College students departs from the St. Pete Pier, cruising under the Sunshine Skyway Bridge out to explore the ruins of Fort Dade.
Marine Life Adventure Society (MLAS) Club Officer Katie Milano did some underwater filming with a GoPro and got stunning shots of several types of coral, fish and other marine life.
"We get to [snorkel] on almost every trip, and it never gets old seeing all the fish and other marine animals," says Katie, a first-year marine science student from Groton, Massachusetts.
Katie is one of 500 members of the MLAS, one of Eckerd's most popular new student clubs. Ben Brust, a sophomore environmental studies student from Reno, Nevada, started the club in Spring 2021—his first year at Eckerd—originally planning for members to volunteer at the Clearwater Marine Aquarium, about half an hour away from campus. Due to COVID-19 restrictions at the time, volunteer positions were tight, so Ben got creative and started doing smaller trips off-campus he calls "explorations." One of his favorite trips was Exploration Hatchling, a September camping trip to Jupiter, Florida, where students watched sea turtles hatch.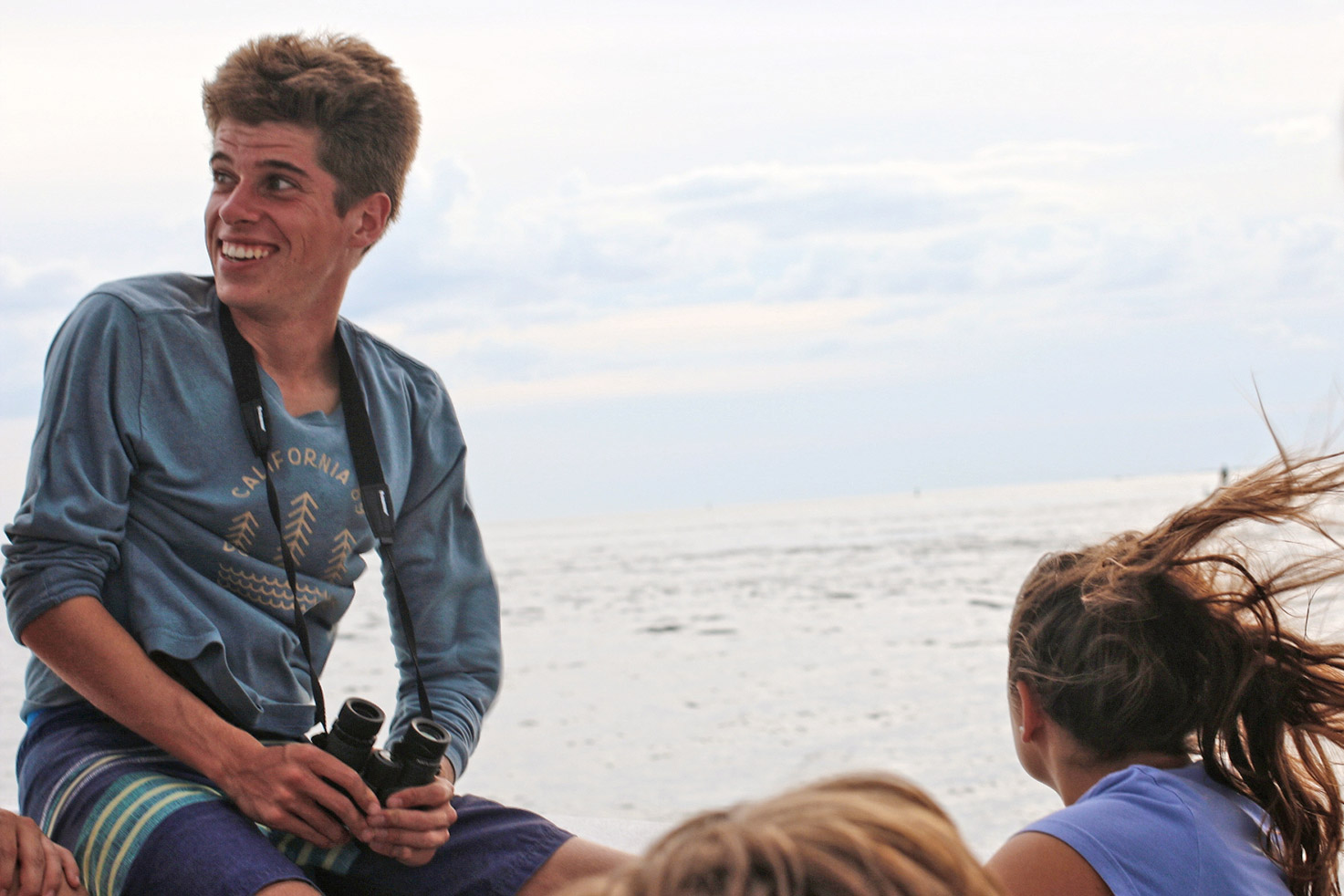 Sophomore Ben Brust (left) started doing smaller trips off-campus, which he has since turned into a full-fledged student organization. Photo: Grace Curcio '24
"[Starting a club at Eckerd] was easy. We just had to fill out a Google Form … and send it over to the [Eckerd College Organization of Students (ECOS)] president, and then we were a club," Ben recalls. "It's just a friend group going on adventures."
Explorations are planned mostly by Ben himself, although sometimes the club splits a boat charter. Trips are mainly funded by ECOS. This semester, the MLAS has a $500 budget to put toward hiring charters, renting kayaks and keeping student payments down. Most trips still require a small payment—the average cost per trip is $20 to $30. Recently, the club exploded in size. Now there usually is a waitlist of about 60–80 people for each trip, although Ben is planning more trips to accommodate a greater number of students. Their next excursion will be Exploration Sea Cow, several weekend trips where students will rent kayaks and travel down Crystal River in search of wild manatees.
During Exploration Wharfside on October 3, the club took three trips to Fort Dade, off Egmont Key, providing amazing opportunities to swim, snorkel and see all kinds of marine life. Thirty-three students went on the exploration—11 students on each trip. The last one of the day, a sunset boat ride, took members on a search for bottlenose dolphins. The sea had gotten rougher since Katie's underwater photography, and the MLAS was feeling fairly discouraged about the possibility of seeing any more animals. Just then, Caeden Bishop, a junior marine science and economics student from Harvard, Massachusetts, spotted a pod of about 10 dolphins jumping in the waves, headed out to sea. The charter boat captain quickly turned the vessel around, and members snapped photos of the mammals frolicking in the surf.
"Seeing the dolphins was amazing, even now that I've been in Florida for a while and have seen tons. It's always nice to see them," Caeden says.
The MLAS has six more explorations planned for the semester, including an overnight stay at the Georgia Aquarium in Atlanta on Oct. 15–17.