It was time to get back to her passion—sustainability.
Tivona called up her mentor, Eckerd College Associate Professor of Environmental Studies Jesse Sherry, Ph.D., to resume work on the research she had begun as a Ford Scholar at Eckerd, a study of the carbon footprint of individual staple ingredients found in campus dining operations. In February 2022, she became Sherry's third Ford Scholar to have her research published in a peer-reviewed journal.
"Professor Sherry is such an incredible mentor," says Tivona, who now works as an environment and community impact specialist at Tillamook Cheese in Portland, Oregon. "The opportunity to author a scientific paper—even beyond graduation—is an amazing one. The fact that he was open to continuing to work with me was so cool. I just wanted to see this through."
Sherry, who came to Eckerd in 2016, has worked as the mentor of three women in the Ford Apprentice Scholars Program, a two-year course of study designed to prepare rising juniors for graduate school and to pursue a career in college or university teaching.
He knew early on that he wanted to help them pursue their passions, not impose his own research on their work.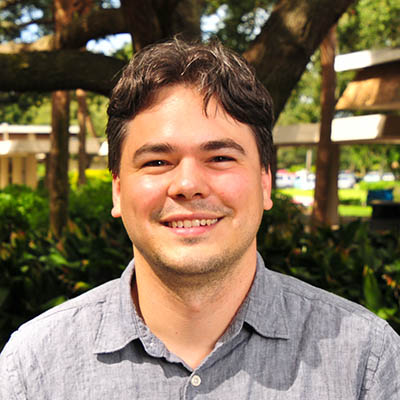 Associate Professor of Environmental Studies Jesse Sherry, Ph.D.
"I was here almost no time when I inherited my first Ford Scholar from a colleague, and I asked her what she wanted to research and focus on," Sherry says. "I'm helping them research what they want, not feeding them research ideas."
That first scholar, Haley Busch '16, née Burger, an environmental studies graduate from Gainesville, Florida, worked with the campus Office of Sustainability and constantly observed the gaps between intention and practice all around her.
"I wanted to look at the work of other campuses who had committed to creating sustainability infrastructure to see what I could bring back to Eckerd," says Busch, who currently works as outreach director for 1000 Friends of Florida, a nonprofit environmental policy firm in St. Petersburg.
Sherry reached into his expertise to train Busch on conducting qualitative interview research. Armed with a model for data collection, Busch headed up the east coast during the summer before her senior year and visited 11 campuses between Florida and Maine. It took nearly the entire academic year to prepare her research for her Ford Scholar paper, and Sherry continued working with her even after she graduated and started her first job at Eckerd.
In June 2017, after submission and revision, Sustainability published "Overcoming barriers: Organizational effectiveness of college sustainability offices," just as Busch prepared to start her master's degree in public and urban policy at the University of Glasgow in Scotland.
Tivona, an environmental studies graduate originally from Fort Collins, Colorado, knew she wanted Sherry to be her Ford mentor because he was already her faculty mentor. She used the life cycle assessment to determine that meat and cheese significantly raise the carbon footprint of a commercial kitchen, but all vegetables weren't off the hook. "Reducing the environmental impact of food service in universities using life cycle assessment" was printed in the International Journal of Sustainability in Higher Education.
Sherry's third Ford Scholar, Jenny Koester '19, chose him as her mentor even though her major was marine science.
"Professor Sherry was my instructor for Green Design, and I knew I wanted to do something in industrial sustainability and marine science," says Koester, who came to Eckerd from Warrenville, Illinois. "Salmon farming was a way to marry the two disciplines."
Obtaining the data for her research would be the toughest test because Koester wanted to study if the environmental certifications added to the labels of farm-raised salmon actually equaled a more sustainable production footprint. She needed to visit a farm to tap into Sherry's expertise in how to complete a life cycle assessment, or multifaceted operational evaluation, to determine the use of resources and energy to create a desired outcome or product.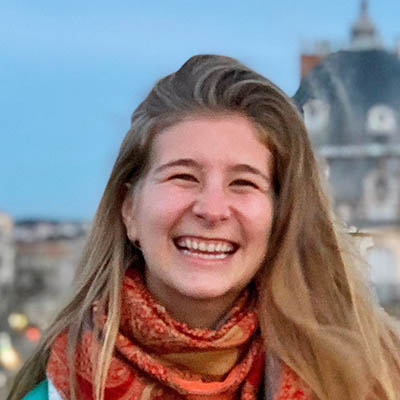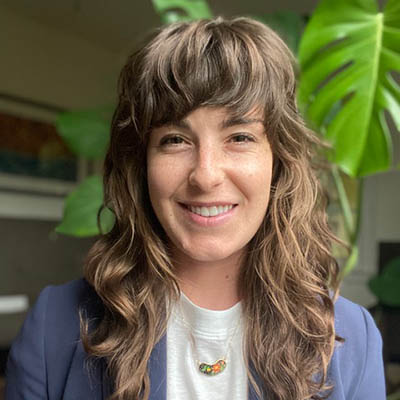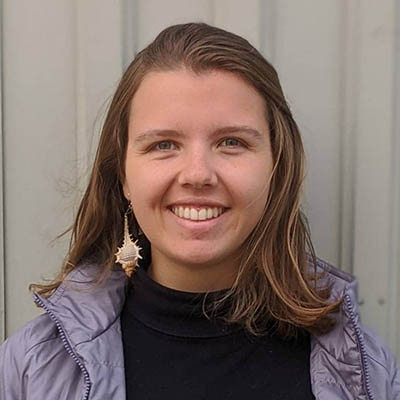 "She was cold emailing salmon farms up in Canada and Alaska for months, and people thought she was a spy from a competitor," Sherry recalls with a laugh.
Eventually, a farm in British Columbia, Canada, granted Koester access for a weeklong visit to conduct a life cycle assessment on their operation, provided she would share the results with them. After graduation, Koester kept working toward publication while she taught high school science and prepared to obtain her master's degree in resource management from the University of Akureyri in Iceland.
"Getting published felt great, especially since it was something I had worked on for so long with a big sense of pride," she says. "It's like finishing a test or project times 100. It's not common to get published. When I got to my master's program, I was one of [only a few] people that had been published at that point."
Her paper, "Life Cycle Assessment of Aquaculture Stewardship Council Certified Atlantic Salmon (Salmo salar)," was printed in Sustainability in 2020. She now works as the ocean acidification policy assistant project leader for the Oregon Department of Fish and Wildlife and is toying with using the life cycle assessment to pursue a Ph.D. "There's always seaweed," she quips.
Even after publication, all three alumnae keep in touch with Sherry, who they say is a great supporter of their careers.
"Honestly, I am impressed with them. Getting to be there supporting them is great for me," Sherry says. "All three young women have different skill sets and interests and got to the answers of their questions by doing the work."