Associate Professor of Environmental Studies
Environmental Studies 106
Degrees
Ph.D., Planning and Public Policy, Rutgers University, 2014
M.S., Community and Regional Planning, Temple University, 2005
B.A., Environmental Policy, Warren Wilson College, 2001
Courses Taught
Introduction to Environmental Studies
Green Design
GIS for Environmental Studies
Sustainable Cities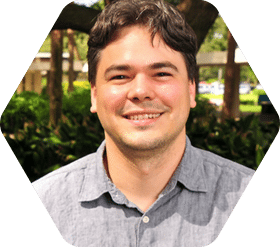 My research interests include sustainable communities, green design, and life cycle assessment. Currently, I am focused on ecovillages, which are small communities focused on reducing their environmental impacts and living in harmony with their environment. I am researching how these communities' planning techniques, building design, social institutions, and community values contribute to the development of sustainable communities.
Areas of Expertise/Research Focus
Urban and Regional Planning, Environmental Planning, Green Building, Life Cycle Assessment, and Sustainable Communities.
Professional Experience
Sustainable Solutions Corporation
Conducted Life Cycle Assessment of multiple products, including building materials, insulation, and plastics products.  Designed environmental systems for green homes.  Conducted and prepared documentation for LEED Certifications.  Developed sustainability programs for large corporations.  Developed and presented training and educational programs in person and via the internet.
Rutgers Center for Green Building
Researched and co-authored Center reports on green building trends and policy.  Prepared National Science Foundation grant proposals.
Center for Energy, Economic and Environmental Policy, Rutgers University
Conducted research into state and national renewable energy policy and incentives.  Developed an interactive website for publishing the Center's enegy data.
Center for Sustainable Communities, Temple University
Conducted GIS Analysis and CommunityViz Modeling as a part of the Smart Growth Plan for Milford Twp, PA and the floodplain mapping of the Pennypack Watershed for the Federal Emergency Management Agency.
Publications
(2020) Life Cycle Assessment of Aquaculture Stewardship Council Certified Atlantic Salmon (Salmo salar),
Sustainability, 12(15), 6079. doi:10.3390/su12156079
(2019). The Impact of Community Sustainability: A Life Cycle Assessment of Three Ecovillages. Journal of
Cleaner Production, 237, 117830. doi:10.1016/j.jclepro.2019.117830
(2017). Overcoming Barriers: Organizational Effectiveness of College Sustainability Offices. Sustainability: The Journal of Record, 10(3), 184-192. doi:10.1089/sus.2017.29107.hb
(2016). A Comparative Case Study Analysis of Three Ecovillages: Ithaca, Earthaven, and Sirius. Communal Socieities,36(2), 125-152.
(2007). An Analysis of Residential and Local Green Building Initiatives: The Roles of Information and Incentive. New Jersey Meadowlands Commission.
(2006). Who lives in New Jersey Housing?  New Jersey Demographic Multipliers:  The Profile of Occupants of Residential and Non-residential development. Center for Urban Policy Research.
(2004). Growth management plan for Milford Township, PA: Suitability analysis and build out scenarios. Presented at: ESRI 2004 User's Conference.
Presentations
(2019). Measuring Community Sustainability: Applying Life Cycle Assessment to Three Ecovillages.
Presented at: Association for Environmental Studies and Sciences 2019 Annual Conference; Orlando, FL.
(2017). Understanding the Potential of Community Sustainability using Life Cycle Assessment. Presented at: St. Petersburg College Sustainability Conference; St. Petersburg, FL
(2013). Community supported sustainability: How ecovillages model more sustainable lifestyles. Presented at: Association for Environmental Studies and Sciences 2013 Annual Conference. Pittsburg, PA.
(2013). Community supported sustainability: How ecovillages model more sustainable lifestyles. Presented at: From the outside in: Sustainable futures for global cities and suburbs. Long Island, NY.
(2011). The ecovillage model of sustainable consumption. Presented at: Krueckeberg doctoral conference in planning and public policy. New Brunswick, NJ
Banner photo: Danielle Atkins '20