A baby gopher tortoise the size of a large orange spends its days devouring lettuce (green leaf is a favorite), kale and cabbage in the Eckerd College greenhouse. Video: Michel Fougères
Rachel Test spends a lot of time thinking about 69 tiny gopher tortoises digging, eating and growing in the Eckerd College greenhouse.
As the student leader in Assistant Professor of Biology Jeff Goessling's Gopher Tortoise Head Start program, she takes her responsibility to the hatchlings seriously.
"It's a little stressful," says the senior biology and environmental studies student from Bradenton, Florida, before laughing. "It consumes my thoughts about scheduling their feedings and daily check-ins. Now that there are more of them, keeping track is the priority."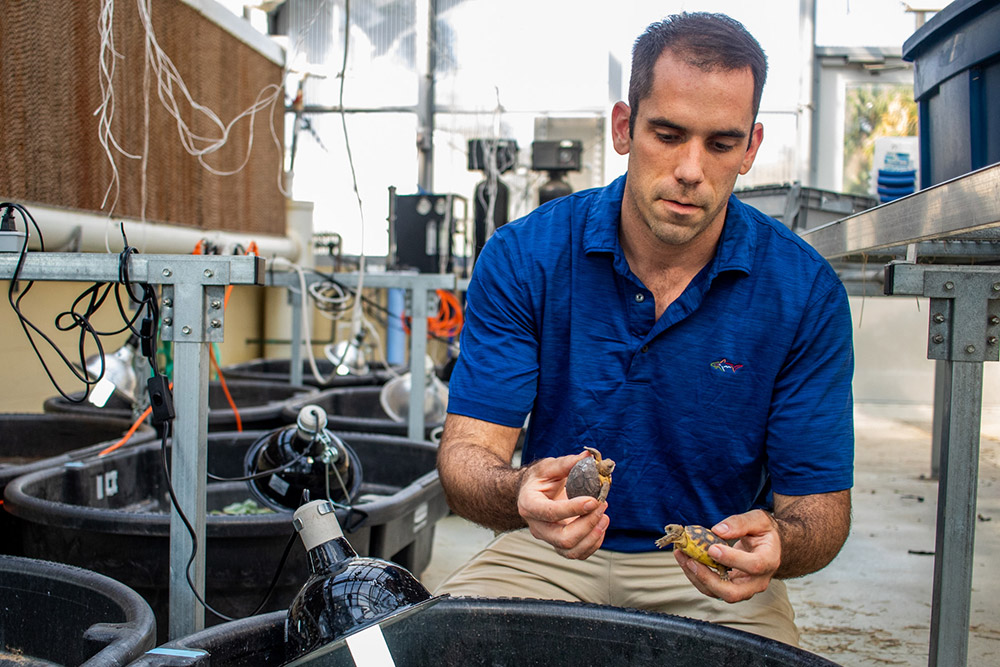 Professor Goessling leans over a tub used to hold the tortoises in the greenhouse. Photo: Angelique Herring '19
Despite being the same age and from the same site, variation in color and size is common in baby tortoises.
"I think, ultimately, conservation succeeds only through having multiple partnerships," Goessling says. "We're very grateful for our sponsors who help us continue to do this work."
Funding helps pay for lighting, vitamins, storage and other basic necessities to keep the population thriving. Sponsors are a welcome sight to the 10 student volunteers and all the researchers working in the greenhouse alongside them.
"The plan is to release [the baby tortoises] all together. When they get older, they are more territorial, so releasing them before they get to that [point] will be the best," Rachel says. "It will be emotional. They are wild animals, not pets, so they should return [to the wild]. But I can't say we don't get personally attached."
Please note: Gopher tortoises are protected by law in every state in which they live, and this research has been authorized under relevant state permits. All tortoises included in this head start project will be returned to their original location of origin.