Assistant Professor of Mathematics Bjoern Muetzel test drives a VR headset. Photos by Penh Alicandro '22
The Oculus 2 headset is designed to sit on your forehead and block out all elements of our world as we know it. There are two controllers, one for each hand, with triggers and buttons to control the views presented by the headset.
It requires a relatively open space, and once you calibrate boundaries with the headset, you are able to move freely in your space without fear of bumping into anything.
Bjoern Muetzel, Ph.D., assistant professor of mathematics at Eckerd College, recently received a grant from the Glenn W. Bailey Foundation to support the purchase of 19 new virtual and augmented reality headsets that will enrich multiple educational opportunities at the College. The Foundation's mission is to foster successful pathways into science, technology, engineering and math careers for students. Headsets will be used by Eckerd College students in classroom settings as well as by St. Petersburg youth being sponsored by various community organizations.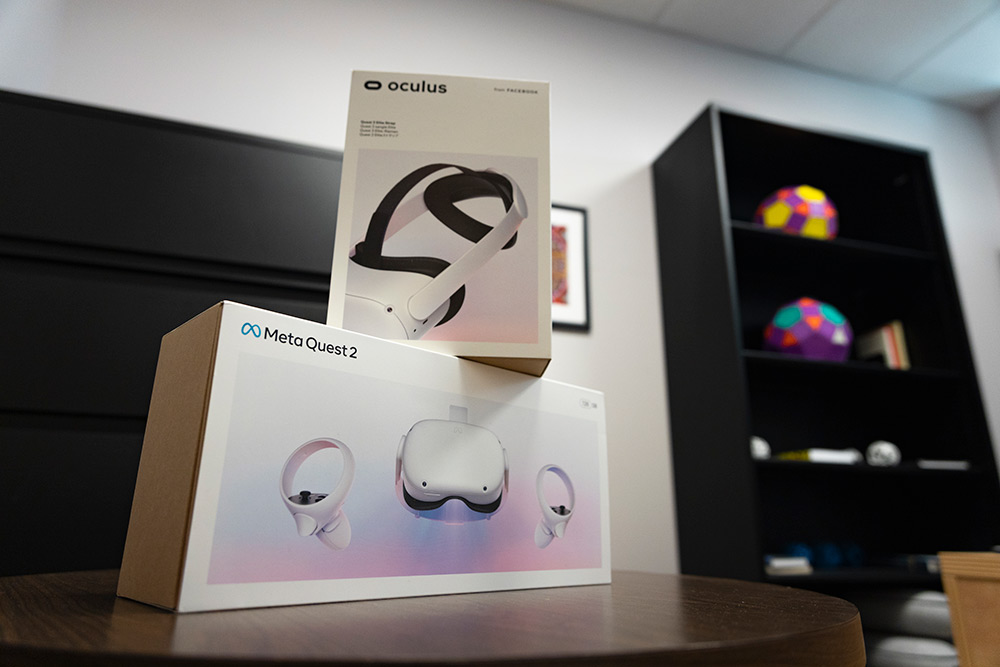 Campers who attend the Summer Science Splash Camp at Eckerd College will be the first to use the new technology. Rising seventh, eighth and ninth graders who attend the camp will be fully immersed in STEM experiences using the VR headsets, which may include creating 3D sculptures, exploring underwater ecosystems or even reliving the first moon landing.
Muetzel is fascinated by these new technologies; he enjoys learning how they work and is excited for the opportunities they will bring to the classroom. Perhaps the thing he is most excited to explore with students is fractal planes. A fractal is an infinitely complex mathematical shape that consists of a repeating pattern. Exploring fractals in virtual reality will allow for a new way to learn about them, and Muetzel hopes it will lead to a deeper understanding of the concept.
"The program drops you in a huge empty room, and with the right buttons, you can make something out of nothing," Muetzel says, reflecting on his own virtual experimentation with fractals.
In addition to Eckerd's summer camp, this new technology will be used by other community partners to enrich the learning experience of children in St. Petersburg. One such partner, the Shirley Proctor Puller Foundation, is committed to increasing literacy and academic achievement in Pinellas County elementary schools. In the fall of 2023, students served by SPPF will come to Eckerd on a field trip during which they will work with and learn from STEM majors at the College. Their visit will incorporate hands-on learning experiences, including VR demonstrations and geometric activities.
This aspect of community outreach is very important to Muetzel, in addition to the technology's use in Eckerd classrooms.
"I want to work with these kids to give them a better chance," he says. "My students are exuberant, and I believe this technology will extend their curiosity."