Tristan Ogdahl '20 and Sam Bannon '20 turned an idea that quickly grew popular among students on campus into an established pop-up business in the Tampa Bay area.
Anya Cervantes was just a sophomore when Wiener Beach founders Sam Bannon '20 and Tristan Ogdahl '20 started selling gourmet hot dogs through the window of their Omega residence-hall room.
Now a senior, Anya has worked for the duo many times at their popular pop-up food events around the Tampa Bay area and has learned the value of staying connected with your peers. "Eckerd is a forever community," says the environmental studies and visual arts student from Boxborough, Massachusetts. "I've loved getting to be a part of it outside of being at Eckerd."
Most recently, Wiener Beach collaborated with a local brewery and a sustainable bikini designer to host a Weenies & Kinis party on Jan. 29. While not dreaming up food and fun concepts, Ogdahl, an environmental studies graduate from Grand Rapids, Michigan, works locally as a utility forester at Environmental Consultants (ECI). Bannon, a religious studies graduate from Walpole, New Hampshire, worked one year as an Eckerd College admission counselor before going into business for himself full time. He does business in St. Petersburg periodically, traveling extensively between the U.S. and Europe.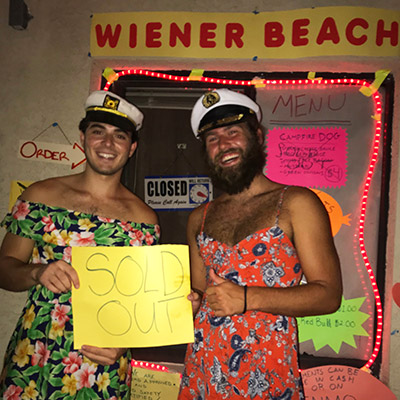 Co-owners of Wiener Beach pose outside of the walk-up window at Omega 211.
The Eckerd graduates attribute much of their success to Associate Professor of Management Jennifer Knippen, Ph.D. Like other Tritons, Bannon and Ogdahl took Knippen's Cultivating an Entrepreneurial Mindset course as seniors, where they had to plan and execute an on-campus business. "After weeks of brainstorming, surveying and experimenting, the idea for Wiener Beach was born around our living room coffee table in Omega 211," Bannon exclaims.
These out-of-the-box entrepreneurs learned more than just how to run their unique business while they attended classes at Eckerd. Bannon's time in the Religion and Food course, taught by Professor of Religious Studies Davina Lopez, Ph.D., gave him a robust understanding of the reasons why food can be so influential. Additionally, Ogdahl's environmental studies knowledge helped them maintain an exceptionally high standard for product sourcing in their business.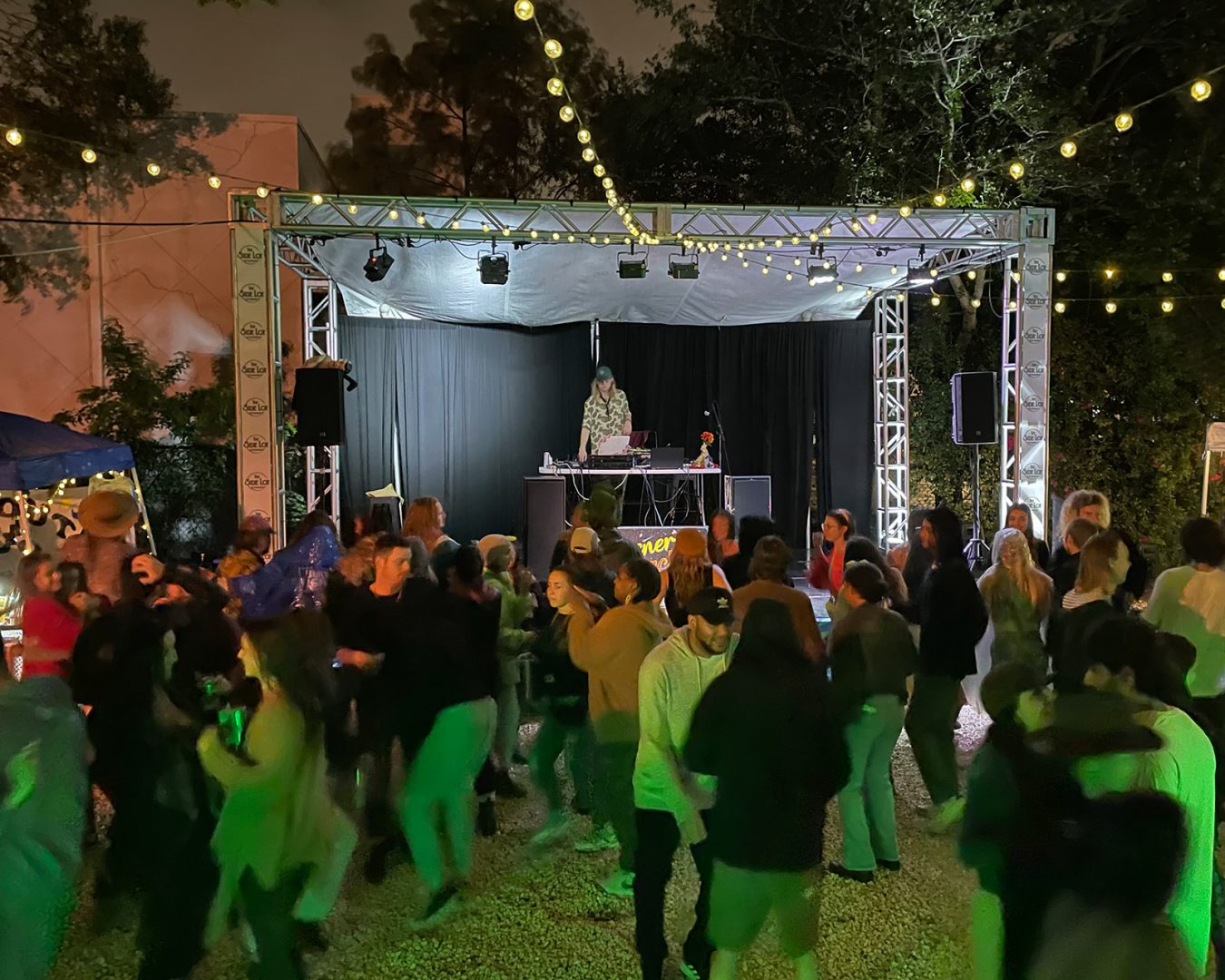 Pop-up events include music and local artists.
Once they had their idea, they got right to work. "We acquired our ServSafe Certification," Ogdahl recalls, "sanitized our entire kitchen and began selling hot dogs and munchies out of our apartment window every Saturday night from 10 p.m. to 2 a.m."
The business quickly grew popular among students. Abnormal business hours and delicious menu items—featuring the Buffalo Chicken Mac & Cheese Dog and the Guacaracha Dog, among others, paired with tater tots and vegan options—became campus staples.
Having gotten their booming start on campus, these beach boys have not forgotten their alma mater. "Many of the artisans featured at our events are current or former Eckerd students," Bannon explains. "We've featured the best electric guitarist in Florida, Eckerd graduate Jesse Bettencourt, at a few of our shows." They also sometimes offer Eckerd student discounts on food or the entry fee at concerts and events. They are even opening up several paid brand ambassador positions for their Eckerd WBBs, or Wiener Beach Bums, as they call their loyal followers.
Ogdahl sums up their success story perfectly: "When Wiener Beach started, we were just two guys selling gourmet hot dogs and munchies out of our dorm window. Now we are an established pop-up concept in one of the most poppin' up-and-coming cities … Wiener Beach forever!"