Associate Professor of Management
Degrees
Ph.D., Strategic Management, University of Florida
MBA, Global Management, Thunderbird, School of Global Management
B.S., Economics, Florida State University
B.S., Multinational Business, Florida State University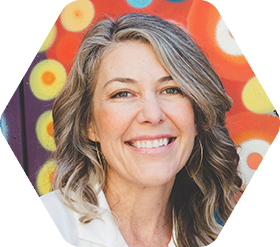 Research Interests
Corporate governance
Diversity in top management teams and board composition
Institutional influences on firm behavior
Professional Activities
Professor Knippen specializes in strategic management. Prior to joining Eckerd College, Professor Knippen taught competitive and corporate strategy in the McIntire School of Commerce at the University of Virginia. She taught undergraduate and graduate courses on strategic management and global strategy, and guest lectured on the business case for sustainability at the University of Florida. Much of her research investigates the social and institutional influences that affect corporate governance decisions. She has dedicated significant attention to women's progress in the upper echelons of management. And continuing along this theme, she is also interested in better understanding firm responses to regulatory pressures.
Professor Knippen is active in the academic community, where she has received "Best Paper" and "Outstanding Reviewer" awards from the Academy of Management. Professor Knippen worked in both the construction and telecommunications industries before becoming an academic. She has also served as a board member and consultant in the nonprofit sector.
Courses Taught
MN110S: Principles of Management and Leadership
MN 401: Corporate Social Responsibility
MN 498: Business Policy and Strategy
EN 204S: Cultivating an Entrepreneurial Mindset
EN 420: Venture Creation
WT: Ecotourism in the Caribbean
Selected Publications
Knippen, J.M., Shen, W., Zhu, Q. (2019) Limited progress? The effect of external pressure for board gender diversity on the increase of female directors. Strategic Management Journal, 40(7), 1123-1150.
Knippen, J.M., Palar, J., Gentry, R. (2018) Breaking the mold: An examination of board discretion in female CEO appointments. Journal of Business Research, 84: 11-23.
Tosi, H. L., & Knippen, J. M. (2010). Karen Ho: Liquidated: An Ethnography of Wall Street. Administrative Science Quarterly, 55(2), 320–323.
Knippen, J.M., Shen, W. (2009). Taking a closer look: Institutional influences on the presence of women directors. Academy of Management Best Paper Proceedings 2009, Chicago, IL: Academy of Management.