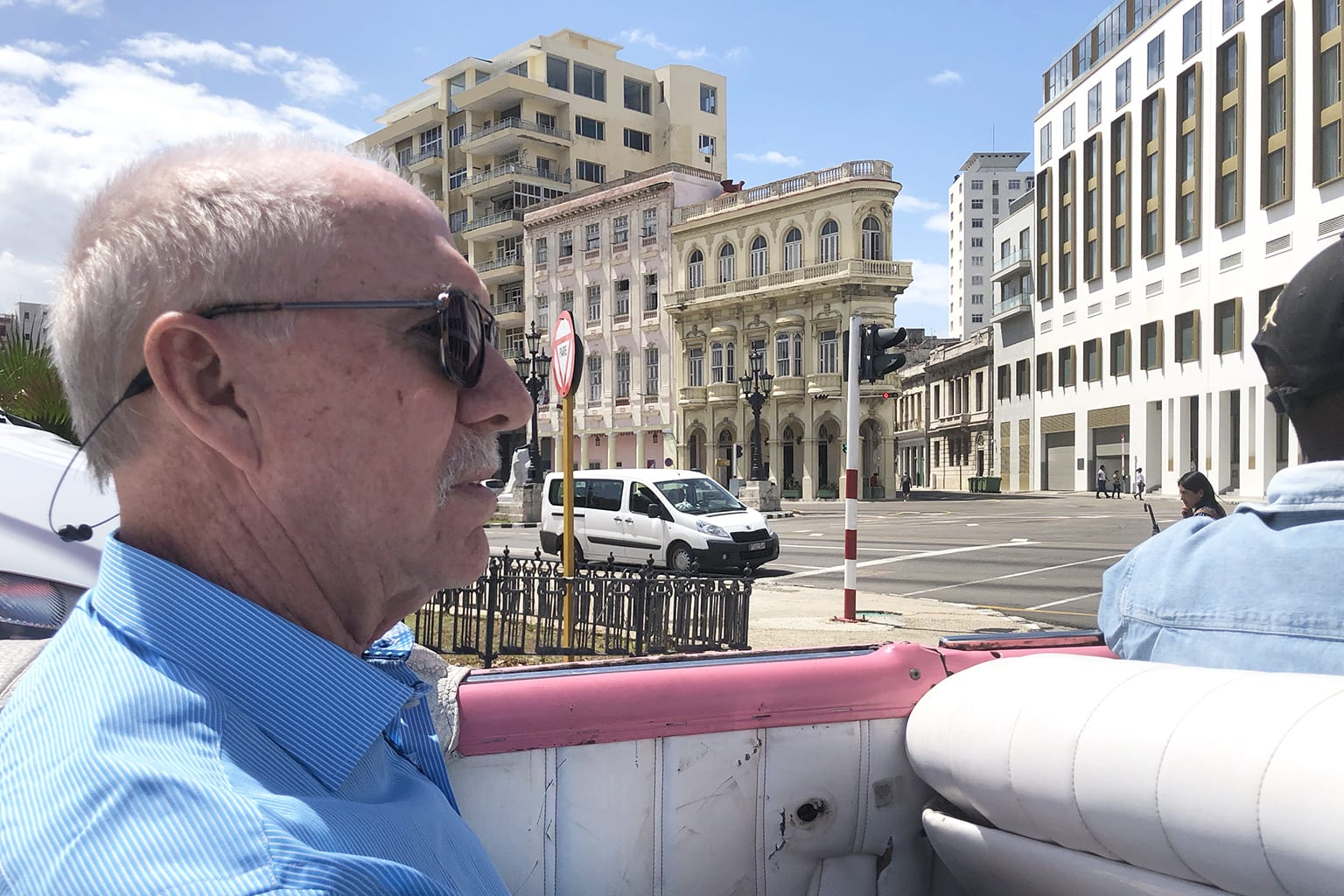 Professor of Marine Science and Geosciences Gregg Brooks, Ph.D. traveled to Cuba in early March for the 50th Anniversary of Centro de Investigaciones Marinas (CIM) at the University of Havana.
On March 9, he traveled to Cuba, wore a jacket and accepted an award from the Centro de Investigaciones Marinas (CIM) at the University of Havana. One day after returning, Eckerd College closed its residence halls for what would become the remainder of the academic year in response to the COVID-19 pandemic—forcing faculty to figure out how to continue research without student assistants and teach courses remotely for the first time.
"I usually don't need to go to the lab," Brooks laughed. "I'm in the office writing grant proposals or research articles. Now I'm in there doing dishes. There may or may not be a photo of that. I'm not smiling."
He did smile in Havana when a presenter, who spoke almost exclusively in Spanish, paused to call his name at the 50th Anniversary event for the CIM on March 9. Brooks was invited to attend the ceremony along with his colleagues Research Scientist Rebekka Larson '01, Associate Professor of Marine Science and Biology William Szelistowski, and Visiting Assistant Professor of Marine Science Jorge Angulo-Valdes, who once led the CIM. Brooks received an award for his continuing work in the country in geosciences.
"It was very interesting. I don't speak Spanish very well, and if you know me, you know I never wear a jacket or even socks most times," Brooks laughed. "This was very formal, so when I heard my name, I walked up and accepted the award and went back to my seat."
Over the past decade, Drs. Brooks and Larson along with their Eckerd colleagues have garnered $1.2 million in grant funding for their work.
Larson said that Eckerd College was the only international partner honored at the event. "One of our exchange students who is from Cuba said his mom called and said, 'Gregg is on TV!'" Larson explained. "They have partners from other [U.S.] universities, so to be the only partner honored shows how much they value the relationship with Eckerd."
After receiving such an honor, Brooks returned to campus, taught exactly one class and then received news the College was converting to remote instruction. His senior-level Coastal Geology course had just finished its first half of lectures and an exam, and the second half of more-graduate-level group work and presentations was set to begin. Groups would be assigned a coastal environment to research and present to the rest of the class, and in a normal year, the class would travel to an approximation of the environment in Florida to see it firsthand.
"Florida doesn't have some things, so we would go to a place that has some features instead," Brooks said.
When students returned to their homes, serendipitously, they were able to take their classmates on virtual tours of the real marshes of South Carolina, cliff coasts of California and tidal flats of Washington. "It was better than the class has ever been," Brooks mused.
Aside from teaching, Brooks and Larson are biking to campus every day to their lab at the Galbraith Marine Science Laboratory building. The instruments require daily maintenance, which used to be handled by a team of 10 student assistants. In the absence of help, the duo continue work on two projects—completion of sedimentary studies from the Gulf of Mexico as a part of the multi-college consortium Center for Integrated Modeling and Analysis of Gulf Ecosystems (C-IMAGE) and analysis of environmental changes caused by recent extreme events in the Caribbean.
The C-IMAGE work began in 2010, shortly after the disastrous BP Oil Spill in the Gulf. Since then, Brooks's lab has been awarded $1.2 million in grant funding, produced five book chapters, written 15 publications in peer-reviewed journals with 12 student co-authors, given 86 professional presentations with 96 students as chief or co-presenters, taken 31 students on research cruises, and been the subject of 15 undergraduate theses. C-IMAGE–funded work concludes this month, and last February the consortium presented Eckerd College with a blown-glass sculpture of a single drop of oil to commemorate the decade-long partnership.
Relationships formed in the Gulf opened the door to Brooks's newest project, studying the changes in environment left behind after extreme weather events in the Caribbean through surveys of areas in the U.S. Virgin Islands, Florida Keys and Cuba heavily impacted by Hurricane Irma. Brooks said the study is beginning to reveal some of nature's resilience.
"In one area we looked around, there were all these new, little, tiny coral heads," Larson recalled. "It's amazing, the speed of it—though we are geologists, so when we think [of] "fast," we're still talking about years."
Recently, Brooks and Larson gathered their entire student research team for a virtual chat on Google Meet to talk about what's happening in the lab and keep them updated on protocols and procedures. They plan to keep gathering the group throughout the summer to ease the transition into the Fall Semester.
"We want to keep them engaged, and we want them to be ready to work when they return," Brooks said, with a smile.