Collected from nearby waters, the crabs were placed in tanks at the Center so researchers could monitor, among other things, how the animals were reacting to the skyrocketing water temperatures in the Gulf of Mexico. Sometimes, Eliza says, what she saw was disturbing.
Working alongside researchers from across the country, Eliza, a junior marine science student at Eckerd College, would spend eight hours a day outside in temperatures well into the 90s tending to the crabs, which were each carrying tens of thousands of delicate eggs. She measured the water quality in the tanks, checked pH levels and noted the condition of the eggs.
"In one week, we saw all seven of our crabs abort all their egg masses,"' Eliza says. "They all had viable egg masses and were brought in from water temperatures that were about 33 degrees Celsius (91.4 degrees Fahrenheit). That was a rough week for us. The water was too hot for them. It was hot-tub water. They just weren't able to keep their eggs."
That would not be good news to the Florida stone crab industry, which generates more than $30 million a year in revenue. Almost all—99%—of stone crab claws are harvested in Florida.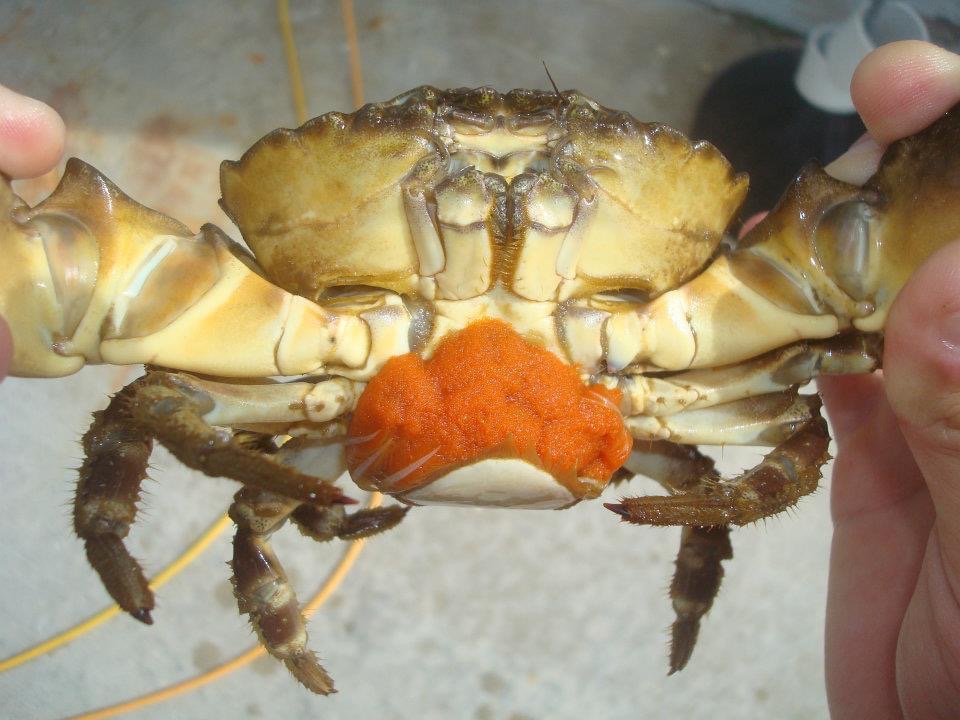 Eliza, who grew up a few miles from Chesapeake Bay in Millersville, Maryland, was one of five Eckerd students who lived and worked at the Center for more than two months studying the effects of climate change on stone crabs and corals. Four of the students, including Eliza, focused on stone crabs and were led by Philip Gravinese, Ph.D., assistant professor of marine science.
The other three students working with Gravinese were Thomas White, a senior environmental studies and marine science student from Danvers, Massachusetts; Rebecca Meberg, a sophomore marine science and psychology student from Weems, Virginia; and Taylor Queen, a sophomore environmental studies and marine science student from Athens, Tennessee.
In addition, Connor Dempsey, a senior marine science student from Babylon, New York, worked with Cory Krediet, Ph.D., associate professor of marine science and biology, to find ways to help save Florida's coral reefs. A National Oceanic and Atmospheric Administration study published last year found that climate-change-fueled coral disease and bleaching had already reduced Florida's reefs by 70%. Not only do the reefs generate billions of dollars through activities such as fishing and tourism, Krediet says more than 25% of marine species depend on coral reefs at some point in their lives.
One of those species is the Florida stone crab. Using a grant from the National Science Foundation and a collaboration with Louisiana State University, Gravinese and his students lived and worked at the Center from May 22 to August 8. They were testing how future climate change and rapidly increasing water temperatures could put crab populations at risk.
Another disturbing find was made. Stone crab larvae living in water around 90 degrees Fahrenheit "appear to change their swimming direction or look more indecisive in their swimming ability," Gravinese explains. "They spend more time turning or taking longer to respond. I can't say it with certainty, but it appears there might be something going on."
That's important, he says, "because if the larvae are changing how they swim, they might have difficulty migrating away from thermal stress and predators. And that could be problematic for the fishery."
Another problem is the one Eliza witnessed—females rejecting their eggs. "If those females were stressed out from those temperatures," Gravinese adds, "how could they produce or support a healthy batch of larvae? That's what we're trying to find out.
"If you look at everything that's going on, this is just another check on the box of how we're doing damage that we need to address. I was very disheartened. Stone crabs are a staple of our economy and an iconic marine species."
Well before heading to Mote, Krediet and his students had been working in his lab on campus, introducing beneficial microbes to corals that don't already have them. "To improve their resilience," he explains, "and enable them to handle stress a little better." He and Connor continued that work in the Keys. Coral samples were placed in tanks at Mote, so  the water temperature could be controlled and testing conducted.
Krediet—who worked with Grace Klinges, Ph.D., a postdoctoral researcher at the Center, to write a grant to support his research—says he was excited by the initial findings, but his research had to be put on hold. "Our time there coincided with the massive thermal event, so it was all hands on deck to help Mote scientists deal with all corals coming back to the lab," he says. "We dropped what we were doing and helped out where we could."
Connor's job was to introduce new strains of bacteria to staghorn corals and monitor which strains benefited the invertebrates. "People were working around the clock, and we did quite a lot of helping out," he says. "But I was still able to do a lot of my work. I also worked in Dr. Krediet's lab during the summer, and that helped."
As a high school student, Connor was inspired by an Eckerd College alumnus he met while visiting a marine lab in the Keys. After his latest visit, graduate school and continued work in marine science are next on his horizon. "The events this past summer were unprecedented," he says. "We have not seen this before. However, all the work the Mote staff did to preserve the coral gives me hope. But another couple of summers like this, and the corals in the Keys will likely disappear.
"I want to immerse myself in this field," Connor states. "Come in every day and put my head into the work."
Adds Krediet, "We routinely see seasonal bleaching. The question now is, was this summer truly a thermal anomaly? Was it a mixture of a lot of factors like El Nino and limited precipitation? Or are we starting to see a new normal? And do we have systems in place where we can mitigate some of the coral loss?"
Although water temperatures have dropped, they remain above seasonal norms. "The reefs are not recovered yet," Krediet explains. "The effects of July and August are not over. There is hope. Some of the corals are reproducing. So some recovery is being seen. But we're not out of the woods yet. It's still hurricane season."
Both professors hope to return next summer to the Center for Coral Reef Research & Restoration, or another research facility, to continue their work.
"Seeing how bad things are getting and how fast it's happening definitely worries me a lot," Eliza says. "But what helped was seeing all the people working at the Center. That gave me hope."