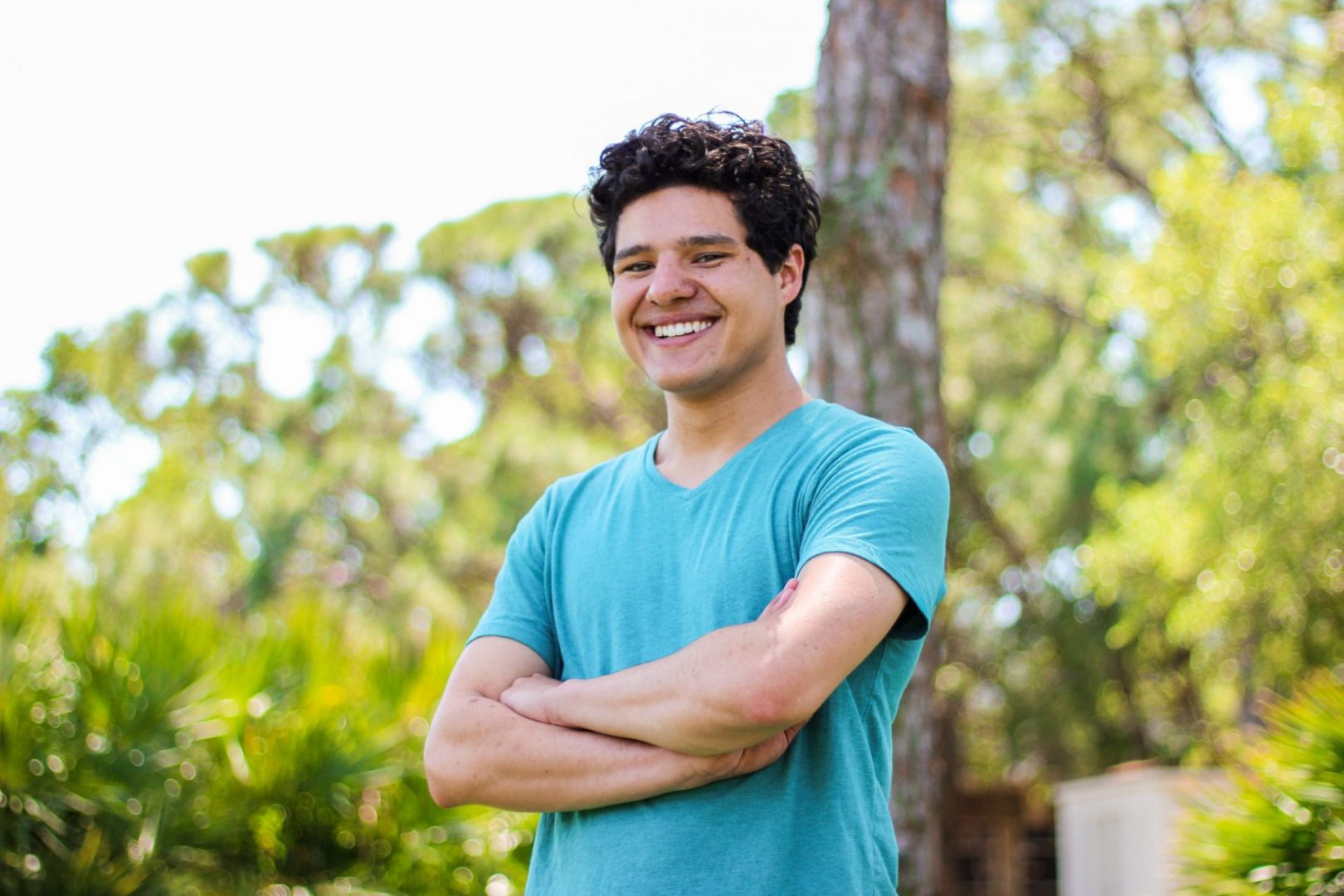 Hudson Filas has earned the country's most prestigious undergraduate scholarship for science majors. Photo: Angelique Herring '19
Hudson Filas, a senior marine science student at Eckerd College, grew up in Toledo, Ohio, on the western tip of Lake Erie. He could fish before he could read.
"My dad and I would fish for muskellunge, which is a strong fighting fish," Hudson recalls. "People say it's less like fishing and more like hunting. They are very elusive fish. You have to find them and use the right lure … all these different factors go into it. It's like the world's most complicated jigsaw puzzle.
"It requires a lot of thought, and that's what drew me to marine science. I love being connected with nature and thinking about it from an analytical perspective."
It's that analytical approach to the outdoors, plus plenty of hard work, that helped Hudson recently earn the country's most prestigious undergraduate scholarship for science majors—the Barry Goldwater Scholarship. It's a highly selective $7,500 award given to students from all fields of science, engineering and mathematics who obtain at least a 3.0 grade point average, plan to have a career in the natural sciences, and present a rigorous application that includes an original research paper.
Established by Congress in 1986 to honor former U.S. Senator and 1964 presidential candidate Barry Goldwater, the scholarship's aim is "to provide a continuing source of highly qualified scientists, mathematicians and engineers by awarding scholarships to college students who are U.S. citizens or permanent residents and intend to pursue careers in these fields," according to the program's website.
Hudson was one of only 12 students from a Florida college or university to receive the award this year.
"This is a real feather in the cap of Hudson, and of Eckerd's science program," says William Szelistowski, Ph.D., associate professor of marine science and biology at Eckerd and the College's Goldwater Scholarship campus representative.
For Hudson's research paper, he returned to the water last summer, this time alongside Jarrett Byrnes, Ph.D., a University of Massachusetts–Boston associate professor of biology and marine ecology. Their research, supported by the National Science Foundation Research Experiences for Undergraduates program, examined the identity and diversity of populations of small animals that live in the rocky intertidal zones of the Boston Harbor Islands.
"Lake Erie, Boston Harbor, Tampa Bay … I spent my whole life around bodies of water that were once in really bad shape," Hudson says. "But all three have become pretty major success stories, although there's still a lot of work to do."
The Goldwater Scholarship, Hudson says, will enable him to continue his work.
"This is an honor that I wasn't expecting," he adds. "This is going to help me be more competitive for grad school and for jobs, and help give me an edge on my research. It's also a really good way to connect with other people doing research and with professionals in the sciences. It gives me an edge going forward."
Amy Siuda, Ph.D., associate professor of marine science and Hudson's mentor, says Hudson started out as a first-year research program associate working on the Tampa Bay Microplastics Monitoring Project, "where he was an active contributor and conscientious labmate."
"As part of the project, Hudson helped to collect and analyze water samples for microplastics from seven stations around Tampa Bay. Having added to his skillset, he then moved on to research projects that were more aligned with his scientific interests," Siuda explains. "Professor [Shannon] Gowans and I were happy to provide a research foundation for Hudson, preparing him for his subsequent activities."
As Hudson's professor for Biological Oceanography, Siuda requested that he serve as a teaching assistant for the class during the spring of his first year.
"Hudson is bright and earns top grades in his classes," Siuda adds. "My sense is that he is a natural academic and that academic success comes easy for him. However, I want to emphasize that I don't think Hudson takes this gift for granted. He put great effort into his written work, taking advantage of office hours to improve his already strong assignments. Also, during class-related exercises in the lab and field, Hudson was always an active participant, working effectively alone or as part of a team."
A 2021 National Oceanic and Atmospheric Administration (NOAA) Ernest F. Hollings Scholar, Hudson plans to travel to Seattle this summer to continue his long-term research in marine predator-prey interactions. He'll be working with Kerim Aydin, Ph.D., manager of the Resource Ecology and Ecosystem Modeling Program at the Alaska Fisheries Science Center, a NOAA facility.
"The Goldwater Scholarship, the Hollings Scholarship, they all revolve around research," Hudson says. "Eckerd College academically prepared me for that. The research possibilities here are partly why I chose Eckerd. In most big schools, the grad students do the research, and the undergraduates do the grunt work. There are no grad students at Eckerd."