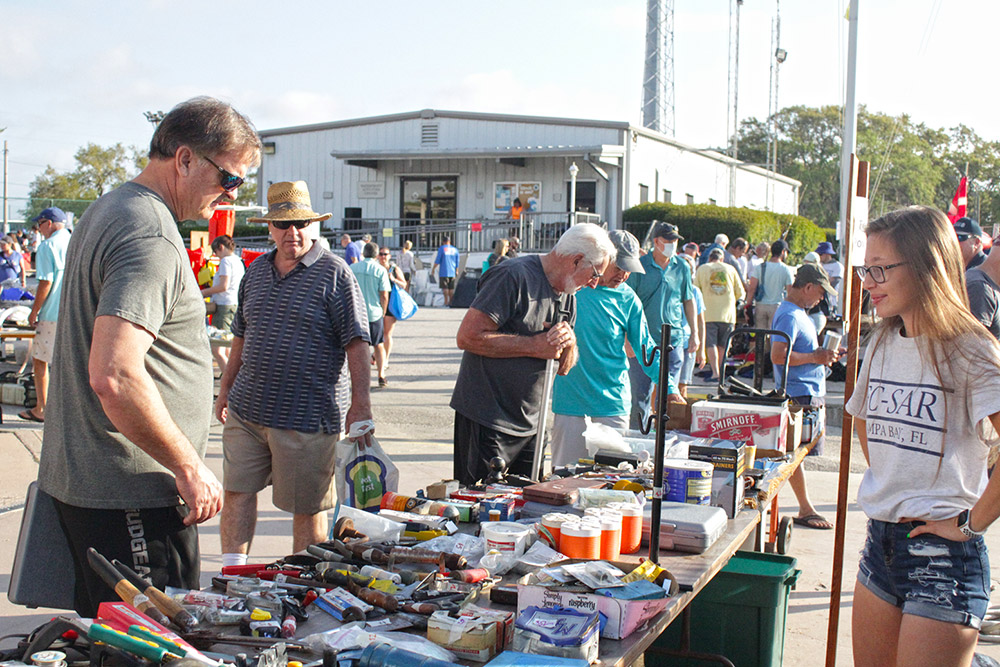 First-year student Jaycee Lenick assists the public at the yard sale. Photo: Trinity Wilson '22
Expenses usually include maintenance for boats and equipment, as well as gear replacement, training supplies, fuel and more.
Renee Register '83, director of the Waterfront Program, says events like these take months of planning and preparation to organize. "The process for our sale starts with letters sent to businesses asking for donations of items for us to sell," she says. "Our students make follow-up calls to these businesses and schedule pickups of the donations … This gives our donors and our students a chance to connect and create relationships that have lasted for years." Donors provide used equipment, surplus inventory or other items they no longer need.
Boats are sold by the Waterfront year-round, but accessories and smaller items are sold only during the annual sale. According to Register, "We have customers from all over who come to our sale every year. Some are actually here to buy equipment for their boats, but many come to find great deals on items that they didn't even know they needed, and some just buy something or make a donation to show their support." This year, about 900 people attended the yard sale.
Prior to the event, EC-SAR purchased and christened a new boat—Rescue 7—using grant funds provided through efforts of the staff of the College. "We purchased the boat to replace one of our older vessels that wasn't meeting our current needs and began to have excessive maintenance repairs, making it more expensive to maintain and less reliable for our use," Register says.
"Our goal is to have the financial ability to replace our rescue boats more frequently to alleviate extra expense and unreliability caused by older boats that have reached the end of their service life as a boat involved in maritime rescue."
EC-SAR responds to more than 500 maritime distress calls per year and is on call around the clock to handle requests for assistance with maritime emergencies such as towing, search and rescue, dewatering sinking vessels, firefighting and pulling vessels from aground. The funds from this year's yard sale will help the team continue to serve boaters in the surrounding waters of southern Pinellas County for another year.