First-time participants in the January 17 National Day of Racial Healing event at the University of South Florida–St. Petersburg were treated to food for thought, a feast for the spirit, and a delicious spread from Heavy's Restaurant and Takeout to boot.
Eighty-five guests gathered in the University Student Center Ballroom ready to take part in an immersive healing experience led by local artists and mental health professionals curated by hosts the St. Petersburg/Pinellas Higher Education for Racial Equity Consortium and The Well.
During the course of the afternoon, emcee LaDonna N. Butler, Ed.D., CEO of The Well and assistant program director at the University of South Florida, encouraged attendees to stand up and dance to music by guitarist Shevonne Philidor, immerse themselves in a sound bath from Conscious Body Therapy's Jessica "Love" Lassiter, and offer verbal responses to a series of art pieces from Myiah Pink from HappySoul. 
"One of the ways in which we heal is through movement," Butler told the sheepish audience as she beckoned them to rise and sway to Philidor's cover of Al Green's "Love and Happiness."
2023 marks SPHERE's second time hosting a National Day of Racial Healing event, and the group chose the theme "We Belong" to address the essential roles marginalized people play in the communities that often shun them. 
The topic was further explored through a "fireside chat" with panelists: Brother John Muhammad, District 7 St. Petersburg city council member and Florida Rising lead organizer; S. Kent Butler, Ph.D., counselor education professor at University of Central Florida and past president of the American Counseling Association; Katurah Jenkins-Hall, Ph.D., visiting professor of human development at Eckerd College; Jessica Estévez, co-founder of Estrategia Group, a W.K. Kellogg Foundation Leadership and Racial Healing Community Fellow, and a Mi Gente Mi Pueblo Mover; Minister Patrick Jackson, an actor, a teacher and an artist; and Destiny Gomez, a second-year SPHERE Racial Justice Fellow. 
Each one lifted up themes of isolation as people in spaces they were not welcomed into because of their race, and how they healed themselves from those experiences.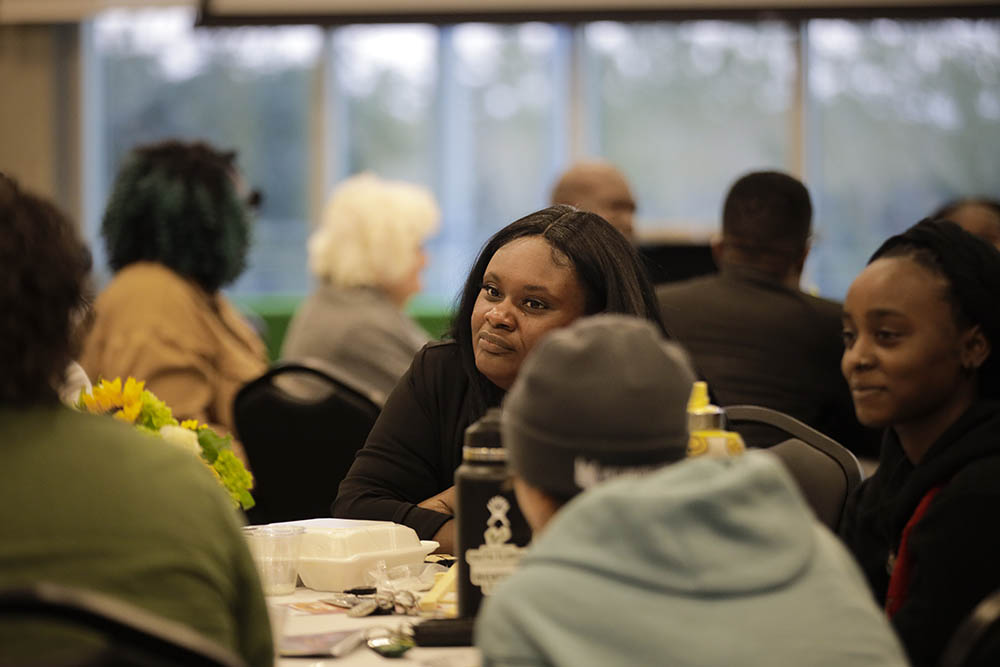 Na'Keidra Perez (center), a 2021–2022 SPHERE Racial Justice Fellow and St. Petersburg College student, leads a lively table discussion during a National Day of Racial Healing event. Photo by Penh Alicandro '22
"I sought opportunities to work across cultures with organizations looking to make change," Jenkins-Hall said. "That is how I came to join the board of a Foundation for a Healthy St. Petersburg, where I met so many colleagues who are here today."
During a brief student-focused panel, SPHERE Racial Justice Fellows Gomez, Na'Keidra Perez, Kima Sibayan and Katherine Mack also discussed how they navigate belonging in higher education.
The SPHERE Consortium was founded in 2020 when volunteers from Eckerd College, St. Petersburg College, Stetson University College of Law and USF–St. Petersburg gathered to discuss ways to address racial inequity across their institutions and community through collective action. SPHERE received an official designation as a Truth, Racial Healing & Transformation Campus Center from the American Association of Colleges and Universities in 2021 and has been creating cross-campus programs and initiatives, including a Racial Justice Fellows Program for students from all four schools. 
According to the W.K. Kellogg Foundation, which established the National Day of Racial Healing, it is "a time to contemplate our shared values and create the blueprint together for #HowWeHeal from the effects of racism." Launched on Jan. 17, 2017, the National Day is an opportunity to bring "people together in their common humanity and inspire collective action to create a more just and equitable world."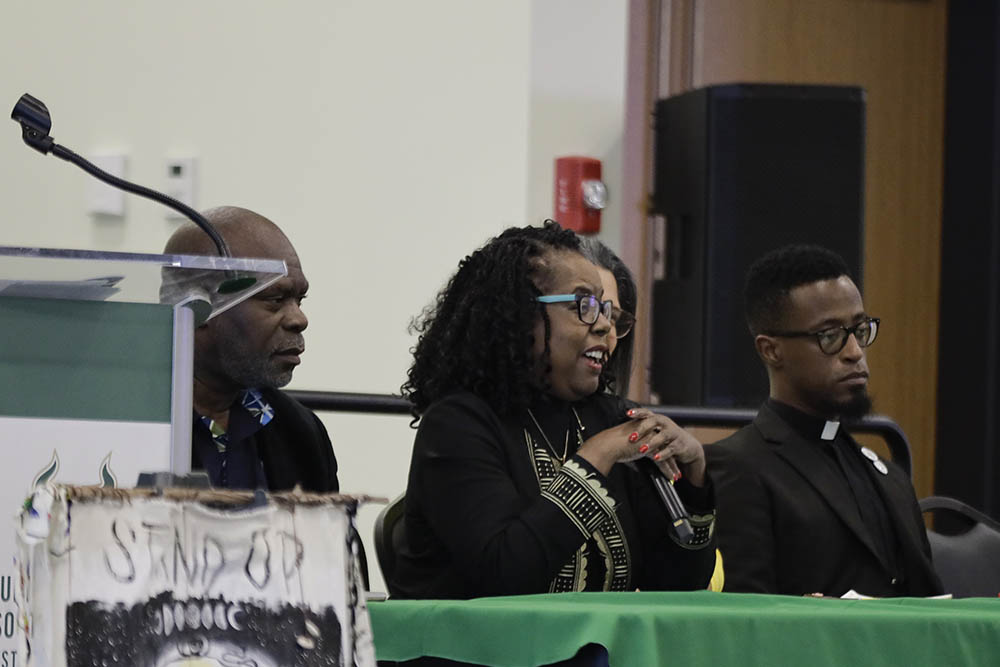 Panelists (left to right) S. Kent Butler, Ph.D.; Katurah Jenkins-Hall, Ph.D.; Jessica Estévez; and Min. Patrick Jackson share their experiences with being excluded. Photo by Penh Alicandro '22
Pedro "el Poeta" Jarquin '06 took a deep breath before launching into his poem "In What Way," about how he uses his experiences as a Nicaraguan immigrant and at-risk youth to relate to students facing systemic obstacles.
The Eckerd College creative writing graduate, professional spoken word artist and English teacher at Enterprise High School said his healing began when he found his voice in verse, and now he offers his passion as an outlet to students who remind him of himself. 
Stetson University College of Law Professor Judith Scully, J.D., closed the event by offering a call to action for people to continue to engage in truth-telling—even as legislators pass laws censoring educators. 
"We have to continue to tell our truths and raise our voices," Scully said, "if we are to truly have healing and transformation."