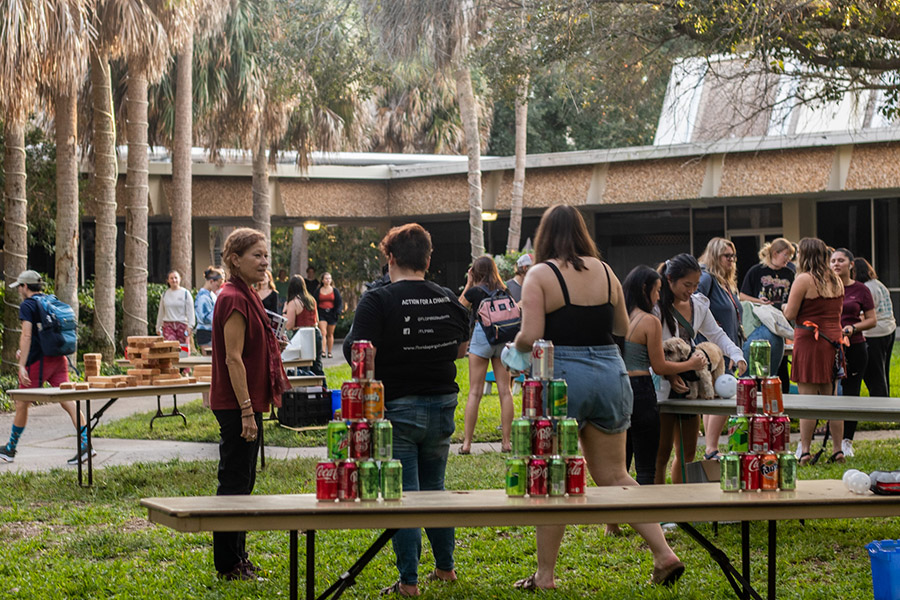 Faculty and students attend a "Climate Carnival" in Hough Quad. Photo: Angelique Herring '19
Imagine a campus that sells only reusables, prohibits the purchase of single-use plastics and thrives on a low-waste, environmentally friendly culture. This is the Eckerd College that Natalie McKenna and Chloe McKenna (no relation) are working toward.
Chloe, a junior environmental studies and animal studies student from Yorba Linda, California, and Natalie, a marine science and environmental studies student from Ontario, New York, are members of one of Eckerd's most influential clubs: the Florida Public Interest Research Group Students (PIRG). PIRG is involved in student activism on every level—starting campaigns to end hunger, registering students to vote and advocating for environmentalism on campus. Right now, Natalie and Chloe are heading up one of PIRG's most ambitious efforts yet, the Zero Waste Campaign.
Already, Eckerd College runs a Trash 2 Treasure recycling program, where first-year students are invited to purchase used and refurbished dorm necessities when they arrive, and implements the Break Free From Plastic Pledge, which prohibits the purchase of nonessential single-use plastics with College funds. Natalie and Chloe have an idea to take things further.
"We're really trying to work toward an ideal future where everything on campus is based in sustainability and zero-waste culture," Natalie says. Their main goal for this new campaign is a low-waste bulk station in the Triton's Pub. This bulk station will provide sustainable household products, giving students a place on campus to buy eco-friendly items cheaply and reducing Eckerd's plastic waste by a huge margin.
Zero-waste-lifestyle students can currently find bulk stores in St. Petersburg, and the Reduce Single Use at Eckerd College offers workshops on making your own reusables, but a bulk store on campus would be an institutional commitment to the principle.
Break Free From Plastic "was a huge win for PIRG and the other groups that worked on it, but we know that there's more that we need to do on campus," Chloe explains. In November, PIRG also ran a Climate Carnival, which focused on different types of renewable energy and their effects on climate change. Faculty and students gave speeches and played games. This carnival partnered with other clubs on campus, like the campus radio station, WECX, whose hosts played music and assisted with student testimonials.
In fact, PIRG has worked with almost every department at Eckerd, from Residence Life to Admission. Chloe and Natalie's main contact, however, has been Evan Bollier '11, the College's director of sustainability. He has headed the Office of Sustainability since 2011 and works on initiatives run by students and administration alike. Natalie and Chloe say collaborating with College administration has been a smooth process. "PIRG has worked with Evan a lot before the Break Free From Plastic [Eckerd College Pledge] … we're really thankful that we have allies in those groups on campus."