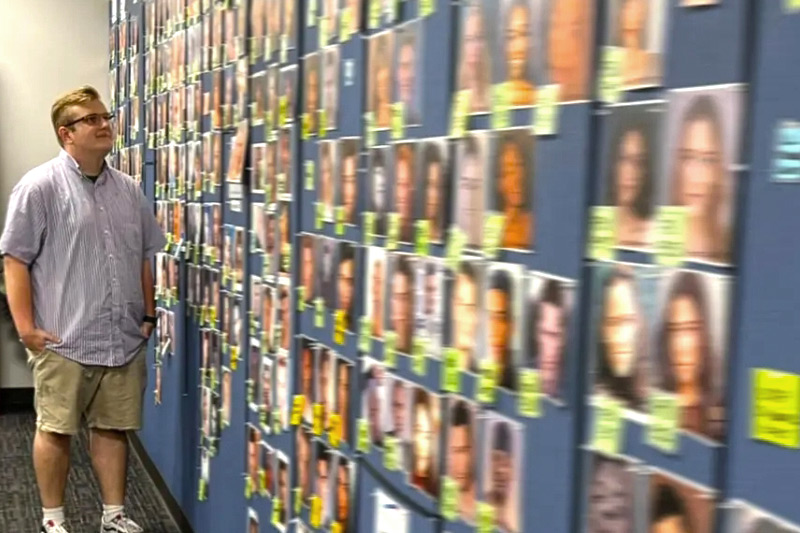 As an intern, senior Ryan Reed '23 works with various departments including facilities, operations/casting, stage management, and company management.
Jessica Thonen came up with the idea a few years ago and knew that, somehow, she would find a way to make it float. Thonen—associate dean of faculty at Eckerd College, co-director of the Eckerd College St. Pete Center and former professor of theatre at the College—wanted to start a first-of-its-kind internship program that would send Eckerd theatre design and technology students to work and learn at the renowned Creative Studios owned by Norwegian Cruise Line Holdings Ltd.
Creative Studios, located in Riverview near the Port of Tampa, rehearses and produces 42 individual casts twice a year for Norwegian Cruise Line, Oceania Cruises, and Regent Seven Seas Cruises. The studios produce high-end productions and entertainment events, including Broadway shows such as Jersey Boys, Kinky Boots, Six, Footloose and Priscilla Queen of the Desert.
Thonen, who has worked as a costumer for Norwegian, contacted her friend Kai Alan Carrier, the director of artistic theatrical entertainment for two of the three cruise lines. She knew Carrier would be interested. "Our first time working together was on the Oceania Marina," Thonen recalls. "We were relaunching the ship after COVID restrictions were lifted and navigating new waters, pun intended. Since that time together, Kai has been generous in sharing his time with the Eckerd Theatre discipline by speaking on campus to our majors."
Thonen's problem was scheduling. "It was a challenge," she says, "to find design and tech opportunities for our theatre students that were well suited to Eckerd's academic calendar. Our academic year goes longer than most, and it's difficult finding a job in summer stock. A lot of the programs are well underway before our students are available."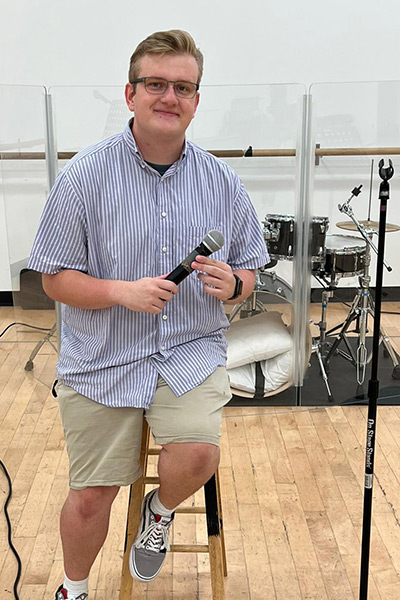 Thonen approached Carrier about having students start the internship in early August, spend a month immersed in the program, then transition to Eckerd to start the academic year.
She recalls, "Kai said, 'Great! Let's do it.' He asked what would be best for our students, which means every step of this internship has been created with Eckerd students in mind. And this is the first of many. Mr. Carrier is open to creating two spots for interns each summer from Eckerd."
Eckerd interns will be paid, and live in artist housing at Creative Studios. The interns will work with one department each week—including facilities, operations/casting, stage management, and company management. "Every studio is set up exactly like the stage on one of the ships," Thonen says. "It's a pretty amazing facility."
The program's first intern, Thonen says, checked all the boxes. "When we knew this internship was a go, I contacted the theatre faculty and asked about students with a proven track record of reliability, professionalism and talent," she says. "I know Ryan Reed from past experience and was not at all surprised to hear him mentioned. He and I have worked together on multiple productions, and every experience I had with him—whether in the classroom, studying with me abroad or working on productions together—he was the epitome of a masterful, collaborative and respectful artist."
A senior Ford Scholar majoring in theatre and film studies from Meredith, New Hampshire, Ryan began his internship August 1. "It's very daunting," he says.
"I'm the first-ever college student doing an internship with Norwegian's Creative Studios, and I'm helping them build the program. I work in a different area every week, and it's way more in depth than I'd thought. But everyone here has been great, and the program will help me figure out which area I want to work in."
Carrier sees Ryan as a trailblazer. "I'm most excited about Ryan joining us because he will be paving the way for all of the Eckerd students who will follow behind him," Carrier says. "With Eckerd College being so close to the Creative Studios, it only makes sense that we create a theatrical-artistic bond. I knew Amber Hensley, our manager of fleet production, had also been working on starting an internship program and that bringing Ryan in would be the spark she needed to set the internship program into motion for years to come."
Consider the spark added. "For Eckerd students, this program will give them an idea of what to expect in the cruise ship industry," Hensley says. "It will allow them to see how quality cruise ship entertainment operates as well as potentially help them develop other interests and/or expand on their current interests."
And for Norwegian, the internship program "will allow us to develop a team of professionals who one day may work for us," Hensley says. "I am so excited to create this program for our company and see what it can develop into in the future. My goal, above all else, is that young professionals learn a little something, enjoy what they do and have fun."
"What this means," Thonen adds, "is that students can take real advantage of a one-on-one experience and run with the big dogs. As theatre artists, we all remember someone giving us a chance at the beginning of our careers. And with this internship program, we can formalize the continuance of that tradition."