It was a one-semester course that, at the time, all Eckerd College art majors were required to take: Visual Problem Solving, taught by founding faculty member Jim Crane.
To Keith Rivinius '92, a Marine Corps veteran who served in both Operation Desert Storm and Operation Iraqi Freedom, that course would be unforgettable.
"That class has stuck with me ever since I took it in the late 1980s," Rivinius says now. "[Mr.] Crane taught you to look at something—a drawing, a painting, a sculpture—and modify it into something else. To ask how you can make it better. It's a really cool way to think about things.
"Every job I've ever had since then, I've used that out-of-the-box thinking. How can I make it better? It opened my eyes to all sorts of different ways to do things." Including his remarkable blending of military service and higher education.
Rivinius joined the Marine Corps Reserve while a first-year student at Eckerd. He was mobilized during his senior year and served in Kuwait as part of Operation Desert Storm. After graduating from Eckerd and receiving a Master of Business Administration degree from Old Dominion University in 2001, he went back to the Middle East and completed two tours of duty in Iraq during Operation Iraqi Freedom.
Rivinius retired from the Marine Corps in 2015 as a lieutenant colonel and lives with his wife, Amy, and two sons, ages 12 and 16, in Gardnerville, Nevada. He currently works for Rad Power Bikes as a certified bicycle technician, mobile ambassador and mobile lite supervisor.
But the journey began back in St. Petersburg. Although he had grown up 1,400 miles away in Billerica, Massachusetts, Rivinius knew all about Eckerd because his sister, Sherri Rivinius Copeland, graduated from the College in 1986, and his brother Scott was a senior at Eckerd when Keith enrolled. After Scott graduated in 1988, he worked in the Admission Office for three years and then returned in 1998, serving as Eckerd's director of gift planning and administration for 13 years.
"For me, the bottom line was I wanted to join the Marine Corps and my parents wanted me to go to college," says Keith, 53. "My family and I had visited my brother at Eckerd, and we loved it. And Florida was amazing."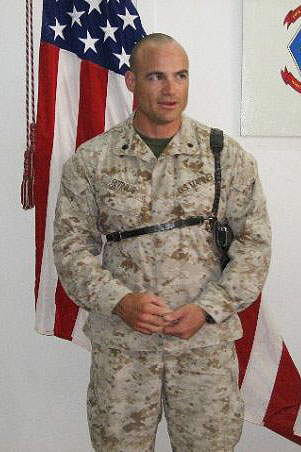 Keith in desert camouflage in Iraq, shortly after promotion.
Keith Rivinius was a visual arts major whose mentor, Professor of Visual Arts Arthur Skinner '72, was closer to the start of his now 46-year career of teaching at Eckerd.
While attending the College, Rivinius spent his summers unconventionally. After joining the Marine Corps Reserve as a first-year college student, he went to boot camp that summer. The next summer he attended advanced training, and his third summer was spent at Officer Candidates School. In November 1990, during his senior year, he was called up to serve in Operation Desert Storm, the campaign led by the United States in response to the Iraqi invasion of Kuwait.
Rivinius was a crew chief on a mine-clearing vehicle. "We were in Kuwait, and in the middle of nowhere," he recalls. "We lived in the dirt the whole time. It was crazy. The ground war lasted four days, but I was there another four months after that.
"I got a million care packages from people from Eckerd during that time," Rivinius adds.
"Professor Skinner even sent me a piece of linoleum I could carve into, because he knew that's what I liked to do in art class. He told me to use my bayonet to put a design in it."
When he returned to Eckerd in May 1991, Rivinius attended what was supposed to have been his graduation ceremony. Although he couldn't graduate until the following January, he was introduced to the audience and received a standing ovation.
But his service to his country was far from over. Rivinius was deployed twice to Iraq, in 2003 and 2007, as part of Operation Iraqi Freedom. He served as an amphibious assault vehicle officer during the coalition forces' advance from Kuwait to Baghdad. "Things were blowing up all around us," he recalls. "You were either sitting on your hands or worried about getting killed. We were on dirt roads on the push to Baghdad, going though little towns. It took us three weeks to get there."
He spent his second deployment training Iraqi soldiers, which was no less dangerous. "That's when IEDs [improvised explosive devices] were prevalent," Rivinius says. "We came across many IEDs."
By the time America's involvement in Iraqi Freedom officially ended in 2011, more than 4,400 U.S. service members had been killed and nearly 32,000 wounded.
Before settling in Nevada, Rivinius was stationed at Norfolk, Virginia, and at the Marine Corps Mountain Warfare Training Center near Bridgeport, California, among other stops. But he always remembers his years as a student-soldier at Eckerd.
"Looking back," he says, "going to Eckerd was the best choice for me."