The official language of 20 countries, third most spoken language in the world and the second most common language in the U.S.
By majoring in Spanish at Eckerd students become proficient in a language spoken by about 500 million people and knowledgeable of the cultures shared by them. Our faculty actively engage students both in a small class setting and outside the classroom.
Our students take full advantage of the Spanish language and cultural influence felt in the Tampa Bay area. There is also ample opportunity to practice the language on campus, since Spanish native speakers come to Eckerd to seek a degree or to study English at our ELS Center. A tutoring program also offers support outside the classroom. Many of our students polish their language and culture skills by studying in a Spanish-speaking country for a semester or a year through ISEP or CIEE; by completing a semester of study at our own Latin American Study Center in Peru; or by taking a Spring Break service-learning trip or a language immersion winter term course.
A degree in Spanish from Eckerd provides excellent preparation for graduate study, while also making students more employable and ready to participate in our increasingly global society. Many of our majors typically combine their study of Spanish with other fields of study. The importance of the study of Spanish is evident in the diverse career paths chosen by our majors and minors.
The College's
world language requirement
consists of two semesters (or the equivalent) of beginning language study. Students may be exempt from the language requirement if they place into the 201-level course or higher.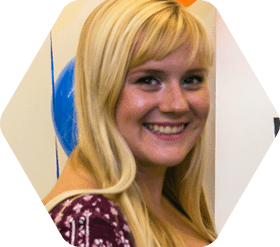 Julia Collins '16
Majors: Spanish and International Business
Hometown: Atlanta, GA
Won the Many Languages One World Global Youth Forum essay contest sponsored by ELS and their partnership with the UN. Julia traveled to New York this summer to speak at the UN forum.
"I love studying Spanish at Eckerd because there are amazing opportunities to improve your Spanish on cool trips and in interesting classes."