Bioarchaeology
Lopburi, Thailand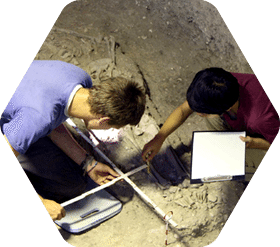 Eckerd students frequently engage in bioarchaeological fieldwork in central Thailand with Prof. Burnett. In May 2013, 6 students (Michelle Baldwin '15, Elise Barnes '14, Ellie Finkenaur '15, Katelyn McGlynn '14, Jess Mullins '14, and Meaghan Rondeau '15) were members of our joint Thai-American project excavating the site of Promtin Tai, an Iron Age site near the modern day town of Lopburi. Our work during the summer of 2013 focused on continued excavation to uncover human skeletons dating from the Iron Age, and cleaning and analyzing skeletons excavated during prior excavation seasons. Our work ultimately aims to study skeletal and dental indicators of health of the prehistoric inhabitants living in central Thailand. In addition we hope to conduct a mortuary analysis of burials at the site, which contain a variety of grave goods including shell and stone beads, marble earrings, ivory bracelets, spear points, stone axes, and food offerings.
In addition to gaining daily hands-on experience, students learn bioarchaeological method and theory in a course on the bioarchaeology of SE Asia, and undertake field trips to historic and prehistoric sites and Khao Yai National Park. Recent participants also include Jennifer Duncan '13, Emmalee Holland '12, George Neiley '12, Kaitlin Repko '13, Sean Yunker '12, Rachel Flaherty '10, Zachary Hipkens '10 (below), and Petra Stevenson '11.
Studying intentional tooth removal
Smithsonian National Museum of Natural History, Washington, D.C.
Intentional dental ablation, the non-therapeutic removal of teeth, is a form of body modification that has been documented in many societies around the world, past and present. Among the myriad reasons for the practice, it may be used to express information about individuals (e.g. age or status) and the societies in which they live (e.g. identity markers).
However, it can be difficult to identify archaeologically since it requires distinguishing ablation from therapeutic removal, from teeth lost due to trauma or disease, and from teeth that failed to form. Ken Tremblay '18 decided to research the characteristics used to identify dental ablation by testing them on 849 non-human primate skulls in the National Museum of Natural History. Since other primates do not practice intentional dental ablation, any cases that were identified using the same methods used to study humans must be false positives. Ken's methodological research uncovered wide variation in the number of false positives among published methods for identifying dental ablation and identified symmetry as a key characteristic for differentiating intentional tooth removal from the other possible explanations for missing teeth.
Osteometric Analysis
Chiang Mai, Thailand
After excavating at the site of Promtin Tai, Elise Barnes '14 spent a week in northern Thailand measuring human wrist bones at the Chiang Mai School of Medicine. Elise is testing the results of several researchers who employed differences in wrist bone size to determine sex from the skeleton. Specifically, her research will identify which bones may be most effective, and determine whether similar levels of accuracy can be achieved on skeletons from a modern Asian sample. Elise's research forms the basis for her senior thesis and she will present her results at the 2014 meeting of the American Association of Physical Anthropologists in Calgary, Canada. Osteometric analyses like this one are frequently used in both bioarchaeology and forensic anthropology and this research experience will help prepare her for graduate study in one of these fields.
Dental Anthropology
Tempe, Arizona
Whitney Stamey '11 was awarded a Sigma Xi Grant in Aid of Research ($1000) to fund her research on triangular ridge bifurcation (TRB), a poorly known morphological dental trait on upper premolars. The trait was previously observed in teeth from both modern humans and neanderthals, but little systematic research has been done to date. Whitney established a new scoring system for the trait and analyzed its occurrence in approximately 2000 premolars from 502 individuals representing four geographically distinct human populations. Her research is the first to identify statistically significant population variation in the trait, suggesting that it may be useful in studies of current and past population relationships.
Bioarchaeology
Carriacou, West Indies
Eckerd students have also traveled with Professor Burnett to Carriacou, a small island in the Lesser Antilles of the southern Caribbean, to excavate at the pre-Columbian site of Grand Bay. Jessica Stone '09, Robyn Erickson '11, and Abby Heller '11 joined the Carriacou Archaeological Field Project for the 2008 field school season, where they learned archaeological field and lab techniques with an additional emphasis on bioarchaeology. Excavation revealed the first evidence of ancestor worship on the island and illuminated health issues suffered by its prehistoric inhabitants including arthritis and healed fractures suggestive of accidental trauma.
Examining Human Stature Over Time
Freshman Research Associate Program
Kelly Henry '12 investigated stature in 20th century South Africans using long-bone length data as a Freshman Research Associate working with Professor Burnett. Average human stature is frequently used as a general measure of overall nutrition and health in a population. An increase or decrease in average human stature in a population over time is thought to reflect an improvement or deterioration in health status, frequently due to socioeconomic trends. Kelly conducted background research on secular trends in stature, assisted in the development of the research methodology to be employed for this study, and analyzed skeletal data previously collected by Professor Burnett for potential diachronic trends.