Associate Professor of Anthropology
Robert A. Staub Distinguished Teacher Award, 2020
Degrees
Ph.D., University of Georgia, Anthropology
B.A., Hendrix College, Biology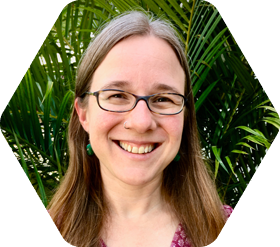 Courses offered
Anthropological Research Methods
Cultural Anthropology
Cultural Anthropology Seminar
Belize: Tropical Ethnobotany
Medical Anthropology
Southeast Asian Area Studies
Sustainable Development
Sustainable Living in Costa Rica
Research
I specialize in environmental anthropology, with an emphasis on sustainable livelihoods and household food security. For a decade, I conducted research in Vietnam, where I studied differential livelihood vulnerability created by national economic reform in a small coastal village in the Mekong Delta. Using qualitative and quantitative field methods, I investigated the linkages between governmental policies encouraging shrimp aquaculture and access to the resources needed by members of the local community to construct viable and sustainable livelihoods. While at the University of Georgia, I worked with a team to understand private landowners' decision making about conservation in the Southern Appalachian Mountains. I also assisted a year-long research project concerned with food security, social capital, and mountain microclimates on the border of Uganda and Kenya.
In collaboration with a colleague in the Environmental Studies discipline here at Eckerd College, I am continuing my work on food security and socio-ecological resilience by studying from-shore fishing spaces around Tampa Bay and the communities of fishers who use these spaces. We are interested in to what extent these bridges, piers, sea walls, etc. can be considered "commons," the social negotiations that define "commoners," and what aspects of the physical and biological ecosystem coincide with successful "commoning" behaviors. Sited locally, we have an exciting opportunity to conduct our research year round, training student research interns and drawing on the expertise of our community members.
Publications
Fly, Jessie and Boucquey, Noelle. 2023. "Flows of Care in 'Third Places': The Role of Shore Fishing Spaces in Collective Wellbeing." Wellbeing, Space & Society 4: 100128. DOI: http://doi.org/10.1016/j.wss.2023.100128
Boonstra W.J., Boucquey, N., Carlson, A.K., Drakopulos, L., Fly, J., Joosse, S., Panchang, S., Marjadi, M.N., Riser, A., Wernersson, H.C. 2022. "Urban Fishing Reveals Underrepresented Diversity." Nature Food. https://doi.org/10.1038/s43016-022-00501-2
Boucquey, Noëlle and Jessie Fly. 2021. "Contested Commoning: Urban Fishing Spaces and Community Wellbeing." International Journal of the Commons 15(1): 305-319.
Hawthorne, William, Maddie Grubb, A.C. Pauker, Kristi Stari, Liza Conrad, and Jessie Fly. 2021. "Mushrooms, Strong Scents, and Other Deterrents: Maya Traditional Ecological Knowledge (TEK) Resists Modern Agricultural Trends in Belize." The Ethnobotanical Assembly 7.
Fly, Jessie K. 2018. "Commoning the Classroom: Teaching Sustainability and 'Decolonizing Imaginaries.'" Teaching Anthropology 8(1): 43-49.
Streilein, Madeline and Jessie Fly. 2018. "Napoleon Chagnon." In Encyclopedia of Animal Cognition and Behavior, edited by J. Vonk and T. Shackelford. Springer, Cham.
Fly, Jessie K. 2016. "Shrimp Aquaculture, Social Capital, and Food Security in Rural Vietnam." Culture, Agriculture, Food & Environment 38(2): 113-122.
Fly, Jessie K. and Hong Anh Vu. 2013. "Aquaculture and Debt: Undermining Sustainability in the Mekong Delta." In Growing Sustainable Communities: A Development Guide of Southeast Asia, edited by Linda Brennan, Lukas Parker, Torgeir Aleti Watne, John Fien, Dong Trong Hue, and Mai Anh Doan, 36-50. Prahran, Australia: Tilde University Press.
Fly, Jessie K. 2012. "Coping with Golden Forests and Blue Revolutions: Livelihoods Vulnerability in the Mekong Delta, Vietnam." Ph.D. Dissertation, Department of Anthropology, University of Georgia.