Professor of Biology and Marine Science
Galbraith Marine Science Laboratory (GMSL) 127
Originally from Calgary, Alberta, Canada, I moved to Halifax, Nova Scotia in 1989 to attend Dalhousie University, where I was accepted into a Ph.D. program in 1994 with Dr. Hal Whitehead. In 1996, I co-founded Blind Bay Cetacean Studies, to study the cetaceans in the Halifax area. I completed my Ph.D. in 1999, and was awarded a postdoctoral fellowship at Texas A&M University at Galveston with Dr. Bernd Würsig from 2002 to 2004. I am currently a faculty member at Eckerd College in St. Petersburg, Florida, where I run the Eckerd College Dolphin Project and work with Microplastics monitoring and activities to Reduce Single-Use.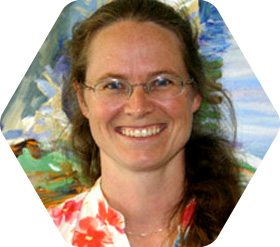 Courses taught
Marine Mammalogy
Behavioral Ecology
Biological Oceanography
Marine Science Senior Seminar
Whales: Consume or Conserve
Plastics in Tampa Bay and Field Studies of Marine Mammals – New Zealand
Current research
My primary research interest is the evolution of social organization in cetaceans in relation to foraging behavior, predation risk and ranging patterns. Additionally, I investigate the population structure and residency patterns of cetaceans as a correlate to social organization. Conservation of these animals has always been at the forefront of my work. Since 2017 I have become involved in work to monitor Microplastics in Tampa Bay and to Reduce Single-Use Plastic.
Previous research
Blind Bay Cetacean Studies was established in 1996 by myself and Peter Simard. The focus of this work was to investigate the distribution and population structure of whales and dolphins in coastal Nova Scotia. This research was the subject of my postdoctoral fellowship at Texas A&M University at Galveston.
For my doctoral research at Dalhousie University (Halifax, Nova Scotia), I studied the differences in behavior and patterns of association between individual northern bottlenose whales (Hyperoodon ampullatus), as well as differences between age and sex classes. This work took place in the Gully, a prominent submarine canyon off the east coast of Canada. In addition, I estimated the population size and residency patterns of bottlenose whales. In 2002, the Gully population was declared "Endangered" by the Committee on the Status of Endangered Wildlife in Canada (COSEWIC), partially as a result of my research. Throughout my doctorate, I worked with conservation groups, oil and gas companies and government regulatory bodies to help establish the Gully as a marine protected area, the first in Atlantic Canada.
I have also been involved with sperm whale research in the Galapagos Islands and New Zealand, Guiana and Amzaon River Dolphins in Brazil. For my undergraduate thesis I studied the distribution of small odontocetes around the Gully.
Selected publications (*indicated Eckerd alumni or students co-author)
Gowans, S. 2019. Grouping patterns of dolphins and other toothed whales. Pages 3-24. In B. Würsig ed. Ethology and behavioral ecology of toothed whales and dolphins, the odontocetes. Springer.
VanGinkel, C.*, Becker, D. M.*, Gowans, S. and Simard, P. 2017. Whistling in a Noisy Ocean: bottlenose dolphins adjust whistle frequencies in response to real-time ambient noise levels. Bioacoustics. DOI: 10.1080/09524622.2017.1359670
Indeck, K.L.*, Simard, P., Gowans, S. Lowerre-Barbieri, S and D. A. Mann (2015). A severe red tide (Tampa Bay, 2005) causes and anomalous decrease in ambient noise.  Royal Society Open Source 2:150337.
Bartha, G.*, Gowans, S., Simard, P., Keith, E., Hirons, A., and Tetley, M. (2011).  Population size and site fidelity of minke whales (Balaenoptera acutorostrata) off the Atlantic coast of Nova Scotia, Canada using photo-identification methods. Aquatic Mammals. 37:454-463.