Assistant Professor of Management
Education
DPS, Computing Studies, Pace University
M.S,, Computer Science, Pace University
M.A., History, Fordham University
B.A., History, SUNY Geneseo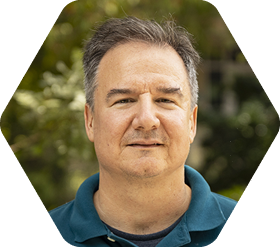 Professional activities
Professor Lombardi maintains an active research program focused on the application of information systems, technology and data in many fields. Prior to joining Eckerd College, Professor Lombardi taught information systems and technology at University of the Virgin Islands and served as IT Manager and Software Developer at OrangeWave Innovative Science, LLC. Most recently, his academic and professional work addressed the information systems required to support the Virgin Islands Robotic Telescope at Etelman Observatory in the U.S. Virgin Islands. His past research includes studies in digital humanities, bioinformatics, and network science. Currently, he is investigating the role of trade secrets in small business development.
Research interests
Interdisciplinary computing
Data analytics
Computing education
Courses taught
MN 272S: Management Information Systems
MN 260M: Statistics for Management and Economics
MN 220: Quantitative Methods
Selected publications
Lombardi, T., North, M., & Orange, N.B. (2022, October). Towards a Cost/Benefit Analysis of Trade Secret Protections for Small Business. In Proceedings of the 62nd International Association for Computing Information Systems Conference 2022, Las Vegas, Nevada.
Cruz-Rivera, E., Sherif, M.-E.-D., El-Sahhar, S., & Lombardi, T. (2022). Spatial Variability in a Symbiont-Diverse Marine Host and the Use of Observational Data to Assess Ecological Interactions. Diversity, 14(3).
Lombardi, T., North, M., Orange, N. B., Coulanges, K., & Johnson, J. (2021). VIRTBot: exploring chatbot design for promoting scientific initiatives. Issues in Information Systems, 22(4).
Fee, S. B., Holland-Minkley, A. M., & Lombardi, T. (2019). Aligning Pedagogy and Content in Interdisciplinary Computing Education. ACM InRoads, 10 (3), 24 – 28.
Berg-Fulton,T.,Langmead, A., Lombardi, T., Newbury, D., & Nygren, C. (2018). A Role-Based Model for Successful Collaboration in Digital Art History. International Journal for Digital Art History 3 (July).
Banner photo (top) by ThisisEngineering RAEng