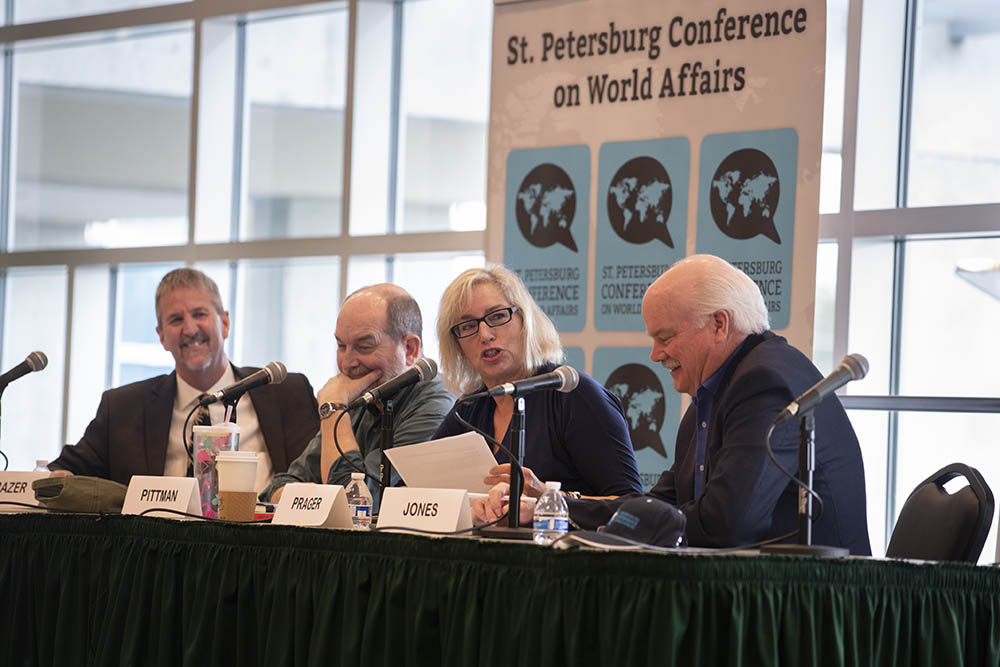 Panelists at the Conference on World Affairs. Photos courtesy USF St. Petersburg
Isaiah "Ike" Wilson III, Ph.D., a retired U.S. Army colonel and educator, declared from the start that he would be as honest as possible and that his aim was to provoke thought and discussion. "We'll see if I have a job tomorrow," he said to chuckles from an audience of several hundred people at Fox Hall on the Eckerd College campus.
And so began the 11th annual St. Petersburg Conference on World Affairs opening keynote session on Tuesday, Feb. 21. The weeklong conference, held at Eckerd and the University of South Florida St. Petersburg, brought together diplomats, military officers, lawyers, activists, journalists and thousands of community members to provide both a global and local perspective on the biggest challenges facing the world.
The conference, held February 21–24, was free and open to the public, with preregistration. All events were livestreamed via the conference's website. This year, the conference theme explores the many global issues connected to power and empowerment. The war in Ukraine, authoritarianism and empowering women were some of the topics studied and debated.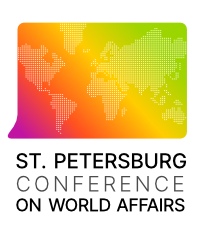 "American power must always be purpose-driven," Wilson said. "Power has to be developed and shaped, credible and taken seriously." Military power, he added, "should be a marrying of the right capabilities with the right strategic goals. And that's not what the United States always does." He pointed to wars such as those in Vietnam and Afghanistan that ended in stalemates or incomplete finishes.
"To use a boxing analogy," he explained, "the United States has great reach but poor endurance in the later rounds."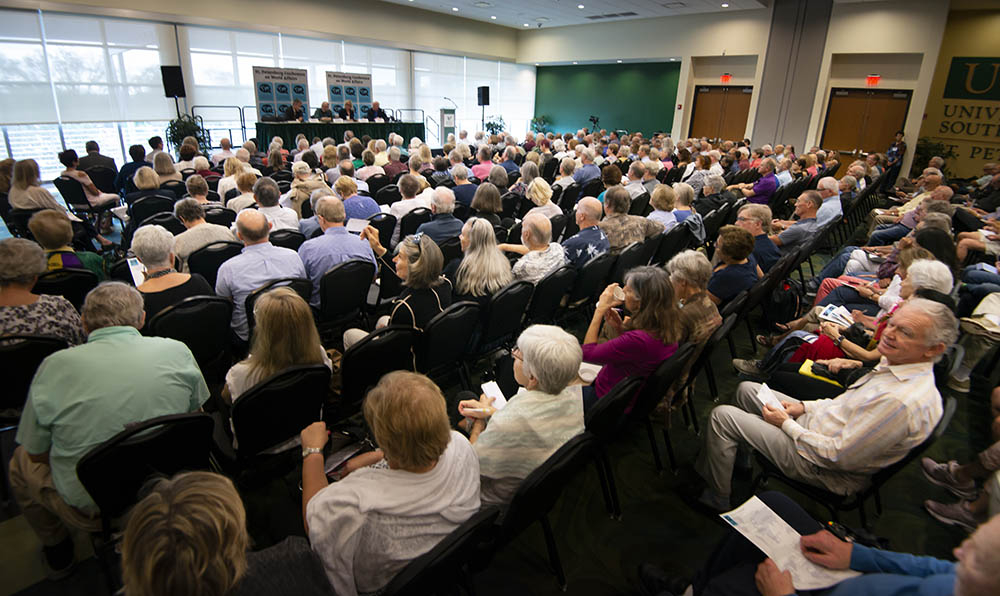 A decorated combat veteran with multiple combat tours in Iraq and Afghanistan and extensive operational experience across the greater Middle East, Wilson is a nationally and internationally recognized leading advocate for change in how America understands and deals with matters of security affairs and uses of force, in times of peace and war.
Wilson holds a B.S. in international relations from the United States Military Academy at West Point; master's degrees in public policy and government from Cornell University; master's degrees in military arts and sciences from the U.S. Army's Command and General Staff College, School of Advanced Military Studies, and the National War College; as well as a Ph.D. in political science from Cornell University.
He most recently served as director of Commander's Initiatives Group, for the Commander, U.S. Central Command, and formerly served as a professor and academic program director at West Point, where he founded the West Point Grand Strategy Program.
Describing himself now as simply "a citizen," Wilson noted that "American democracy is progressive steps forward but also steps back. We are uniquely divided right now. We have to retrieve and reclaim our civic engagement." And he mentioned meeting Jimmy Carter, the 98-year-old former U.S. president who is currently receiving hospice care at his home in Georgia.
As Wilson's voice faltered and tears welled, he spoke of Carter's ideals of preservation of freedom, limiting money in politics, protecting the press, and restoring trust in government.
"It's a call to action," Wilson said. "A retaking of our republic and a rebirth of our founding principles."
Among those also participating throughout the week were Neal Walker '78, Eckerd College's diplomat-in-residence; Allison Quatrini, Ph.D., assistant professor of political science at Eckerd; William Felice, Ph.D., professor emeritus of political science at Eckerd; John Boardman, retired U.S. diplomat and a member of the Academy of Senior Professionals at Eckerd College; St. Petersburg Mayor Ken Welch and former Mayor Rick Kriseman; David Hoffman, a member of the Washington Post editorial board; and Maryam Shojaei, an Iranian civil rights activist who founded the #NoBan4Women movement.
After the opening session at Eckerd, panel discussions, presentations and book talks ensued Feb. 22–24 at the USF St. Petersburg Student Center. The conference concluded the evening of Feb. 24 with a "breaking news" roundtable at Eckerd College's Bininger Center for Performing Arts, covering topics from the earthquake in Turkey and Syria to the Chinese spy balloon incident.
"We've always tried to put together panels of people with distinct backgrounds that don't necessarily interact often," noted Thomas Smith, Ph.D., co-founder of the conference and acting campus dean of the College of Arts and Sciences at USF St. Petersburg. "Getting them to speak to each other produces a kind of magic where you never know how the debate will unfold, but it produces fresh perspectives and a wealth of ideas."