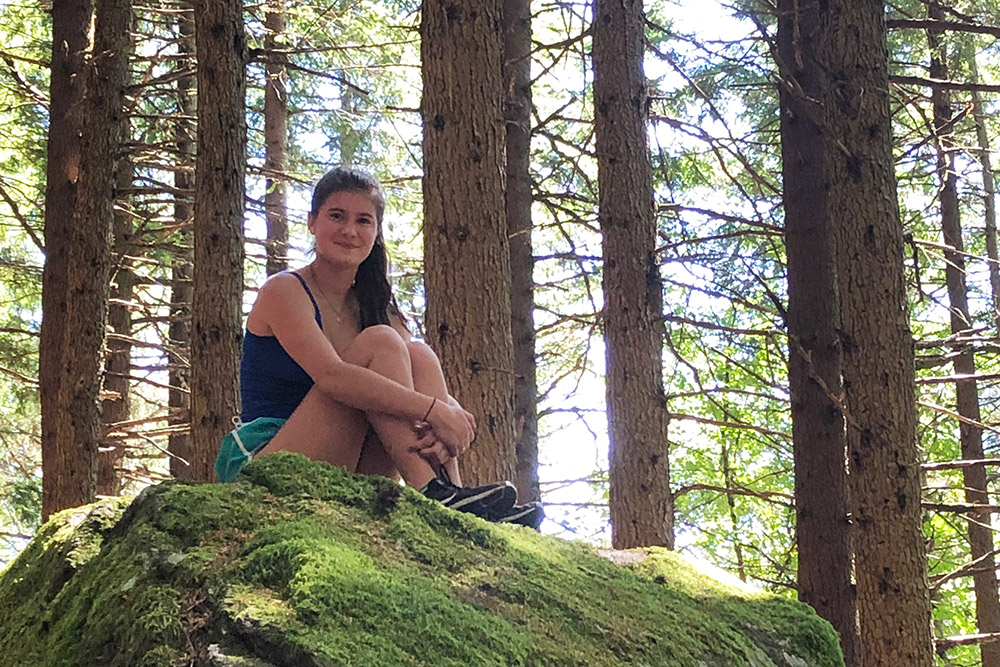 Marine science student Aiden Rooney
They were nearly 60 years apart in age, one lived in Florida and the other in New Jersey, they knew each other for less than a year, and they never met in person. But Eckerd College senior Aiden Rooney, a marine science student and Ford Scholar from Durham, North Carolina, and Sue Kilham '65, Ph.D., a retired Drexel University marine science professor, shared a love of marine science, of saving the environment and of blazing trails.
And through a unique Eckerd College program, they forged an endearing friendship.
"It was," Aiden says, "like talking to my grandma." In a good way.
Aiden and Dr. Kilham came to know each other through Eckerd's Career Mentor program. Each month, student mentees and alumni mentors communicate in person or via email, phone or video call. Career mentors support students by providing positive feedback, offering new career-related experiences such as internships, finding them resources, polishing their career strategies, and/or connecting them with the mentors' professional colleagues.
Aiden recently learned she will be spending her summer in Stuart, Florida, working for the Florida Oceanographic Society, an internship that she and Dr. Kilham had been preparing for. But now, Aiden says, news of the appointment is bittersweet. She can't tell the person who helped her earn it.
Dr. Kilham, who graduated from what was then Florida Presbyterian College with a degree in biology, died April 12, 2022. She was 79 and lived in Haddonfield, New Jersey.
She and Aiden had started meeting over Zoom last October. "I knew she was a marine scientist and that she was from Eckerd and that she got her doctorate in marine science at Duke," Aiden says. "Right off the bat I knew we'd have something to talk about." And they did. Besides growing up in Durham, Aiden also attended the Duke University String School while in middle and high school. She plays the violin and viola, and has continued to play in the Eckerd College orchestra.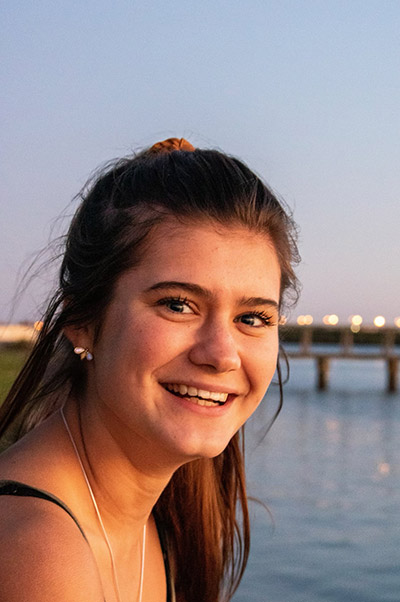 Aiden was Dr. Kilham's mentee in the Career Mentor program
"I never felt like she was judging me," Aiden says. "But the biggest thing for me was that she didn't shy away from any question I had. And she was completely honest and truthful with me and shared her struggles with me. She said it won't always be roses. But in the end, she had a really successful and meaningful life."
An exciting one too. In 2015, Dr. Kilham wrote in the Eckerd College Class of 1965 Memory Book about her first years at Florida Presbyterian College. "The Cuban Missile Crisis certainly made an impact with submarines parked right outside my window. (In the fall of 1962, FPC students were housed at Bayboro Harbor, where the University of South Florida–St. Petersburg campus is now.) A few of us were invited on a submarine for a run out into Tampa Bay and back. Such a unique experience. The Kennedy assassination made me an activist, I think.
"I enjoyed the transition to the new campus for the waterfront activities, and the food was better after the move! The new labs were wonderful, and Dr. Reid trained me as a lab assistant for labs and for research. Hugely important to me." Dr. Kilham was referring to her mentor, George K. Reid, who arrived at FPC as a founding faculty member in 1960.
In the spring of 1965, Dr. Kilham was a member of FPC's second graduating class. There were 73 graduates that year. After obtaining her Ph.D. in marine science at Duke, she served on the faculty at the University of Michigan from 1972–1990. The following year, she moved to Drexel University in Philadelphia, where she did research and taught in areas of ecology and the environment. She had extensive international experience in aquatic ecosystems and authored more than 75 scientific publications. She remained a lifelong, and beyond, scholarship supporter at Eckerd College—especially through the Kilham Annual Scholarship for Natural Sciences.
Dr. Kilham's husband, Peter, a professor of biology at the University of Michigan, died in 1989 while the couple were doing research in Africa. She had no children.
At the time of her death, Dr. Kilham was professor emerita in the Department of Biodiversity, Earth and Environmental Science at Drexel. "She is one of the rare scientists whose contributions span both freshwater and marine ecosystems, and she is internationally known," reads her biography from Drexel. "For more than 30 years, she has dedicated much of her efforts to understanding the Delaware River and Bay ecosystem. As a result, Dr. Kilham has played a leading role in the estuary's improvement over the past decade."
She also found time to help just about anyone who sought her guidance. "She mentored 17 doctoral students, 14 master's students and welcomed several dozen undergraduate students to work in her laboratory," the biography reads. "Dr. Kilham was also active in service to professional organizations and dedicated to community outreach throughout her career."
"If it's not getting on a sub or sneaking out of her tent in Africa to see an elephant … she was just unbelievable," adds Dr. Kilham's nephew Andrew Soltau, who lives in Baton Rouge, Louisiana. "At her memorial service at Drexel, there was a huge outpouring of people she had helped over the years. All races, genders, ages … everyone. Helping the environment, saving the rivers and lakes, and helping people … that was her life's work."
Because of knee problems, Soltau says, his aunt needed a walker to get around toward the end of her life. "But she could zip around," he says with a chuckle. "She could go to the Olympics in that walker."
It was no accident that Aiden was paired with Dr. Kilham. "We were all very sad to learn of Dr. Kilham's passing," says Grant Bailey, associate dean of students and director of career services at Eckerd. "We have continued to expand the Career Mentors program following a successful pilot in 2018–2019 that was inspired by Dean [James] Annarelli. Career mentors are professionals, often alumni, who have demonstrated a passion for helping Eckerd students and who have agreed to host monthly conversations with students about their career goals and needs.
"Each summer, we finalize the list of mentors for the upcoming academic year and post mentors' bios online," Bailey adds. "At the beginning of Fall Semester, we promote the program and ask students to complete an application that outlines why they are interested in joining, what they hope to learn, and to select three of their top mentors to work with. Our team, led by the employer relations and internships coordinators, does our best to pair mentors and mentees based on that information and available spots."
Aiden recalls a Zoom meeting in which Dr. Kilham called from her hospital bed. "It was difficult to see her like that. But I respected so much that she took the time and energy to talk with me.
"I wish I had more time with her," Aiden says. "The last time I spoke with her was in mid-March. Just knowing she was there as sort of a guide for me … it meant everything."