It's a Sunday morning in early March, and Katya Tjahaja is trying hard not to get paint on a door frame. A junior biology student from Jakarta, Indonesia, Katya could be back on the Eckerd College campus sleeping in or just relaxing.
Instead, she's about 40 miles away at the Beth-El Farmworker Ministry, helping to paint a room that will become a low-cost clothing store for thousands of local farmworkers.
"Farmworkers are really the ones who provide so much of what we eat," says Katya, who also is editor-in-chief of The Current, Eckerd's official student newspaper. "They work so hard for very little money. And a lot of the time, they're simply labeled as illegal aliens."
Katya and five other Eckerd College students, led by Ronald Porter '05, Ph.D., director of service learning at Eckerd, spent several hours Sunday working at the Ministry's 27-acre campus as part of the College's Eastman Citizenship and Leadership Program. The program's faculty director, Amy Langenberg, Ph.D., associate professor of religious studies, explains that Eastman Leaders have a discovery plan—a set of activities related to some issue or question that's important to them. It must include some kind of travel, service, an internship and academic work.
"Eastman Leaders also come together on the weekends once or twice a term to work with community organizations such as Beth-El Farmworker Ministry," Langenberg adds. "These daylong service projects promote team building, are an occasion to reflect on the ethics of community engagement, and allow students to learn more about the people who live in the Tampa Bay area."
The Beth-El Farmworker Ministry, located in Wimauma, a farming community south of Tampa, is a Presbyterian mission that has been serving farmworkers throughout Hillsborough County since 1976. The Ministry offers a food pantry, a dental clinic, a diaper program, a sanctuary for worship and a thrift store, where people can buy items such as clothing, hygiene products and laundry detergent. Beth-El serves about 80,000 people each year.
Angel Santos, Beth-El's operations manager and a native of Wimauma who supervised the painting session, says the Ministry always welcomes Eckerd volunteers. "Because people need help," he explains. "And the need is growing. We served about 650 to 700 households per week before the pandemic. Last week we served 858 households."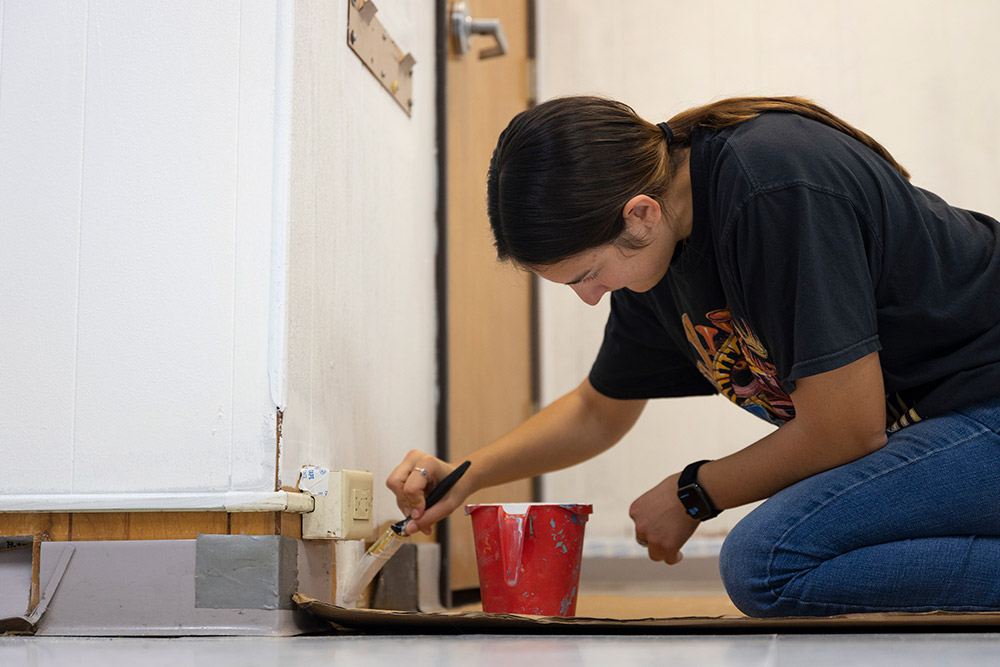 Junior Kayla Rendon-Torres
The mean hourly wage for farmworkers in Florida was $11.77 an hour in 2021, according to the most recent U.S. Bureau of Labor Statistics data. By comparison, the mean hourly wage for farmworkers in California was $20.98 an hour, and the national mean was $17.88 an hour.
A belief in the value of service work runs deep in Eastman Leaders. When he was in high school in Los Angeles, Jerome Wolfgang Isaac Uy, a senior marine science and environmental studies student, volunteered to distribute books to underprivileged children. "Any community service," he says, wiping paint from his hands, "is important."
Kayla Rendon-Torres, a junior biology student from Austin, Texas, who also is an ambassador for Eckerd's Center for Inclusive Excellence, explains how her grandfather and several uncles, whose family immigrated from Mexico and worked as migrant farmworkers, would tell her stories about picking fruits and vegetables all day for little money. "Being a Latina, I want to see what that experience is like, to connect more with this community. It's a very powerful feeling.
"We have to be aware of where our food comes from," Kayla adds. "And of the people who work every day to get it to us. Then hopefully we can grow more empathetic and supportive."
Eckerd students plan to return to Beth-El in late March for three days of service work as part of Porter's Office of Service Learning Food Security, Migration and Partnership spring break project.