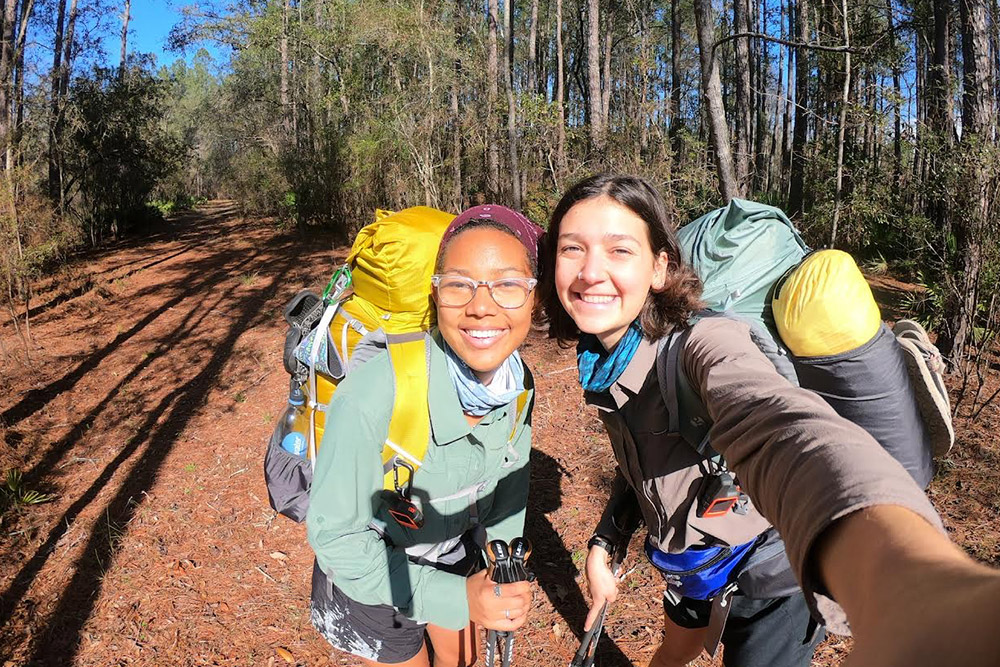 Seniors Alex Gordon (left) and Summer Vishnu pause for a selfie while hiking a remote section of the Florida Trail. Photo credit Summer Vishnu
There were times, like when their shoes froze, that they wondered what they were doing in the middle of nowhere surrounded by nothing but pine trees, scrub palmetto and the occasional armadillo.
Eckerd College seniors Alexandria "Alex" Gordon, an environmental studies and political science student from Houston, Texas, and Summer Vishnu, an environmental studies and sociology student from Mount Dora, Florida, had set out January 10 from just north of Lake City in North Central Florida.
Their goal was to hike a remote 150-mile section of the Florida National Scenic Trail, a federally administered hiking trail that begins near the Everglades and ends just outside Pensacola. The pandemic had caused their Winter Term trips abroad to be canceled, so they came up with the idea of a walk in the woods.
Alex and Summer are part of the Eastman Citizenship and Leadership Program. The program's faculty director, Amy Langenberg, Ph.D., associate professor of religious studies, explains that Eastman Leaders have a discovery plan—a set of activities related to some issue or question that's important to them. It must include some kind of travel, service, an internship and academic work. "So when their trips abroad were canceled, they got busy and creative," Langenberg says.
Along their trip, Alex and Summer would regularly post short videos to a vlog about issues they're concerned about, including environmental justice, and food equity and accessibility. "We knew we had overlapping interests, both of us had dreams of doing a long-distance hike, and we had some funding from the Eastman Program," Alex says. "So we wondered how we could merge everything we really like to do? Why don't we try to do a long-distance hike and talk about all the things we're passionate about along the way?"
After extensive planning and research, off they went.
They each had a tent, a supply of snacks, and small pots and stoves to boil water for their dehydrated meals, which they had mailed ahead to a few of the small towns along their route. "My parents were so stressed," Alex says. "But we had a GPS tracker and they could see where we were all the time.
"And the people we met who lived near the trail were incredible," Alex adds. "When we had to go into a town like Live Oak or Madison to pick up food, they would give us a ride. They were so curious about what we were doing. We called them trail angels. We were definitely nervous, but we didn't have a single bad experience."
Summer says one of those angels was a woman named Gina, who offered the pair a camper to stay in that had beds, a shower and a stove. "It was free to anyone who was hiking the trail," Summer adds. "Gina was so kind, so funny. She made us a meal of delicious vegan pasta. It was all based on donations, so because of the funding, we were able to donate."
Another area they documented during their trip had to do with the indigenous tribes that once lived in the region. "That was one of the key parts we wanted to talk about," Summer says. "Making sure you are acknowledging and uplifting indigenous people, trying to educate ourselves and paying respect to those communities."
Day one on the trail led the students through Timucua and Seminole ancestral lands and ended with camping along some fast-moving waters.
Summer also kept a "critter count" of the wildlife they saw. "Woodpeckers, hawks, dogs just roaming around, a ton of armadillos, and although we didn't see any, there had to have been wild boars because parts of the trail were all dug up," she says. "We felt like being from the South, all you hear is you have to go out West, or to the East Coast. I really wanted to dispel that myth. The landscape is beautiful here."
Eighteen days after they began, 20 miles outside of Tallahassee, Alex and Summer met up with Eckerd students Zach Franco and Aaron Chimelis, who gave them a ride back to campus. "It was an amazing experience, something I don't think I could have ever expected," Summer says. "And it was a bit overwhelming at times. One morning it got to 28 degrees. Alex's shoes were frozen and we had frost on our tents. We stayed in our sleeping bags for a long time that morning."
"It really showed their strength, mentally and physically," says Jo Huxster, Ph.D., assistant professor of environmental studies, who is a mentor to both students. "Any kind of trip where you're almost entirely self-reliant, you learn what you're capable of doing and how strong you really are. I kept track of them every day and watched the videos."
As with residents in other remote areas, some people who live in the part of the trail where Summer and Alex hiked are viewed as being suspicious toward outsiders. "But you learn to not always judge a place by the rumors you hear about it," Huxster adds. "I saw how friendly everyone they met was. It helps open one's mind that not everything is what it seems. I'm just super-proud of them for figuring out an amazing alternative."
"They kept getting their plans pushed back because of COVID," Langenberg adds, "and they came up with this thing that would work and still spoke to their interests. And they didn't just go running off into the trail. They really planned. They documented what they did the whole time, and they made what they learned available to more people. That's exactly what I want the students in the program to do."