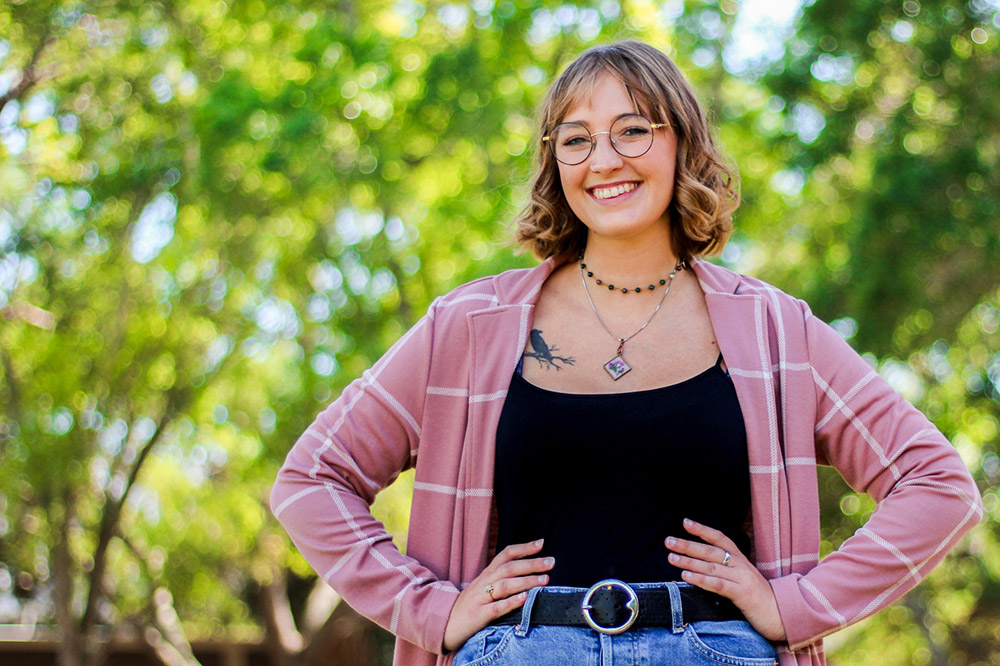 Carrie Walker will soon fulfill her dream of learning and teaching in Argentina. Photo: Angelique Herring '19
In the spring of 2020, Carrie Walker was an Eckerd College sophomore studying in Buenos Aires, Argentina. She was two and a half weeks into a five-month international education and exchange program when the pandemic struck.
Some of her friends signed waivers to remain in the country, but when a family friend of a fellow student who works for the Centers for Disease Control told her she might have to remain in Argentina indefinitely, she bought a plane ticket the next day and caught what turned out to be one of the last direct flights to the United States before travel was shut down.
Now she's going back, hopefully for a longer stay.
Carrie, a senior from Loveland, Colorado, was accepted recently into the prestigious Fulbright English Teaching Assistant (ETA) Program and will live and work in Argentina for nine months next year. The program places recent college graduates and young professionals as English teaching assistants in universities abroad. The goal is to improve foreign students' English language abilities and knowledge of the United States while serving as cultural ambassadors for the U.S. The programs last from six months to a year and are administered by the U.S. Department of State.
"I didn't want to give up my study abroad experience and something I've been dreaming of for so long," Carrie says. "I [had] expected to spend a significant amount of time in Argentina, but I did not. I wanted to get that opportunity back. The Fulbright Program is an excellent program for doing that. It helps increase your understanding of another culture. I didn't really get that the first time.
"This is my second chance."
A member of Phi Beta Kappa and a Ford Apprentice Scholar, Carrie is studying international relations and global affairs, Spanish, and Latin American studies. She is chair of the Chapter of Florida PIRG Students at Eckerd College and president of Engage EC, a student-alumni networking club; she works as an office assistant in the Eckerd Advancement Office; she's writing her senior thesis; and she runs a small business—selling on Instagram clothes that she crochets. She recently took the LSAT exam for prospective law school students and scored in the 97th percentile.
Michael Burch, Ph.D., associate professor of political science at Eckerd, easily recalls Carrie's sophomore year. He is Carrie's sponsor for the Ford program and for her senior thesis project.
Two years ago, Carrie was taking one of his upper-level courses. "She's surrounded by all these seniors, and yet her insights, her commentary and her written work [were] at an incredibly advanced level," Burch says.
"You don't meet students like this very often. She's one of my top five students ever, and that's out of thousands of students I've taught. She is incredibly diligent, conscientious and thoughtful, and the result is getting the Fulbright."
For now, Carrie's focus is on teaching. She has a wealth of experience, not only from helping her mother, who is a high school English teacher, but from working in public schools. She ran an after-school program when she was in high school, and more recently, she was a tutor at Morgan Fitzgerald Middle School in St. Petersburg.
"We talked about what a good opportunity this would be for her," says Kathleen "Kat" Robinson, Ph.D., assistant dean of faculty and former fellowship and scholarship advisor at Eckerd. "She dedicated herself to the application, and her argument comes through about how education is the great equalizer. And how knowing English can change an individual's experience.
"The Fulbright is highly competitive," Robinson adds. "Last year, for Argentina, 77 people applied for 17 awards. She is one of those 17. And it's not just that she's motivated. She is also a caring and compassionate student who wants to build community—a great emblem for the Fulbright Program and also for Eckerd College."
Carrie won't begin the program until March 2023. After she graduates, she plans to go home and work as a substitute teacher. "Because there's a serious shortage of subs everywhere," she explains, "and I want to help. And it will give me even more experience in a classroom. I really care about education and really enjoy teaching. This is a way I can also be contributing to a need in Argentina."
And who knows whom she may run into when she returns to Argentina. "I had a friend who ended up staying in Argentina for two years," Carrie says. "She may still be there."