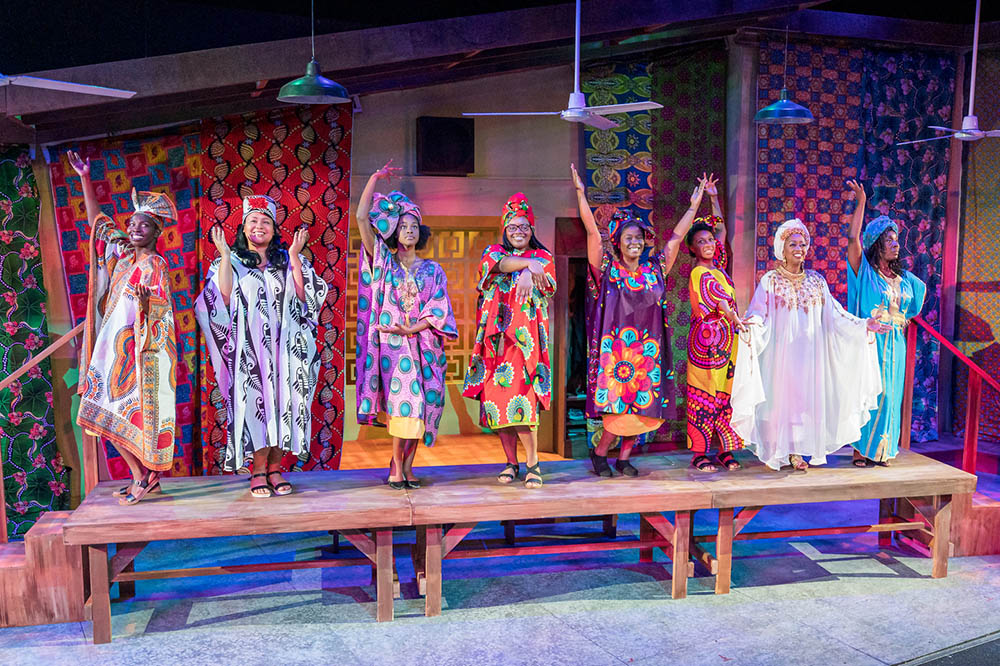 Phineas Slaton (third from right) joins the cast of School Girls: Or; The African Mean Girls Play. View original photo by Chaz D Photography
The script reads, "Gifty steps up smiling with confidence (not very good, but confident)."
And so Phineas Slaton beams, steps forward on the stage and begins belting "The Greatest Love of All" in a key never intended for human ears.
As laughter erupts, Phineas, a sophomore film studies and creative writing student at Eckerd College, soaks in the rewards of their first professional acting performance—a role in School Girls: Or; The African Mean Girls Play at the American Stage Theatre in St. Petersburg, Florida.
Theatre Professor Gavin Hawk immediately thought of Phineas when American Stage Associate Artistic Producer Patrick Jackson reached out in November looking to cast local actors for the play.
"They've been in a couple of my classes, and I've been impressed by their passion and natural talent for theatre," Hawk says. "So when this opportunity came along, I wanted to support that."
Hawk gave Phineas the script and helped shoot an audition tape that featured the Brandon, Florida, native trying on a Ghanaian accent for the first time.
"He said that I should at least try it," Phineas recalls, "because I might not get it right, and I don't think I did, but at least they'll get to see my effort."
It worked. And two weeks later they were joining the cast of School Girls for an intense month of rehearsals before opening night in February.
Gifty is different from Phineas's past roles—Corie in Neil Simon's Barefoot in the Park and Sapphi Van Helsing in Dracula: The Vampire Strikes Back at the St. Petersburg City Theatre—particularly because the story, by Jocelyn Bioh, is set at a West African boarding school with an all-Black cast. School Girls focuses on the issue of cultural identity and colorism as a biracial American girl matriculates at the Aburi School in Ghana.
"I have always felt at odds with identity and how I find myself within my culture," Phineas explains. "Reading a play by a Black woman playwright exploring these themes was great. Now people of all cultures who see the show have a view of a subject not talked about in our own homes and communities."
Since Phineas's very first role (as narrator in 101 Dalmations at age 5), theatre has been present. While attending Tampa's Howard W. Blake High School as a theatre major, they were tasked with contacting schools to find out audition requirements for college applicants. A call to Eckerd Theatre Professor Cynthia Totten revealed a performance of Metamorphosis was currently in progress.
"She invited me to be her guest, so my mom and I came to see it, and I knew right then I wanted to come to Eckerd," Phineas remembers. "It was amazing. There was a pool on the stage, and the cast was able to do so much with very little set and props."
Netflix-grade cameras wooed the already enrolled Phineas over to film studies, though they never really lost their love of theatre.
"What I love about Eckerd is that students can come here for one thing and discover something else," Hawk says. "Performing and taking classes in theatre is a great supplement to film studies because you're a better director if you know how to talk to actors. And the best way to learn is to act."
School Girls will run at the American Stage Theatre through Feb. 27. After that Phineas and family will figure out the next step in their acting career.
"It's been completely a theatre culture shock going from school and community to professional," Phineas says. "We have been treated as equity [unionized] actors, and for a college student, being paid $300 a week is big news."