The films focus on such varied topics as relationships; escaping from an asteroid; discovering the contents of an old shoebox; and an Eckerd College student who suddenly possesses laser vision, superspeed and the ability to fly. But will he use his powers for good, or evil? Stay tuned.
Six Eckerd College senior film studies screened films at the Eckerd College Film & Video Festival on May 12, outside the Dan and Mary Miller Auditorium. "Now in its seventh year, the premiere of the creative projects is from the first cohort of film studies students to complete the new major requirements that integrate film analysis and production," explains Christina Petersen, Ph.D., the Christian Nielsen associate professor of film studies at Eckerd. "The students can leave the College with work experience in both areas, which is important for grad school, future film festivals, jobs … all sorts of different avenues. And watching them blossom into creative filmmakers … that's fun to see."
Content Warning: Some films contain mature content intended for an adult audience. Some films contain visual elements that could be triggering for some viewers. Viewer discretion is advised.
"The integrated approach has given the students time to build on things, like how to translate from page to screen," adds her faculty colleague Nick Corrao, Donald R. Eastman III assistant professor of film studies, "and the use of imagery to powerfully impact the viewer."
Five of the six films are supported by Nielsen Film Production Grants, a distinctive feature of the Eckerd Film Studies Program in which students can apply for $500–$1,000 to support their creative projects and pursue further professionalization opportunities. The grant is named after Trustee Emeritus Helmar Nielsen, who generously supports the program.
Below is a brief description of each film, with comments from the filmmaker.
Thank You, No Thank You, from Mara Knight, is about a young man who gets his girlfriend a terrible birthday gift, and how she struggles between not wanting to hurt his feelings, and being honest. "It's about communication and relationships," Mara says. Because dialogue is so important to the film, she cast several Eckerd theatre students. "I want people to laugh … to just enjoy it," she says. After coming to Eckerd as a marine science student, Mara switched to film studies her second year. "As a film major," she adds, "the supportive feeling here is a lot more genuine than it would probably be at a larger school."
End of Daze, from Conall Rubin-Thomas, focuses on three people who take shelter in an underground bunker before, during and after an asteroid strikes the Earth and causes massive destruction. "Two of the people are worried about what's going to happen," Conall explains, "and one is excited because it's a disaster film come to life." Conall says movies "are not just vehicles for escapism and entertainment, but also time capsules of their ages, commentaries on reality, and responses to our ever-evolving world. I now have a detailed understanding of how cinema can be interpreted and understood, and I can use the skills I developed to create new ideas, bolster my own arguments and reach people with new concepts."
A Day in the Life of an Eckerd Student, from Penh Alicandro, uses split screen to follow two Eckerd students (junior Sam Randall and senior Alex Harsha) through their daily lives. "They each do their own thing," Penh says, "but their paths cross occasionally. Making the film has been a fun process, but you don't realize how much work goes into it. Scripting this was a struggle because I was new to it. And I wanted Sam and Alex to act naturally, so I told them to say what they're comfortable with. I didn't want to do a narrative story. I hope to show what Eckerd is like … and maybe the Marketing and Communications Department can use it."
The Super Student, from Alex Tsoukas, is a light-hearted look at what would happen if an Eckerd student (Alex) suddenly gained superpowers: laser eyes, superspeed, flight, etc. "The film shows how the student adapts and what he does at first with these powers more than just randomly saving the day," Alex explains. "The theme has to do with not being a jerk and that anyone's life can change instantly for better or worse." Alex says his strengths as a filmmaker lie at the end of the process, instead of the beginning. "I don't look at myself as a scriptwriter. I learned the process, but I still love postproduction—the editing part. You can make or break a film based on postproduction."
Killer's Shoebox, from Jordan Newland, is a psychological thriller that follows a young man who finds a shoebox full of old photographs and a journal that belonged to a serial killer. "The discovery makes the young man question his own reality," Jordan explains. "I enjoy the kinds of films that are both terrifying and beautiful at the same time." Like Mara, Jordan didn't start out as a film studies student. "It was a happy accident," he says. "I just kept taking film studies courses and I enjoyed it so much."
Gasoline, from Joe Irizarry, follows a man who recently lost his lover and sees her in other people everywhere he goes. Which compels him to go on a killing spree. Joe says the movie is based on and named after the popular 2022 synth-pop song by The Weeknd (Abel Makkonen Tesfaye). "Thanks to everyone in the Film Studies Program, my peers and my professors, I've been able to find my calling and passion for filmmaking," Joe says. "The ability to tell a story with just a camera is the beauty of cinema and filmmaking."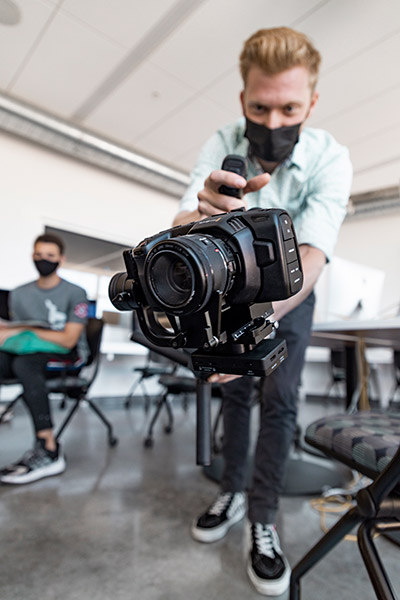 Jordan Newland works with the equipment.