The internship program will enable about 60 students from the United States to attend a Canadian university where they will undertake research projects under the supervision of a professor. The students also will be given the opportunity to take part in professional training and extensive cultural, social and recreational experiences.
Emily is the third Eckerd student to receive the Fulbright-MITACS internship, following seniors Lily-Havana de Laforcade and Carly Naundorff, who took part in the program last year.
To land the internship, Emily enlisted the help of several Eckerd faculty and staff. She discovered the program through Kathleen "Kat" Robinson, Ph.D., assistant dean of faculty, and then Hilary Flower, Ph.D., assistant professor of environmental studies, wrote a letter of recommendation "that definitely added to my success in getting the internship," Emily says.
Later in the selection process, she presented lab work she had done on sediment analysis in places like Piney Point alongside Gregg Brooks, Ph.D., professor of marine science and geosciences, and Rebekka Larson '01, Ph.D., marine science instructor. "The people I interviewed with," Emily says, "told me it was impressive. I don't think I would've had the confidence to apply without the lab work I got to do here at Eckerd."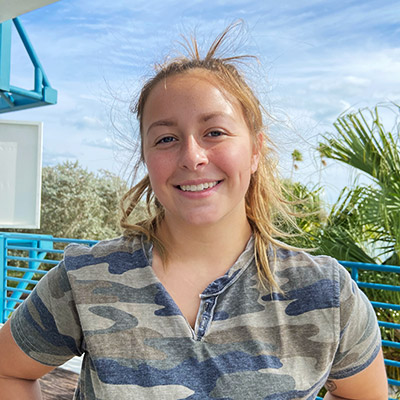 Along with her research in Toronto, Emily will do fieldwork in the Yukon, a rugged territory in northwest Canada.
"She is a great student who just has that curiosity and enthusiasm you want everyone to have," says Emily's mentor Laura Wetzel, Ph.D., professor of marine science and geosciences. Besides the prestige of the internship, Wetzel says the location matters. "For a geologist, a lot of what we do is very place-based. So for her to be able to go to another place to do research, that is absolutely what you want students to do. To learn from other places.
"And she'll get to network with other people, meet other folks who can do research with her, and get to see a graduate-level environment," Wetzel adds. "I have no doubt Emily has the ability and motivation to go on to graduate school if she chooses."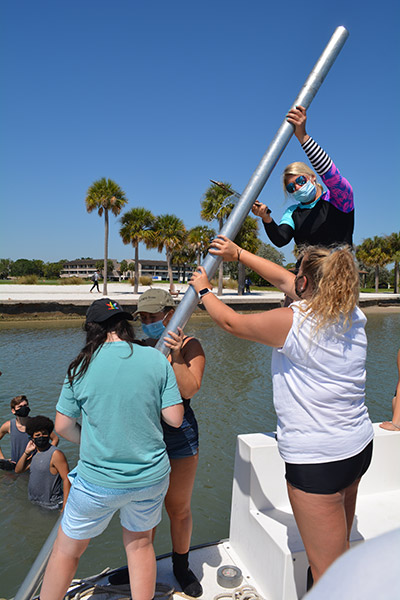 Emily (in green hat) helps to sample seafloor sediment in Boca Ciega Bay for the Piney Point project.