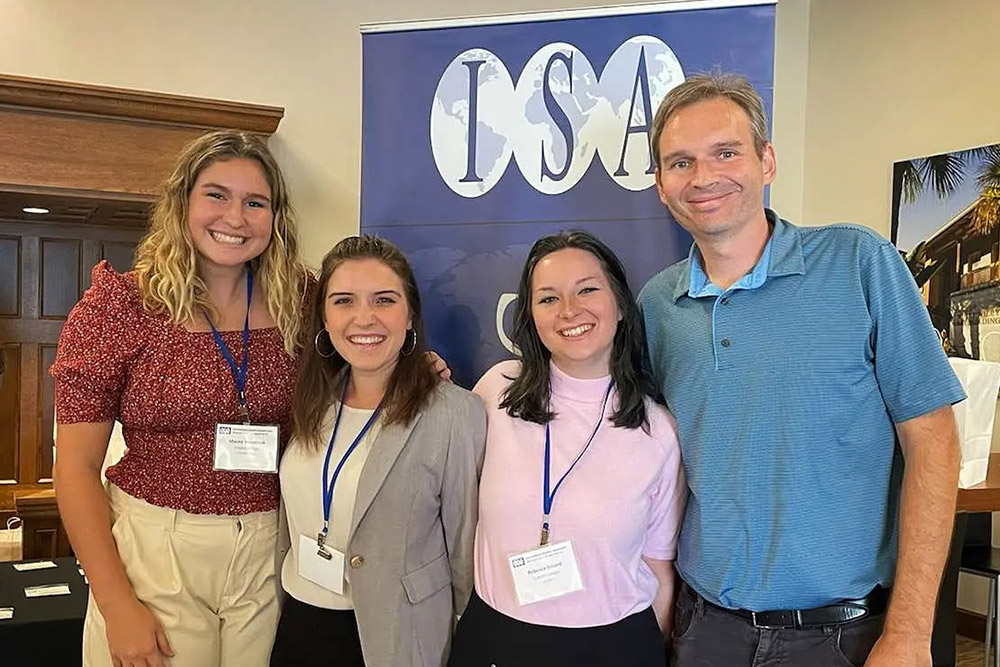 Left to right: Students Macey Woodlock '23, Sydney Rebro '23 and Rebecca Simard '23 with Associate Professor of Political Science Michael Burch
Their audience was mainly academics, people who hold or are working on advanced degrees. Many were professors who had done extensive research, published papers and were old enough to be their parents.
The event was the International Studies Association–South Annual Conference at Flagler College in St. Augustine, Florida, on October 7–8. Representing 100 countries, the ISA is a scholarly association with more than 6,500 members worldwide. Its aim is to "create communities for scholars dedicated to international studies" and to "provide opportunities to exchange ideas and research."
Against this backdrop, up stepped Sydney Rebro, Rebecca Simard and Macey Woodlock to make their presentations. The Eckerd College students had been selected by a peer review process. "Their proposals were reviewed by faculty in the topic area," explains Michael Burch, Ph.D., associate professor of political science and faculty sponsor of the Eckerd group. "They were competing against professors and graduate students. It was not an undergraduate conference." Sydney's presentation was a result of her participation in the Ford Program, whereas Rebecca and Macey worked on projects with Professor Burch over the spring and summer as part of the inaugural Student Academic Research Fund here at Eckerd.
Here is a brief synopsis of each student's presentation:
Sydney, a senior international relations and global affairs student, was born in Wisconsin and moved with her family to White River, South Africa, when she was 13. After eight years, she returned to the U.S. and went back to South Africa last summer to do research. Her presentation was on food sustainability and food insecurity.
"I drew my inspiration from my experiences in South Africa working with nongovernmental organizations that were set up by my parents and distributed food to children," Sydney explains.
"I wanted to figure out what are sustainable solutions to food insecurity. Teaching people to fish instead of just giving them fish. That's the most empowering and sustainable way to combat food insecurity."
Sydney says she's passionate about Africa and the issues of poverty, hunger and disaster management. "I want to help people," she says, "but it's something you have to be very careful with. You have to make sure you're not telling people what they need but asking them what they need. My goal is to show that we should not be looking at where we just dump aid, but rather how to empower people with tools and skills."
Rebecca, a senior political science student from St. Petersburg, examined why some countries have resettled children whose parents were aligned with the Islamic State, while other countries have not. "France had a lot of foreign fighters who left to join the Islamic State," Rebecca says. "Either their parents were killed or they can't be located. That leaves the children without any citizenship. France is looking to bring back the kids, despite the association with the Islamic State."
After spending hours preparing her presentation, Rebecca says the experience was a bit overwhelming. "A lot to prepare for, especially coming right after Hurricane Ian," she says. "But I was lucky that I was able to talk to all of my professors and get insight about what to expect. It's definitely a little scary, but overall the process was really enjoyable. Next time I do this I'll be a lot less nervous."
Macey, a double-majoring senior international relations and global affairs and environmental studies student from Crystal Lake, Illinois, addressed responses to genocide in the 21st century. "My research is about understanding why humanitarian and governmental groups respond differently to genocide in other countries," Macey explains. "My focus is on the Middle East from 2014 to 2020, but it's definitely relevant to things going on right now."
Among her conclusions were that humanitarian groups respond much quicker than governmental groups, that the media plays an important role, and that governments often use the word "genocide" as a foreign-policy tool to justify intervention in a region.
"The conference was a great learning opportunity," Macey says. "Here were a few undergrads surrounded by all these Ph.D. students and professors. Just to be perceived as being on the same playing field … and everyone was helpful, listening and giving us feedback. It was great to see the kind of work other people in the field have done, and where we can be one day."
That, Burch adds, is precisely what he was hoping to hear. "I was incredibly proud of all of them," he says. "These students were presenting alongside people with years more training and experience, and yet they were able to present right alongside them and more than hold their own."