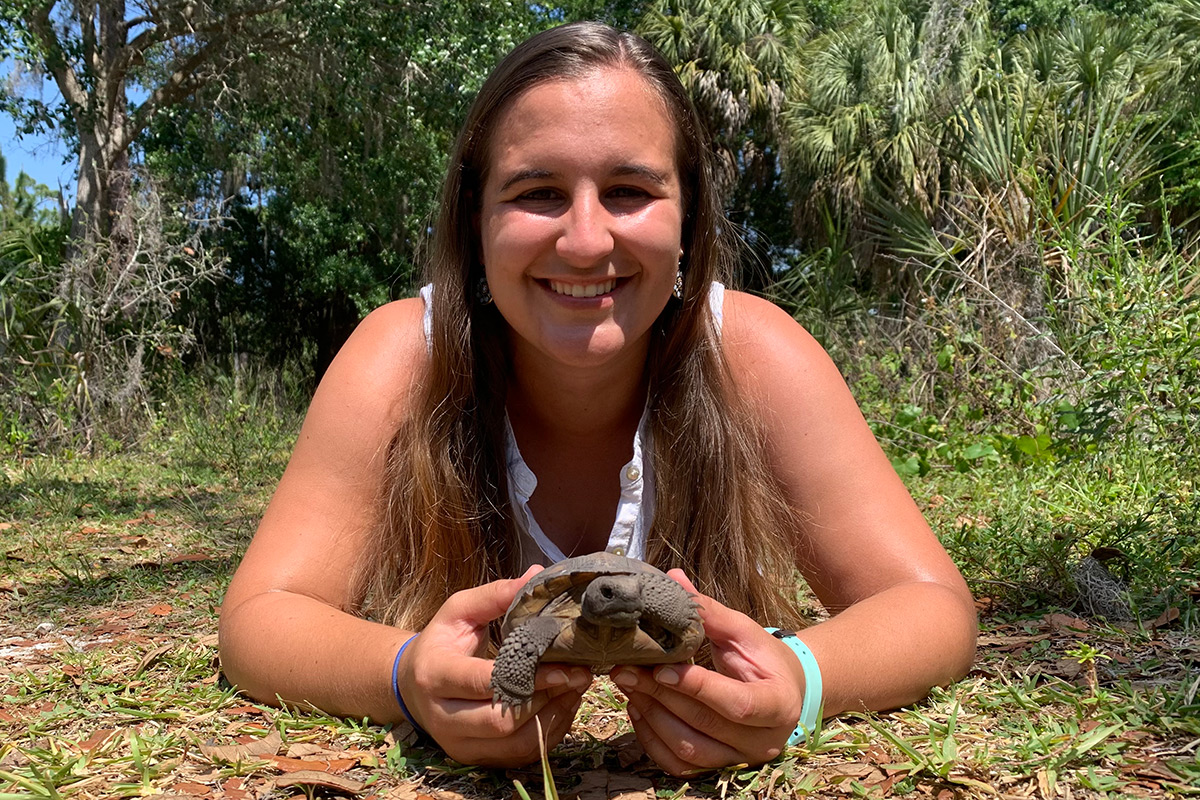 Senior Celina Caballos holds a baby gopher tortoise in Boyd Hill Nature Preserve.
From childhood summers helping diamondback terrapins safely nest on the Jersey Shore to conducting research on the gopher tortoise population at St. Petersburg's Boyd Hill Nature Preserve with Assistant Professor of Biology Jeff Goessling, Ph.D., turtle appreciation has been Celina's guiding light.
"Sea turtles, in particular, are just amazing organisms with supercool migratory patterns and nesting habits," said the senior marine science student, Delaware native and current Vero Beach, Florida, resident.
After graduation, Celina will travel to Guanaja, Honduras, a bay island near Roatán, to study sea turtles by satellite tracking of postnesting females, validating Nesting Safe technology and nest monitoring, and determining the impacts of sand temperature on hatchling running speed for ProTECTOR Inc., a nonprofit research organization headed by Loma Linda University Professor of Biology Stephen G. Dunbar, Ph.D.
Her Fulbright grant covers round-trip transportation to the host country; funding to cover room, board and incidental expenses based on the cost of living in the host country; predeparture and/or in-country orientations; book and research allowances; midterm enrichment activities; and language study programs.
"I got the email during my creative nonfiction class with [Associate Professor of Creative Writing] K.C. Wolfe, and during a break I raised my hand and told everyone the good news," Celina recalled. "Everyone clapped for me, and it felt good to feel so supported by my peers."
The Fulbright U.S. Student Program is the largest U.S. exchange program offering opportunities for students and young professionals to undertake international graduate study, advanced research, university teaching, and primary and secondary school teaching worldwide. In 1945, Senator J. William Fulbright introduced a bill in the United States Congress that called for the use of surplus war property to fund the "promotion of international good will through the exchange of students in the fields of education, culture and science." More than 400,000 Fulbrighters from the United States and other countries have participated in the Program since its inception in 1946. Currently, the Fulbright Program operates in more than 160 countries around the globe.
Celina's story began after she volunteered for the terrapin monitoring organization as a middle schooler during the busy season on the Jersey Shore. Watching mother turtles try to navigate the perils of traffic and human development to nest really ignited a passion for marine science and conservation in her life.
Her family began the college search her sophomore year of high school and took a trip down to Eckerd College to see what all the fuss was about on the Eckerd website. There on the bulletin board of student achievements in the Galbraith Marine Science Laboratory building was a picture of a senior who had recently been granted a research Fulbright.
"To think that I was standing there being inspired to go to Eckerd and apply for a Fulbright six years ago and that I may now be plastered up there to inspire some 15-year-old is amazing," Celina said. "Students who are interested in this process should 'just keep swimming,' to quote one of my favorite Disney movies. Don't be afraid to step outside your comfort zone and become well rounded by trying out everything."
Finding out that Eckerd College was also the home institution of (now retired) Professor of Biology Peter Meylan, Ph.D.,—who, along with his wife, Annie, discovered natal homing—was just icing on the turtle cake.
After arriving on campus, Celina began working with Meylan and Goessling, and still found time to join the choir and dance team and become science editor of The Current, Eckerd College's student newspaper. She also found a spare moment to win the Barry J. Goldwater Scholarship in 2020.
"It's one of the reasons it is easy to get out of bed every day. Even though I know I have a busy schedule, I also know that I am getting to do everything I love: writing, singing, dancing, turtle research. I get to do it all," she explained.
With postgraduate plans firmly in place, Celina's next step is defending her thesis and making time for her newest passion, wakeboarding.