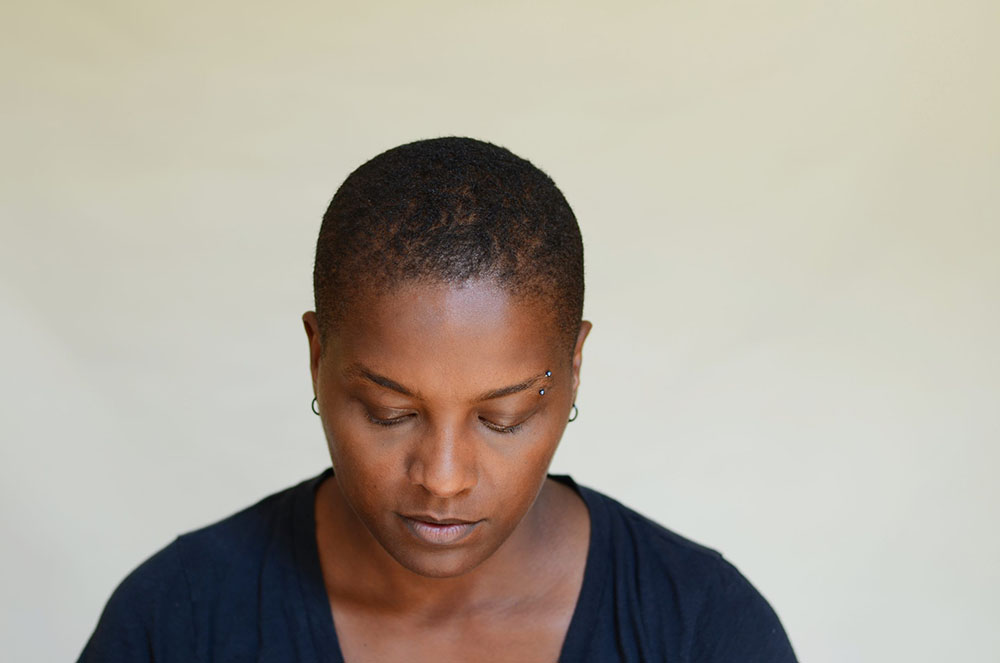 Dawn Lundy Martin is one of four poets who will read selected pieces from their work on campus and at The Dalí next month.
The doors of Eckerd College are open to the public again—just in time to celebrate National Poetry Month.
Four powerful poets will be featured in three poetry readings in April that are open to the general public. Terrance Hayes, Dawn Lundy Martin, Aimee Nezhukumatathil and Kaveh Akbar will read selected pieces from their prolific bodies of work and answer community questions at events supported by the Eckerd College Office of the President, the Dr. Peter Meinke Endowment for Creative Writing, and The Dalí Museum in downtown St. Petersburg.
"[The reading series] will offer a really good and energizing experience for our community," says K.C. Wolfe, Eckerd's Creative Arts Collegium chair and an associate professor of creative writing. "It offers our campus and neighbors the chance to come together after being separated for so long. It's another step toward normalcy."
Co-founders of the Center for African American Poetry and Poetics (CAAPP) at the University of Pittsburgh, Hayes and Martin will kick off the series at 7 p.m. on Wednesday, April 13, at Eckerd's James Center for Molecular and Life Sciences Patio.
"These are two of the most notable poets in our country right now—period," Wolfe asserts. "American poetry wouldn't exist without what we call African American poetry. It's foundational to the form."
Hayes has received fellowships from the MacArthur Foundation, Guggenheim Foundation and Whiting Foundation, and is a professor of English at New York University. He has written six poetry collections: American Sonnets for My Past and Future Assassin—a finalist for the National Book Award, National Book Critics Circle Award and T.S. Eliot Prize; How to Be Drawn; Lighthead, winner of the 2010 National Book Award for Poetry; Muscular Music, recipient of the Kate Tufts Discovery Award; Hip Logic, winner of the 2001 National Poetry Series; and Wind in a Box. Martin has published four books of poems: Good Stock Strange Blood; Life in a Box Is a Pretty Life, which won the Lambda Literary Award for Lesbian Poetry; Discipline; A Gathering of Matter / A Matter of Gathering; and three limited edition chapbooks. She is a professor of English in the writing program at the University of Pittsburgh as well as the director of CAAPP. She received the 2019 Kingsley Tufts Poetry Award.
Wolfe says this year's lineup of poets was selected after gathering a broad spectrum of campus community members to discuss the possibilities in the Fall Semester. Poets were chosen based on their bodies of work and—in the case of Aimee Nezhukumatathil, who will read her works at the Salvador Dalí Museum at 7 p.m. on Wednesday, April 20—by their interdisciplinary appeal.
Every semester, Eckerd College Animal Studies Instructor Amanda Hagood, Ph.D., assigns her Writing the Animal students to read Nezhukumatathil's book of nature essays, World of Wonders: In Praise of Fireflies, Whale Sharks, and Other Astonishments—finalist for the Kirkus Prize in Nonfiction.
"They really love it because she focuses on animals outside of your charismatic megafauna—no lions or dolphins—and blends stories of flamingos, axolotls and narwhals with her life as a person of color in America and being excluded from the culture of nature appreciation," Hagood recalls. "Students say it feels more current, new and present than some of the other texts in natural history, which have been called fusty."
Nezhukumatathil is a professor of English and creative writing in the University of Mississippi's MFA program. She has received awards from the National Endowment of the Arts and the Guggenheim Foundation and is the author of four award-winning poetry collections, most recently, Oceanic (2018).
Wolfe says all the invited poets will also be holding conversations with creative writing students on campus prior to their readings as a way of enriching the experience for majors. In the fall, a visiting writer usually works with students, and the Eckerd Review brings independent publishers, literary magazine editors and other professionals for a panel discussion. Talks with practitioners like Kaveh Akbar—who will read his work at 7 p.m. on Wednesday, April 27, on Eckerd's James Center patio during National Poetry Month—will give creative writing students further insight into the life of professional writers.
"Creative writing skills are applicable to any business interest or career, from poet to accountant," Wolfe explains. "To be able to critically think, the creative problem-solving techniques, and that working through making art and the abilities it can develop in students is unparalleled."
Akbar teaches at Purdue University and in the low-residency MFA programs at Randolph College and Warren Wilson College. As author of Pilgrim Bell (Graywolf Press, 2021), Calling a Wolf a Wolf (Alice James Books, 2017; Penguin UK, 2018) and the chapbook Portrait of the Alcoholic (Sibling Rivalry, 2017), he has received the Levis Reading Prize, Pushcart Prize, Ruth Lilly and Dorothy Sargent Rosenberg Poetry Fellowship, and Lucille Medwick Memorial Award from the Poetry Society of America.
All three readings are free and open to the public. An advance reservation is required for Nezhukumatathil's reading at The Dalí Museum by visiting TheDali.org/poetry. For more information about these and other Eckerd College events, visit eckerd.edu/events.