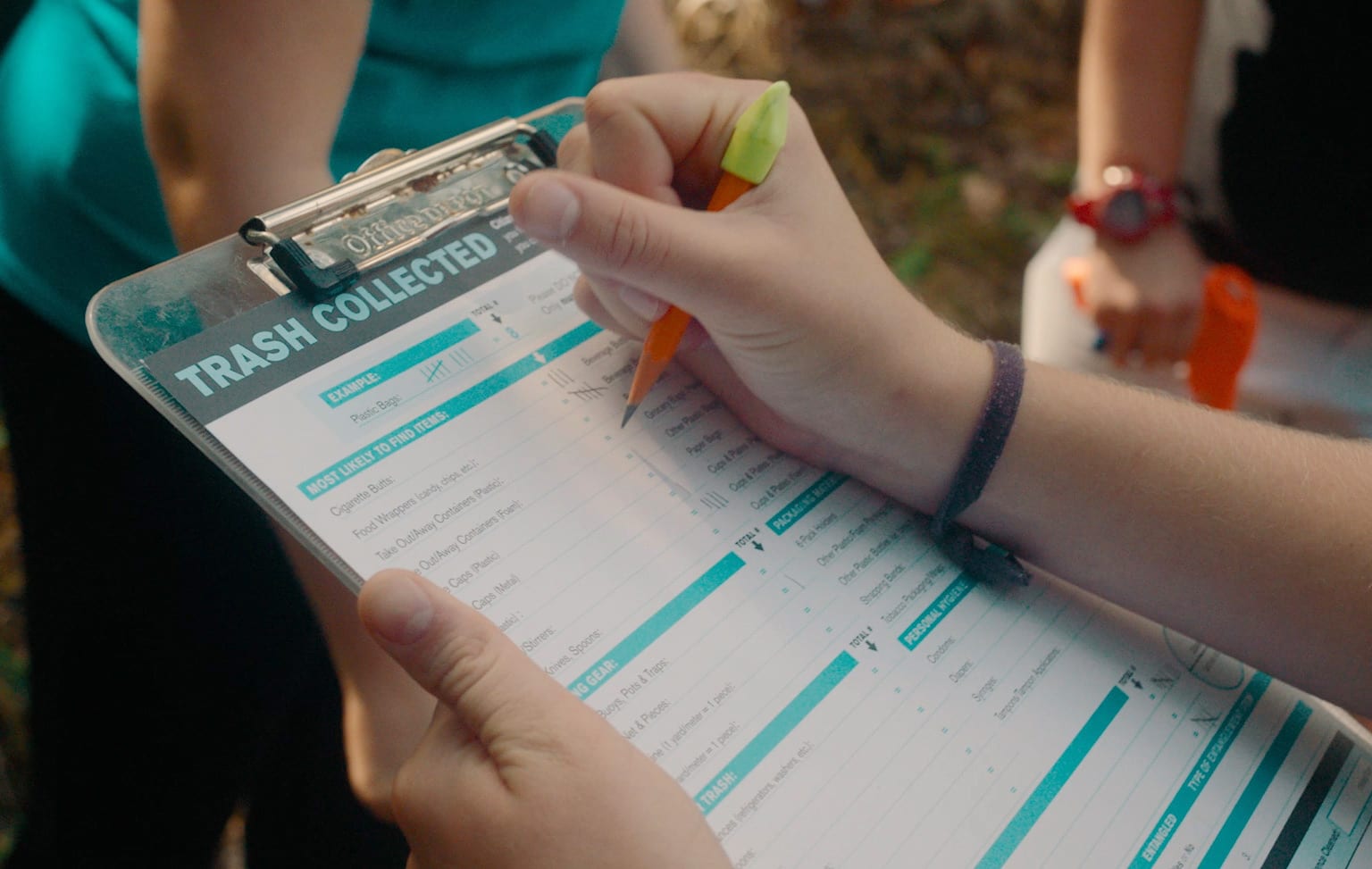 Eckerd College students collect data from coastal and campus cleanups, water bottle filling stations, and plastic reduction challenges, as well as observations of single-use plastic and alternative item use.
Reduce Single Use at Eckerd College co-principal investigator Shannon Gowans, Ph.D., and intern Angelina Kossoff '21 served as featured panelists during a virtual summit hosted by George Washington University's Planet Forward.
The October 23 conversation titled "Changemaking 101: How to Advocate for a Plastic Free Campus" gave both women a platform to share the details of Eckerd College's success and convince other institutions that the model could be scaled. Eckerd's efforts to reduce single-use plastics began with a 2018 grant from the National Oceanic and Atmospheric Administration (NOAA) Marine Debris Program—which funded research, initiatives and sustainable alternative products aimed at creating a cultural shift at Eckerd. By November 2019, the grant project and student-run organizations had convinced the College's administration to sign a Break Free from Plastic Pledge that banned the purchase of unnecessary single-use plastics using College funds.
"We wanted to show that the Eckerd method could be applied to a large or public university campus," said Gowans, a professor of marine science and biology. "George Washington has a very different dining system than Eckerd, where students use credits at nearby restaurants. Even without the centralized method, they can provide students reusable alternatives."
Karina Ochoa Berkeley, from George Washington's Student Society for Sustainability, also appeared on the panel discussion and had many questions for Gowans and Angelina about how to arrive at an administrative policy shift—the most direct method for substantive change.
"Communicating with all the groups on campus that are going to be affected by a policy change is key. You have to learn what are going to be the challenges for them in reducing plastic use and start with the easier things with the idea to work toward the more difficult ones," Gowans advised.
Angelina, a senior environmental studies student from Sarasota, Florida, said that while the coronavirus pandemic and safety measures have made others relax their commitment to single-use plastic reduction, she has held firm.
"I haven't set foot in a restaurant since March or ordered delivery," Angelina laughed. "There's been a lot of cooking."
Both Gowans and Angelina are remote for the Fall 2020 semester but have plans to return to campus for Spring 2021 to join co-principal investigators Assistant Professor of Marine Science Amy NS Siuda, Ph.D., and Director of Sustainability Evan Bollier '11 in resuming their work with a new NOAA Marine Debris Program grant and the University of North Florida.
In the meantime, Angelina continues to work with the Office of Sustainability to host virtual programs explaining plastic reduction to the newest members of the Eckerd community. A virtual program in October drew 100 participants this semester. Gowans said she will look for ways to resume some of Eckerd's most positive programs—including beach and campus cleanups— with coronavirus safety measures in mind.