Cassandra Guzman doesn't get home much anymore. A senior marine science student at Eckerd College who lives in Christiansted, U.S. Virgin Islands, Cassandra has spent large parts of the past two summers working with Eckerd faculty on research projects on Tampa Bay, on the Caribbean island of Dominica and on a Scientist at Sea research vessel in the Gulf of Mexico.
"That first summer, I asked my parents if I could stay at Eckerd and do research projects with Dr. Gregg Brooks [professor of marine science and geosciences] and Dr. Rebekka Larson ['01, marine science instructor]. "My parents said, 'Go do it.'"
Undergraduate research in marine science sets Eckerd apart and is a highlight of the program, Larson says. "It gives students the opportunity to do research at the undergraduate level, and in some cases on the same scale as students get in graduate programs. The benefit to the students is that they are more competitive when they look for future opportunities, either in research, the workforce or graduate programs.
"Cassandra has taken on all the opportunities and excelled at them," Larson adds. "She was going to do well anywhere she went. Research programs like the one we have open doors that these students can walk through and take as far as they want. She's turning her research into a thesis that we see as something publishable in the scientific literature."
Earlier this year, Cassandra's research field expanded when she received support from the Conover Undergraduate Research Endowed Fund. The endowment was established in 2022 by David Conover '75 and his wife, Margaret, and supports Eckerd students majoring in the natural and social sciences in their undergraduate research projects, with preference given to marine science students and a strong preference for marine biology students. The Conovers directed that the awards be based on the originality of the research, be a minimum of $1,000, and should assist as many students as possible.
"The Conover Fund award allows me to continue my research on the impacts of the 2021 Piney Point emergency discharge of phosphate-rich wastewater on the Tampa Bay floor," Cassandra says. "The research is a blend of understanding our environment and determining better ways to use our instruments to analyze similar events. The funding will help support the acquisition and analysis of more samples, creating a more cohesive database of the environment prior to the event and its reaction to the discharge.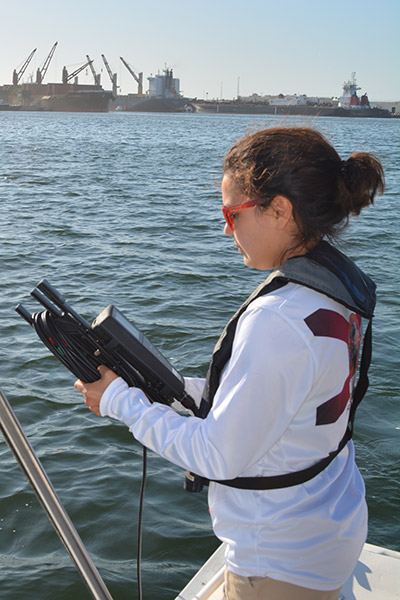 Cassandra Guzman on the College's 24′ Capehorn research vessel collecting pH, dissolved oxygen, salinity, and temperature measurements in Tampa Bay for the ongoing Piney Point discharge analysis. Photo: Rebekka Larson '01
I'm using the present to figure out the past to determine our future.
"This is important to me," Cassandra explains, "because I, along with my research team and supervisors, will be able to drop another coin of knowledge into our coffers that are half empty; tread a path that future students can continue by conducting their own research of the event and environment and dropping more coins in our coffers.
"As a freshman at Eckerd," she adds, "receiving funds for an undergraduate thesis did not seem plausible. Today, as a senior receiving this award, nothing seems implausible."
Cassandra credits Larson and Brooks "for being my guides in this big project and being walls I can reflect my ideas off of. I can always rely on them to push my thinking and questions when I do not think I could possibly ask any more.
"Of course, I'm also thankful for the lessons my parents taught me," she stresses, "one of them being that I can waste time and energy being scared that I will fail before I've even started, or I can get up and do the thing that scares me and work hard to swim instead of sink."
Graduate school in marine geology, Cassandra says, is her endgame. "But I would prefer to take a year working on other research projects or in the job market, whether in Florida or in another state or country. This would be to gain more tools for my toolbox in order to push myself to jump into the rabbit hole of questions I'm scared to ask, eventually guiding me to a master's and a Ph.D."