Autumn Term course descriptions
Your first Eckerd academic experience kicks off with Autumn Term, a three week course led by your first faculty mentor.
Please review the course descriptions and faculty bios below. New students will be asked to select 8 top choices, in no ranking order. Autumn Term course selection begins on Wednesday, June 14, 2023 and ends at noon EDT on Friday, June 23, 2023.
Students who were invited and accept a place in our Honors Program will be placed in one of the following Autumn Term courses.
From seafarers to scientists, surfers to sirens, humankind's close relationships to the sea span time and culture. This transdisciplinary course explores ways in which representations of this relationship, from "The Pearl Diver" of ancient Noh Theatre to Wes Anderson's The Life Aquatic, have reflected (and sometimes transformed) various cultural contexts. Students will take a deep-dive into stories of human relationships to the ocean that have sparked replication, representation, and repetition across performance media. They will examine the cultural retellings inspired by these stories, and ways in which those tellings have in turn reflected and shaped their societal contexts. Students will also read key theoretical works, both ancient and contemporary, to gain an understanding of critical conceptual application to representations of human-ocean relationships. These theoretical concepts will serve as tools for students' written analysis of the narratives and media we examine. Finally, students will apply their knowledge by creating their own representations of a human-ocean relationship through original creative digital media projects.
Antonia S. Krueger has a PhD in Theatre from The Ohio State University, where she was the first person in theatre ever to receive a Presidential Fellowship. She has two Masters degrees: an MA in Communication (Theatre) from Indiana State University, and an MA in English as a Second Language (graduate minor in Psychology) from the University of Minnesota. Her scholarship focuses on life narratives across multiple disciplines and incorporates elements of psychology, history, comparative literature, performance studies, critical theory, sociolinguistics, and internatural communication studies. Tonia has been teaching at Eckerd since 2012. She has also worked in the performing arts in many capacities: as a dramaturg, playwright, critic, voice and text coach, actor, director, costumer, and arts administrator.  She has been a 2020/2021 and 2022 Performance and Ecology Working Group Co-Convener for the American Society for Theatre Research. She enjoys butterfly gardening with Florida native wildflowers and trying to teach the neighborhood mockingbirds new songs.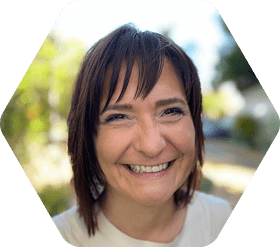 In her 1970 essay "On Violence," Hannah Arendt stated, "Violence can destroy power, but it is utterly incapable of creating it."  What could she possibly have meant?  How could this statement be relevant to civilians in Syria, Yemen, or Ukraine as the targets of ghastly violence in war or to those struggling against oppressive systems of structural violence in the US and abroad?  This course introduces students to the strategies of civil (nonviolent) resistance during conflicts and methods of transitional justice after violent conflict. Topics include case studies on the effectiveness of civil resistance strategies; resistance art and literature; racial/ethnic civil rights, empowerment, and justice struggles; gender, peace, and security concerns in war; climate change, conflict, and environmental justice; inclusive post-conflict peacebuilding and reconciliation efforts; and transformative justice after conflict.  Evaluation based on two synthetic essays on readings and films, annotated bibliography and formal oral presentation on a group-linked case study, and in-class debates, discussions, and attendance.
Mary K. Meyer McAleese, Professor of Political Science, Ph.D., University of Massachusetts at Amherst, teaches courses in international relations and comparative politics, including US Foreign Policy, IR theories, Inter-American Relations, Latin American Politics, Politics of the European Union, and Women and Politics Worldwide. Her publications include her book, Gender Politics in Global Governance (with Elisabeth Prügl, 1999, Rowman & Littlefield), articles on Latin American regionalism and diplomacy, and book chapters on women and gender politics in Northern Ireland as well as the United Nations Women, Peace, and Security Agenda. She is a contributing editor on the international relations of Latin American states for the Handbook of Latin American Studies (Library of Congress), and served as Treasurer of the International Studies Association from 2008 to 2014.  She is the Associate Editor for the International Relations section of the Encyclopedia of Latin American Politics, Oxford University Press.