Assistant Professor of Chemistry
James Center for Molecular and Life Sciences 138
Degrees
Ph.D., Medicinal Chemistry and Molecular Pharmacology, Purdue University
B.S., Chemistry and Biochemistry, summa cum laude, Loyola College, Maryland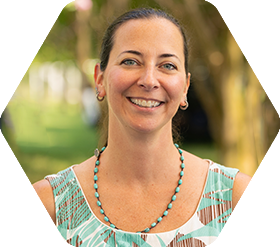 Research Interests
Her research concerns the design and synthesis of molecules with a specific biological purpose: to modulate how dopamine works in the brain. Because of her additional research interests in chemical education and pedagogy she works to improve organic chemistry laboratories and integrate polymer chemistry into the organic chemistry curriculum. Through the tutoring program she is assessing the efforts of additional practice problems on exam grades in both general and organic chemistry courses. Her skills in understanding effective chemical communication are put to use in writing and editing chemistry textbooks. Finally, her work with our Student Chapter of the American Chemical Society has led to her recent appointment on the Undergraduate Student Advisory Board of the ACS Committee on Education.
Courses Taught
CH 123 Integrated General Chemistry II
CH 221 Organic Chemistry I
CH 222 Organic Chemistry II
CH 122 General Chemistry II
HP 220 Honors Seminar: Multidisciplinary Perspectives on Sex and Gender
Select Publications
Parise, J; Loudon, M; Bonner L. Study Guide and Solutions Manual to Accompany Organic Chemistry, 7th edition. Austin, TX: Macmillan Learning, 2021.
Juncosa, JI; Hansen, M; Bonner, LA; Cueva, JP; Maglathlin, R; McCorvy, J; Marona-Lewicka, D; Lill, MA; Nichols, DE. Extensive rigid analogue design maps the binding conformation of potent N-benzylphenethylamine 5-HT2A serotonin receptor agonist ligands. ACS Chemical Neuroscience, 4: 96-109, 2013.
Chemel, BR; Bonner, LA; Watts, VJ; Nichols, DE. Ligand-Specific Roles for Transmembrane 5 Serine Residues in the Binding and Efficacy of Dopamine D1 Receptor Catechol Agonists. Molecular Pharmacology, 81: 729-738, 2012.
Bonner, LA; Laban, U; Chemel, BR; Juncosa, JI; Lill, MA; Watts, VJ; Nichols, DE. Mapping the Catechol Binding Site in Dopamine D1 Receptors: Synthesis and Evaluation of Two Parallel Series of Bicyclic Dopamine Analogues. ChemMedChem. 6: 1024-1040, 2011.
Bonner, LA; Chemel, BR; Watts, VJ; Nichols, DE. Facile Synthesis of Octahydrobenzo[h]isoquinolines: Novel and Highly Potent D1 Dopamine Agonists. Bioorganic and Medicinal Chemistry. 18: 6763-6770, 2010.
Bonner, LA; Frescas, SP; Nichols, DE. A Facile Method for the Preparation of Pure cis-2,4-pentanediol. Synthetic Communications, 34 (15): 2767-2771, 2004.