Associate Professor of International Business
Chair of Comparative Cultures Collegium
Degrees
B.B.A., Western Michigan University
M.B.A., Western Michigan University
D.B.A., Nova Southeastern University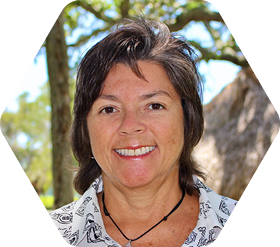 Courses
Principles of Marketing (MK300)
Marketing is everywhere. This class emphasizes principles of marketing that are coherent with sustainable business practices and address trends in social media, green marketing and the growth of nonprofit marketing. Students also will have the opportunity to work with a nonprofit organization to fulfill 10 hours of the Reflective Service Learning requirement.
Internet Marketing (Winter Term)
Internet marketing is essential today. You will explore online marketing strategies such as online advertising and the creation of social media campaigns. The class will discuss online listening and monitoring, search engine optimization and content marketing. Through a combination of lectures, group presentations, computer simulation and social media planning project, you will develop capabilities in developing, implementing, and evaluating digital marketing strategies for a company of your choice.
International Marketing (IB 485)
This course incorporates the X-Culture Project: X-Culture Project
Collaborating with other students from all over the globe, you will be creating an international marketing plan for a real company. The experience has been described by past students as one of the most rewarding global projects they have ever participated in. Students have a chance of presenting their projects to the actual company at the Academy of International Business conference company at the Academy of International Business conference held in various locations such as Miami, Savannah, Macerata, Italy and Nashville.
Marketing a New Global Venture (IB 360)
This spring-into-summer course incorporates an entrepreneurial accelerator program in Portugal. Visit Professor Graҫa's website for more information.
Publications
Visit Professor Graҫa's website for a list of publications.