Why International Business at Eckerd?
Preparation for a changing, multinational global economy
Over the past decade the world has left behind the isolated, virtually self-sufficient domestic economies to become a vast, interdependent global marketplace. Technology and the now vast amounts of available information has increased the global flow of capital and people, making the world more integrated than ever. To compete in this ultra-connected environment, businesses need leaders who can expand their vision to include the global marketplace.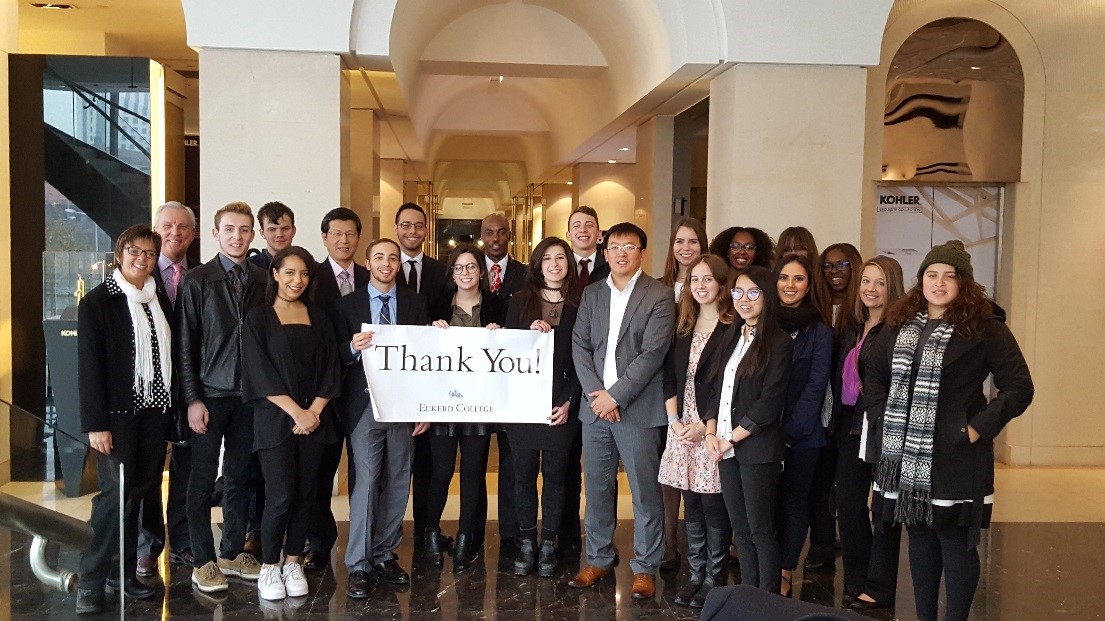 Students and faculty make visit Kholer company, Shanghai, China – Winter Term 2017
Eckerd College has designed a unique program in International Business to prepare students for the dynamics of a changing, multinational global economy. The program provides education in the basic business skills that are essential for leadership in the organizations of the future. The international business program orients our future leaders with an appreciation of other cultures, a sophisticated understanding of what constitutes good corporate citizenship in host countries, and a strong desire and ability to develop international business strategies and policies that protect and enhance all peoples and their environments.
As a student majoring in International Business, you will benefit from the collective expertise of faculty members who are experts in a wide range of international subjects–from multinational corporations to foreign culture, from world politics to world economies, and just about everything in between. And you will study abroad, learn a foreign language, and gain hands-on cross-cultural experience which will help generate the personal self-confidence that comes from living and working in an international setting. Our graduates have gone onto work for multinational corporations all over the world.