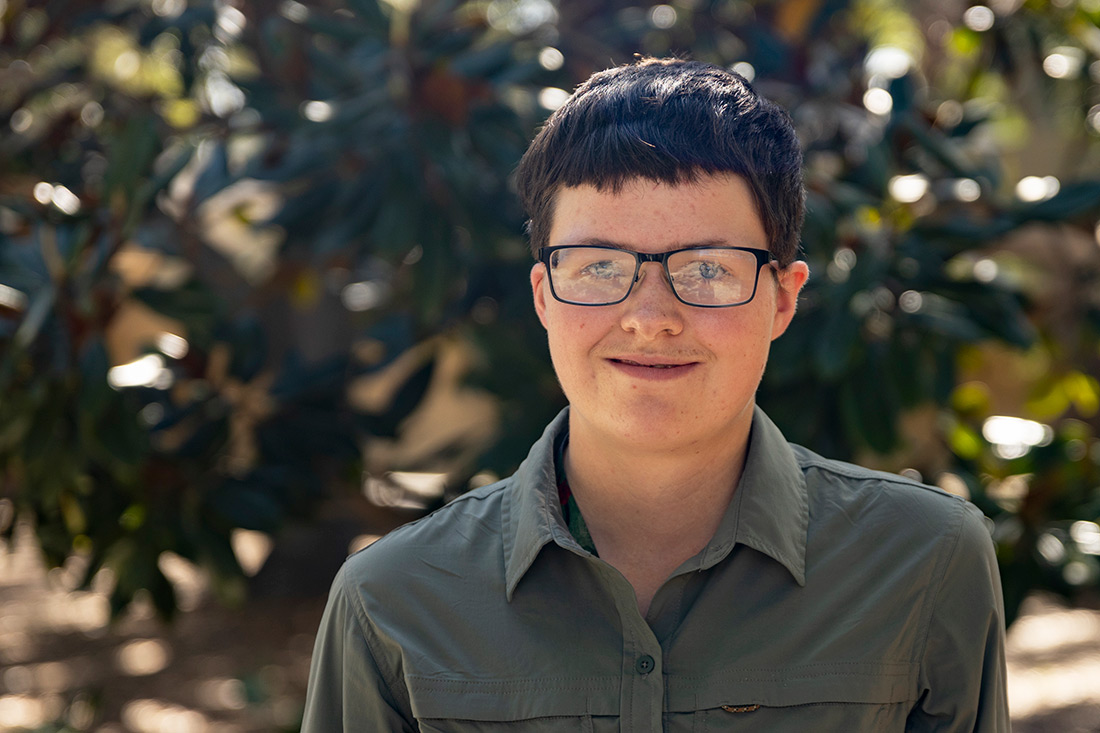 Sophomore Karin Ebey hails from New Mexico. Photo by Penh Alicandro '22
On the last Friday in March, Eckerd College sophomore Karin Ebey learned she had been awarded the nation's most prestigious undergraduate scholarship for science majors: the Barry Goldwater Scholarship.
It's a highly selective $7,500 award given to students from all fields of science, engineering and mathematics who obtain at least a 3.0 grade point average, plan to have a career in the natural sciences, and present a rigorous application that includes an original research paper.
Karin was one of only 13 students from a Florida college or university to receive the award this year. Nationwide, more than 5,000 students applied for the scholarship; just 413 were selected. "This is a real feather in the cap for Karin, and for Eckerd's science program," says William Szelistowski, Ph.D., associate professor of biology and marine science at Eckerd and the College's Goldwater Scholarship campus representative.
"In Karin's case, the award is particularly notable as only about 15% of Goldwater winners get chosen as sophomores," he adds. "To be able to convince the national Goldwater committee that you are one of the country's very top young scientists after just three semesters of college is pretty remarkable."
Established by Congress in 1986 to honor former U.S. Senator and 1964 presidential candidate Barry Goldwater, the scholarship's aim is "to provide a continuing source of highly qualified scientists, mathematicians and engineers by awarding scholarships to college students who are U.S. citizens or permanent residents and intend to pursue careers in these fields," according to the program's website.
But wait. There's more.
The following Monday—April 3—Karin, a biology and chemistry student from Los Alamos, New Mexico, was notified she was one of four Eckerd students to be awarded a 2023 National Oceanic and Atmospheric Administration Ernest F. Hollings Undergraduate Scholarship, bringing the school's total number of recipients to 109—the most of any college in the country.
The other three Eckerd students receiving Hollings Scholarships are sophomores Sydney Paull, a marine science student from San Diego, California; Elizabeth Oliver, a marine science and Spanish student from Lakehurst, New Jersey; and Sophie Strock, a marine science student from Centerville, Massachusetts.
Since 2005, NOAA has selected students from around the nation to receive up to $9,500 per year for two years of full-time study and a 10-week, full-time, paid summer internship at a NOAA facility one year after receiving the award.
"It's been quite a week," Karin says. "I'm mostly being distracted from my school work because it's exciting. I've got to focus more on my work the rest of the week."
A diligent, dedicated student, Karin in January combined a Winter Term course with an internship and spent the month working at the American Museum of Natural History in New York City. "It was my first time in New York," she says, "and I got to learn how a natural history museum is run."
She performed routine tasks—including preparing specimens, scanning slides, preparing loans, tagging specimens, shelving specimens and checking preservative levels. But she also presented at five education and outreach events about herpetology and museum collections.
"I completed an independent research project on comparing brown anole evolution in their native and invasive range," she adds. "And I spent a lot of time interacting with the curators and graduate students at the museum, exploring the amazing collection, and exploring New York City."
Her Goldwater research paper was based on work she had done last summer as part of a Research Experiences for Undergraduates program at the University of New Mexico. It focused on turtle ecology in the Middle Rio Grande Basin, examining the potential for competition between native turtles and the invasive red-eared slider using stable isotope analysis.
Karin's passion for science began when she was about 5, "and I fell in love with crocodilians," she explains. "I liked dinosaurs, and crocodiles are the most epic extant archosaurs." This summer, she will take part in another REU program, this time at the University of Georgia. Her focus will be on disease modeling.
"She is as bright as any college student I've ever met," says Jeffrey Goessling, Ph.D., assistant professor of biology at Eckerd.
Karin is currently enrolled in one of Goessling's biology courses. "She really gets the scientific angle and is interested in big-picture questions about evolution and biology." Goessling, along with Lauren Vonnahme '10, a senior museum specialist at the American Natural History Museum, helped facilitate Karin's Winter Term and internship programs.
"I have not yet decided what area I want to be working in," Karin says. "I'm going to do some exploring. But I was surprised how much I liked working at the museum."
Lindsey Fox, Ph.D., assistant professor of mathematics, has Karin in her Probability and Statistics class. "I've never met a student quite like her," Fox says. "She's brilliant. I'm often asking myself where she has the time in the day to do what she does. She's doing two projects on the side with other professors and a side project with me … how many projects can she do at once? She has a very broad skill set. It's really incredible. I always come to class prepared for her to ask me questions I won't know the answer to."
Fox envisions Karin as a top research scientist, possibly in the field of computational biology.
"She keeps me on my toes," Fox adds. "But only once or twice in a career do you get a student like this. What she's done in her first two years is amazing.
"I can't wait to see what she does in the next two."