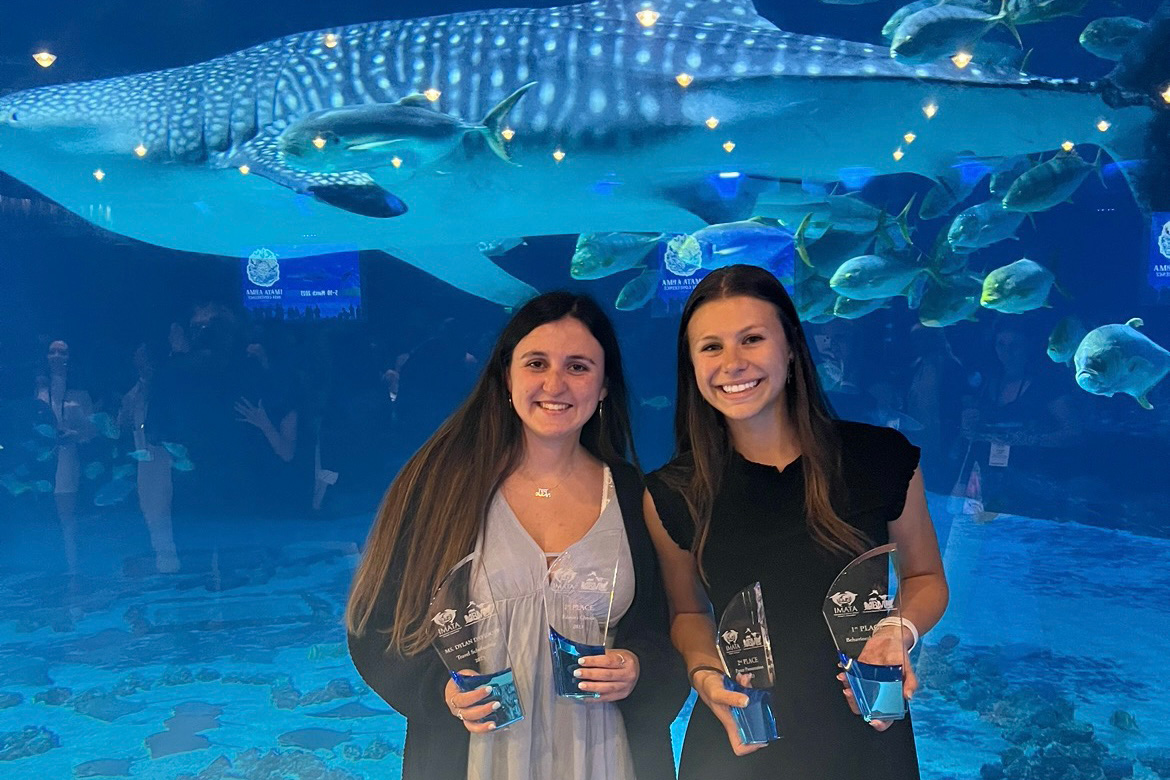 Seniors Dylan Davidoff (left) and Marina Lourenco won awards in Atlanta. Photo courtesy Erin Frick
The students, led by Erin Frick, Ph.D., assistant professor of animal studies and director of the Frick Animal Behavior Laboratory, conducted a talk and two poster presentations at the conference. "The talk we had was 'The Possibilities Are Limulus: Expanding the Knowledge of Horseshoe Crab Welfare,' and it was presented by my two students Dylan Davidoff and Marina Lourenco," Frick explains. (Limulus is a genus of horseshoe crab.)
"The talk was a featured 20-minute talk, and Dylan and Marina were the only undergraduate students to present at the conference. They spoke to an audience of researchers and animal care/training/curating professionals from all around the world."
The experts were impressed. The presentation won awards for Editor's Choice, first place in the Behavioral Training category, and honorable mention for the Overall Conference Impact. In addition, Dylan, a senior marine science and animal studies student from Severna Park, Maryland, won the conference's Behavior Management Fund Award, which paid for her registration and funded her ability to attend.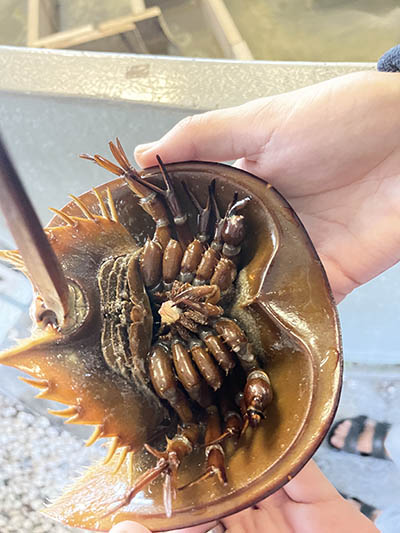 The underside of a horseshoe crab, which is related to spiders and scorpions.
The manager of Frick's lab, Hailey McGovern, a junior animal studies and psychology student from Highland Lakes, New Jersey, received an award for a photography contest. The Eckerd group also made two poster presentations from their research: "Maze Learning in Horseshoe Crabs" and "Applications of Concept Training to Conducting Preference Assessments in Rough-Toothed Dolphins." Hailey led the dolphin presentation. Dylan and Marina, a senior environmental studies and animal studies student from West Windsor, New Jersey, led the maze presentation.
Eckerd juniors Morgan Brown, an animal studies student from Eureka, Missouri, and Lara Eade, an animal studies student from Sykesville, Maryland, along with senior Lily Collins, an animal studies student from Dunwoody, Georgia, also are part of the lab team and attended the conference.
"All of the students, presenting or not, left such a positive impact with the conference organizing members and all of the attendees," Frick says. "The students were able to enhance their professional development in so many ways, through the talks, workshops, and other opportunities presented at this conference."
To say horseshoe crabs are remarkable is an understatement. American horseshoe crabs live around 20 years, can be found from Maine to Mexico, and they're not true crabs; they're arthropods—more closely related to spiders and scorpions. Horseshoe crabs have lived on Earth for more than 400 million years, they spend most of their time on the ocean floor hunting worms and mollusks, and they serve as prey for sea turtles, alligators, horse conchs and sharks.
Horseshoe crabs are extremely important to the biomedical industry because their unique copper-based blue blood contains a substance called Limulus Amebocyte Lysate, or LAL. The compound coagulates in the presence of small amounts of bacterial toxins and is used to test the sterility of medical equipment and virtually all injectable drugs. As the Florida Fish and Wildlife Conservation Commission points out, "Anyone who has had an injection, vaccination or surgery has benefited from horseshoe crabs."
In 2003, scientists developed a synthetic alternative to LAL. But it has yet to win approval for use in the United States. So horseshoe crabs remain vital. The animals are caught, a percentage of blood is taken, and they are returned to the water. Many survive, but mortality rates remain estimates.
It was against this backdrop that Frick and her lab students made their presentations. "It was very nerve-wracking at first, but Dr. Frick had reminded us beforehand that we were experts in this area and had something valuable to present," says Dylan, who collaborated with Marina to create the presentation's catchy title. "And then it just kind of flowed. I've never felt so supported by so many people. When we ended, they told us they got value out of what we had to say, and it mattered to them."
Dylan adds that she hopes to continue to do research in graduate school "and help make research findings more accessible and meaningful to the general public. Yes, their blood is very important, but it's even more critical that they are given the proper care throughout the entire bleeding process in order to ensure the sustainability of the practice and the species itself."
The goal, Marina explains, "was always to raise awareness about the American horseshoe crab and assist in changing the narrative that surrounds non-charismatic species. Public outreach plays a crucial part in that and is where my passion lies in this project. Presenting at a well-attended conference was daunting at first but served as a unique platform to share our research with professionals who have been in the managed-care and training field for years.
Seeing a spark in people's eyes as they approached us throughout the week reassured us of the importance of this project and the bright future ahead for this field. We could not be more grateful to IMATA and ABMA for the opportunity."